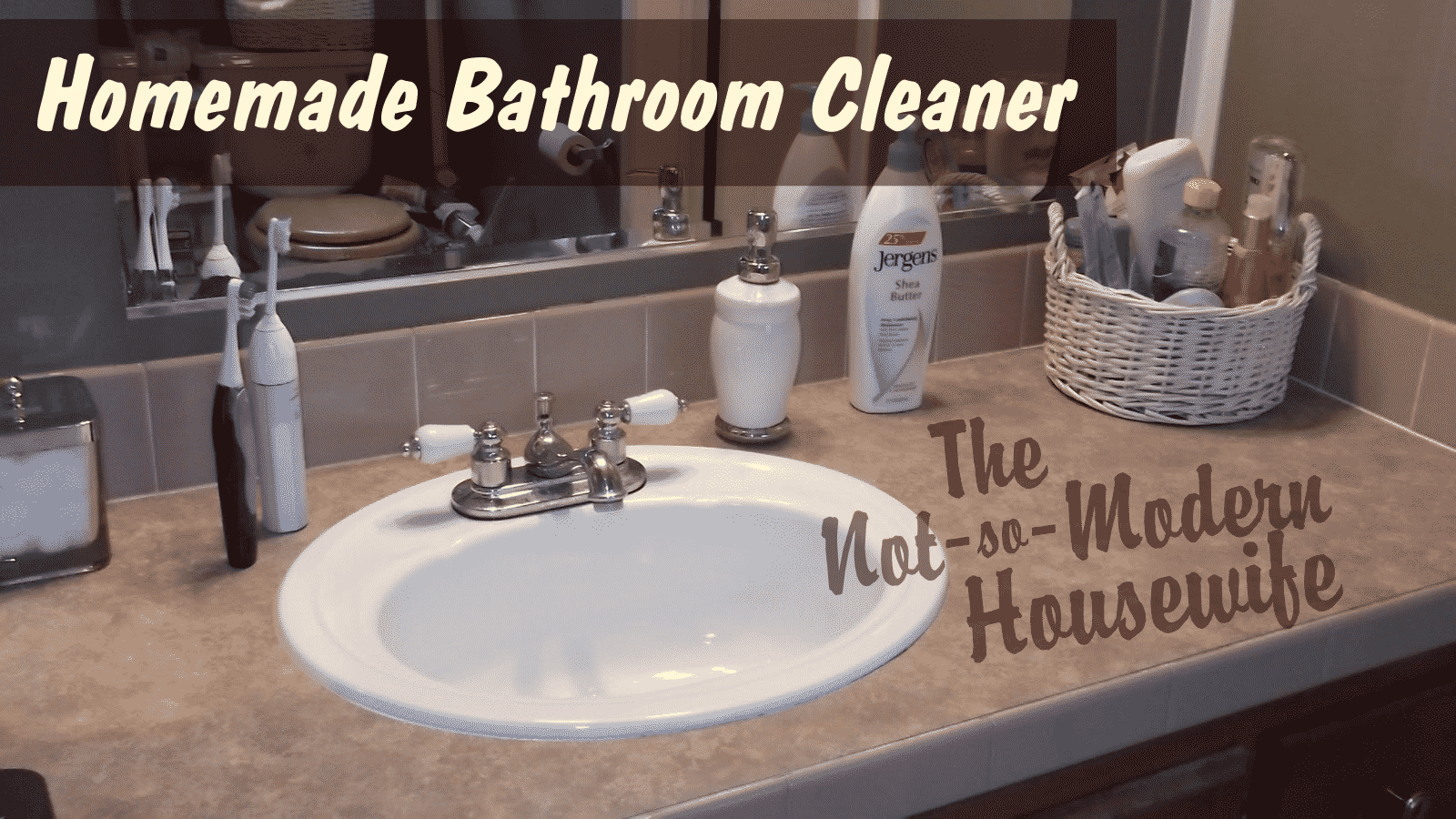 I will be the first to admit that I do not like cleaning my bathroom. The thought of coming that close to bodily fluids disgusts me. Yes, I have been peed and pooped on by my children, but this is different. It's not just the fact that there could be pee on the toilet; it's the fact that it's been sitting there breeding bacteria and who knows what other microscopic organisms. I'm not much of a germophobe with most things, but the bathroom is gross on a whole new level. 
Affiliate Disclosure
This post may contain affiliate links, which means I may receive a commission if you click a link and purchase something I have recommended. Clicking on the link will not cost you anything extra.
My personal fears aside, it is something that has to be done, and it is much easier to tackle if it is done regularly.  The first step is gathering your cleaning supplies.  You should have a roll of paper towels set aside for only bathroom use.  Same goes for a spray bottle of cleaner.  I would not even keep these things stored in the kitchen.  You could make you and your family very sick if you were to cross contaminate microorganisms from your bathroom to your kitchen.  I would also not recommend using sponges in the bathroom.  Rather than destroying the bacteria, you would simply be spreading it across your bathroom.  A paper towel can be thrown away and all of the germs with it. If you use reusable rags, have them set aside for only bathroom use and wash them every time you use them.
Today, I'm only going to focus on the counter-tops and mirrors.  You do not need to tackle the entire bathroom in one day if you are limited on time.  If you do a part of it each day, you will soon find it easier to wipe everything down and maintain a clean bathroom all the time.
Counter-tops
The first step to cleaning the counter-top is to remove everything from its surface.  I use a laundry basket.  Put any loose change in a change jar and loose hair pins in a box or plastic container.  To clean, I used a simple solution of ammonia, baking soda and water in a spray bottle:
Bathroom cleaner
3 Tbsp. baking soda
½ c. ammonia
2 c. warm water
A few drops of essential oils for fragrance
Using a funnel, I mixed the solution directly in the bottle.  If you have any essential oils, you can also use them to scent the cleaner.  I like citrus oils like lemon or sweet orange. Another good oil to use is tea tree for it's antibacterial and antiviral properties. Label your spray bottle.  You wouldn't want to accidently mistake the solution for water or a bleach solution.  Anytime you use ammonia, make sure your bathroom is well ventilated and the exhaust fan is on.  Do not use this cleaner before or after you use any cleaners containing bleach.  That means do not sanitize the countertop with Lysol or Clorox cleaner after you're finished.  You could create toxic fumes that could easily land you in the hospital.
I was impressed with how well this cleaner cut through most of the grime on my counters.  It also made a great cleaner for the walls.  The toothpaste grime was probably the most difficult to get off, so I sprayed it and let it sit.  A few minutes later, it came right up with small circular movements from the paper towel.  It also did a great job of making my grout white again.  I'll be curious to use this cleaner in the shower and see how well it works on the mold.  I was disappointed to find that it left spots on my faucet, probably from the baking soda.  I'll have to keep looking for a good metal polish or all-purpose cleaner.
Mirrors
I recommend saving your mirrors for last to avoid messing them up while spraying and cleaning the walls and counter-tops.  I use Windex for my mirrors.  It's also an ammonia based cleaner, but I haven't experimented with making my own window/mirror cleaner yet. 
Once the counter top is clean, you can choose which items in the laundry basket go back on the counter and which can be stored somewhere else.  If your bathroom is like mine, the counter becomes a catch-all for everything left in your pockets at the end of the day.  If it does not need to be out, then store it in a drawer, medicine cabinet or shelf.  I have limited space, so I keep many of my lotions and hair products in a basket on the counter.  It makes them easily accessible without taking up too much space.  If there is anything in your basket that does not belong in the bathroom, then carry your basket around the house and put the rest of the items away.  Don't let your laundry basket become your new junk drawer.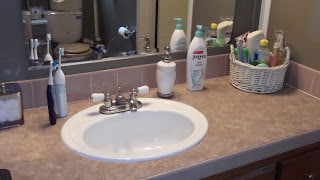 Clean your bathroom a little bit every day, and the whole process will become easier and faster with time.
Shared on the Homestead Blog Hop
Disclosure: The Not So Modern Housewife is a participant in the Amazon Services LLC Associates Program, an affiliate advertising program designed to provide a means for sites to earn advertising fees by advertising and linking to amazon.com. In order to support my blogging activities, I may receive monetary compensation or other types of reimbursement for my endorsement, recommendation, testimonial and/or link to any products or services from this blog.