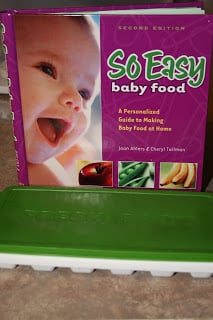 Have you ever tasted jarred baby food? My family thought it would be a good idea to subject my husband and I to the baby food game at our baby shower. I'm a culinary student. I know what food is supposed to taste like. It is not supposed to taste like THAT. So that sealed the deal when it came to making my own baby food. I wanted my son to enjoy eating his vegetables, and I didn't see that happening if his first experience with sweet potatoes tasted like grapefruit. Plus, I don't want to introduce a lot of added sugar and sodium into his diet. He'll get enough of that as he gets older and discovers soda. I'd rather set him up for success and teach him good eating habits at an early age. Plus it's a lot cheaper. I can buy my fruits and vegetables in season at the farmer's market and make two weeks worth of food for what one jar of baby food would cost me.
As I began the quest for baby food recipes, I came across the So Easy Baby Food Kit by Fresh Baby. The kit includes a recipe book, two freezer trays with lids, a how-to dvd and a laminated nutrition tip card. The recipe book covers the basics of nutrition, ages to introduce various foods, and instructions for cooking, freezing and thawing foods. The recipes include recommendations for seasoning and mixing foods once the baby is old enough and the individual foods have been introduced. The book also acts as a scrapbook, with pages for pictures, dates when foods were introduced, and notes. The recipes are made for the microwave, so all of the foods can easily be made in less than 30 minutes a week. Using the microwave also means using less water and a shorter cooking time, which means fewer lost nutrients. Each recipe will make approximately two trays worth of food. The trays themselves portion the purees into approximate 1 oz serving cubes, and the lids make them easy for stacking in the freezer. Once cubes are frozen in the trays, they can be popped into freezer bags for easy serving and storage. Whenever I need a food, I take out a cube, microwave for about 30 seconds, stir, and it's ready to serve.
It's not a new idea. I had read a few sources that mentioned using ice cube trays to freeze individuals portions of baby food. However, these trays are smaller than traditional ice cube trays so the portions stay small. The lids are also a nice touch both because it makes the trays easier to stack and because it keeps anything else from falling into the food. I love that the book doubles as a scrapbook. I also like the recommendations for seasonings and food combinations. The information contained in the book is factual and relevant. The recipes themselves are not difficult. All you really need is a knife, cutting board, microwave safe dish, and a blender or food processor. It's important to start with ripe fruits and vegetables and the book tells you what to look for when determining ripeness. The laminated card is also a great touch. I frequently reference it when I want to know when fruits and vegetables can be introduced. It also has very useful information about how to perform CPR and what to do for a choking baby.
Affiliate Disclosure
This post may contain affiliate links, which means I may receive a commission if you click a link and make a purchase. Clicking on the link will not cost you anything extra.
This kit is a great stepping stone into making your own baby food. I will probably be buying a couple extra freezer trays because I usually do more than one fruit or vegetable at a time and quickly fill up the two trays included. The purees freeze quickly, so right now I refrigerate the left over puree and freeze it the next day. I'm also going to be buying some additional baby food recipe books. On my list (from the recommendation of a friend):

1. The Petit Appetit Cookbook
by Lisa Barnes
2. Organic Baby and Toddler Cookbook
by Lizzie Vann
3. Cooking for Baby
by Lisa Barnes
4. Top 100 Finger Foods
by Annabel Karmel
5. Deceptively Delicious
by Jessica Seinfeld
6. Kitchen Playdates
by Lauren Bank Deen
7. The Everything Cooking for Baby and Toddler Book
by Priwer and Phillips
8. Healthy Food for Babies and Toddlers
by Patsy Westcott
9. Simply Natural Baby Food
by Cathe Olson
10. Brain Food
by Caruana and Hammer
Shared on Homestead Blog Hop #96