Affiliate Disclosure
This post may contain affiliate links, which means I may receive a commission if you click a link and purchase something I have recommended. Clicking on the link will not cost you anything extra.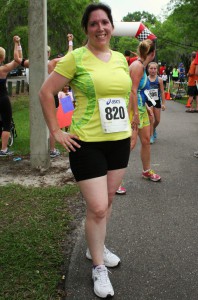 Well, I did it.  I successfully ran my first 5k ever.  It was also my first time running 3 miles in over 11 years.  It was quite the accomplishment for me considering I was battling a head cold and the heat.  I had a headache by the end, but otherwise felt great.  And I ran every step.  That alone was my greatest source of pride.  I didn't care how fast I ran, although I will be working to improve my speed.  I just wanted to be able to say that I had ran all of it.
The day itself was warm.  By 9 am, temperatures were already in the 80s.  We arrived to Al Lopez park around 8:45.  The race started at 9, so it didn't give me a lot of time to get checked in.  I picked up my race packet, bib and chip.  They were out of race shirts in my size (they only had XL left), but I was promised they would mail me one shortly after the race.

There were several sponsors set up in and around the shelter with tables.  Since we got there late, I never got a chance to check them out.  After the race, I was so hot and exhausted that I just wanted to get in my car and crank the AC.
I've never raced before, so needed a quick tutorial on how to tie the chip to my shoe.  The guys handing out the chips were great and it was really easy to do.  After a quick stop by the restroom, I was ready to race.
Al Lopez park was a great place to run.  Most of the park is wooded, plus it's large enough to keep the scenery changing.  We only ran the loop twice, which helped to keep my motivation up.  They also had people handing out water around the halfway point.  I gladly accepted it and gulped it down.  Tip: Don't take a decongestant before running a 5k unless you are prepared to chug water.
At the end of the race, my chip was cut from my shoe.  I then made my way to a table where water and Gatorade were being passed out.  What a blessing.  Every inch of my skin was sweating.  I took some medicine for my headache, then headed to the car where I cranked the AC and drank from my water bottle. By the time I got home and got a shower, I felt great, albeit sore.
My official race chip time was posted later that day.  I ran the 5k (3.1 miles) in 37:24.2 minutes.  I placed 30th (out of 70) in women ages 31-40 and 149th (out of 328).  Eventually, I want to be able to run a 5k in under 30 minutes, but I was very happy with this time since it was my first 5k.
Click here to view all of the official race times.
To see more of my pictures from race day, visit The Not So Modern Housewife's Great Mother's Day Race photo album on Facebook.
Official race photos can also be viewed on the Great Mother's Day Race photo albums on Facebook.
Disclaimer: I was compensated for promoting this race with a free race registration.  All of the views and opinions expressed are entirely my own.