How to Doctor a Boxed Cake Mix
How to Doctor a Boxed Cake Mix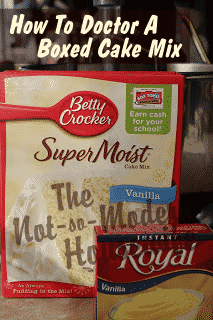 First, let me say that I love cooking from scratch. I love to know what is going into my body. Plus, from-scratch food is generally better. However, I have found very few cake recipes that can stack up to a doctored boxed cake mix in flavor and moistness. Plus it's easy and can be really cheap if you can find the boxed mixes on sale.
Brand names really don't matter. I bought these two because they were the cheapest at the time. In general, you want a boxed cake mix and a boxed instant pudding mix. If you want to really have fun with it, mix the flavors. Butterscotch pudding would be really good with vanilla cake mix. As it is, this plain vanilla cake mix had a definite vanilla pudding flavor to it. It was delicious. I stick to traditional flavors (vanilla and chocolate) when doing a sheet cake for a party. Although, I will say that I prefer German chocolate cake mix as opposed to regular chocolate cake. It just has a richer flavor. If I'm going to eat chocolate cake, I want it to be good.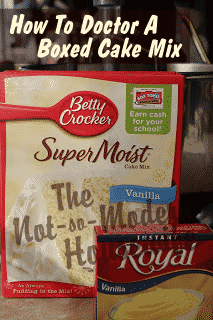 Doctored Cake Mix
2014-04-16 15:25:00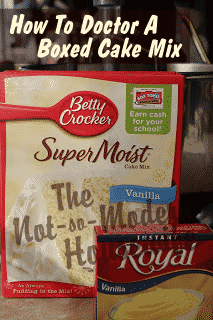 Ingredients
1 box Cake mix
1 box Instant pudding mix
1 extra Egg
1 oz extra vegetable oil
Instructions
Add the cake mix, pudding mix, egg and vegetable oil to the bowl, plus all ingredients listed on the back of the cake mix (usually water, oil and eggs).  Beat the ingredients together until well combined, about 2 minutes.
Bake according to the directions on the back of the cake mix box.
The Not So Modern Housewife http://www.notsomodern.com/