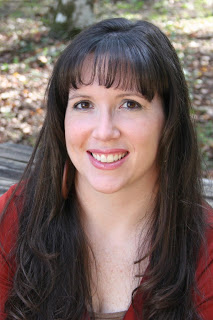 Bonnie was raised in a small farming village in south-central Ohio. Over the course of 25 years, she watched as the landscape changed from corn fields and dairy farms to housing developments and golf courses. She hopes that someday people will realize that preserving natural resources is as much about preventing urban sprawl as it is about recycling and re-purposing. She remembers her mom using and washing pre-fold cloth diapers. In the summer, her mom would hang the family's laundry on the clothes line and her parents would grow a large vegetable garden next to the house. She learned to cook and bake from-scratch from her mom and grandma. Her mom also taught her how to preserve jams and salsas using an old water-bath canner. When Bonnie was a teenager, she became an active participant in 4-H and FFA where she competed with her pies, poetry, cats, horses, sheep and rabbits.
After high school, Bonnie joined the Marine Corp Reserves and served her one weekend a month while also attending college. She served in the Marines for three years as a Personnel Clerk before transferring to the Air Force Reserves and becoming an Emergency Manager. Bonnie graduated from Ohio Dominican University with a Bachelor of Science degree in Business in 2004. She did a short tour overseas with the Air Force, then decided to move to Florida where she met her husband. She fell in love with the untouched wilderness of north central Florida. There are several state and national forests and miles and miles of horseback riding trails.
In 2007, Bonnie and her husband purchased a five acre wooded plot on the edge of a large state forest in north central Florida. Slowly but surely, they are working towards self-sustainability. They raise their own chickens and eggs, which has helped to feed their family as well as supplement their income. They also own horses, goats, pigs, ducks, cats and dogs. They have even found a small patch of sun in the backyard to string a clothesline and dry their laundry. Bonnie has attempted to grow their own vegetables (rather unsuccessfully), but she is determined to beat the deer and raccoons at their own game. In the meantime, she buys most of their produce from a local farmer's market. Her husband is working towards his architecture license and hopes to one day build them a house that is totally "off the grid."
Bonnie decided to go back to school for a little while and work on her Associate's degree in Baking and Pastry, but she ran out of money before she was able to finish. Culinary school is expensive, so she's elected to save the rest of her money and put it towards opening her own bakery…someday.
Currently, Bonnie is a stay at home mom with her rambunctious son Henry. She stays busy teaching her son and seeing the world through his eyes. Henry is her official taste-tester for all of the recipes on the blog and her primary inspiration for most of the products that she reviews.