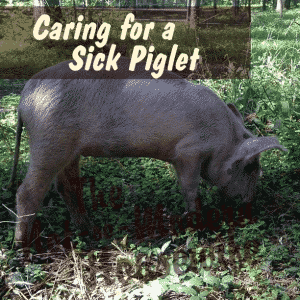 About a month ago, I noticed that one of my Yorkshire piglets had dropped a lot of weight. I thought that her much larger brother was hogging all of the food, so I removed her from the pen and tried to feed her separately. That's when I realized that we were facing a much more serious problem. Even when separated, she wouldn't eat her grain. She would eat vegetation and acorns, so thus began her life as a free range pig. Meanwhile, I worked tirelessly to determine what was wrong with her.

One things is for certain…a pig that turns their nose up at ANY kind of food is a very sick pig. Even though she was roaming around the yard eating weeds and acorns, she was missing out on a lot of vital nutrients. Her curly tail hung straight and long, she dropped a lot of weight, and she became lethargic. Until she started eating again, we had to find a way to keep her body functioning. I had a bottle of A, D & E injectable vitamins on hand, so I gave her a shot. It helped her energy level for a day, but she was laying around again the next day. We bought a bottle of injectible B complex vitamins, dewormer and Red Cell (an iron supplement designed for horses). Then began the daily injections of B complex and force feeding of Red Cell. I also gave her a dose of dewormer, thinking we were dealing with parasites. Every couple days, I would also give her more AD&E.
We were able to keep her active and grazing. I also had her eating some table scraps. But she wouldn't touch her grain and she wouldn't gain weight. It was frustrating and heartbreaking. She was so skinny and pathetic looking. I talked to other pig farmers I knew to get their opinions. My vet doesn't work with pigs, so he wasn't able to offer much help. A week later, after a second dose of dewormer still hadn't given much improvement, I decided to try antibiotics. My feed store sells injectable penicillin, so I bought a bottle.
Almost immediately after giving her a shot of penicillin, she started to eat her grain. It was a slow process, but we were able to increase her grain rations slowly over the next couple of weeks. We gave her penicillin for three days, to make sure we killed whatever was making her so sick. We also continued to give her vitamins until she regained all of her energy.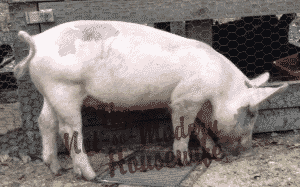 One month later, it's hard to tell that it's even the same pig. She has developed quite the personality through this whole ordeal. She's a very spunky little thing. I considered naming her Arnold (from Green Acres), but Little Bit kind of stuck. She's still much smaller than her brother, but I've been able to put her back in the pen with him and she's able to hold her own. She actually bites him if he tries to push her around. When she isn't in the pig pen, she thinks she's one of the dogs and runs up to me for scratches and treats. I'm glad we had already planned to keep her for breeding. I couldn't imagine butchering her after all we've been through.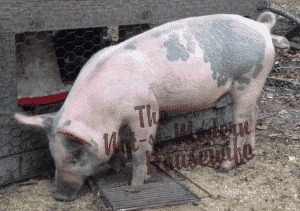 It's very important to watch and observe your animals every single day. Establish what their normal behaviors and appearance are so you're able to detect any abnormalities early. It can mean the difference between life and death for your pets and livestock. Learn how to give your animals injections. I keep an animal first aid kit that's larger than my human one (more on that in a later post). Learn how to perform first aid on your animals. Even if you have an emergency vet available, it could be an hour or more before they came make it to your farm or you can bring your animals to their clinic. And most importantly, learn how to recognize when an injury or illness is beyond your skillset and call the vet. Early treatment is much less expensive (with less risk of death or permanent injury), than delayed treatment.
The following two tabs change content below.
Bonnie was raised in a small farming village in central Ohio where she was active in 4-H and FFA. She grew up surrounded by a large family who taught her how to can, garden and cook from scratch. Now living in Florida and raising two outrageous kids, Bonnie is running the family farm where they raise chickens, ducks, goats, pigs and horses. She also enjoys teaching her kids how to live off of the land, appreciate God's creation, and live a simpler life.