I'll admit, I don't get that excited about Black Friday. The deals aren't usually things that I need, and I really don't like crowds. Plus, call me crazy, but I don't think a toy or a sweater is worth a physical altercation. But Cyber Monday? When I can shop deals from my couch and wear my pajamas? Well, sign me up for that.
Granted, most of the Christmas money is spent on my kids, but I like to try to find nice gifts for the rest of my family as well. I decided to scour a few of my favorite retailers to see who has the best deals for Cyber Monday. I'm trying to go a little more low-key with Christmas gifts this year and focusing on just the few toys that my kids really want. We'll probably also get some educational gifts, and of course lots of clothes. Why do kids grow so fast? I'll try to update this list if I notice more deals through the day.
Toys
Osmo – Let me tell you that I had no idea who/what Osmo was a few days ago. I was walking around the mall with my mom and kids, when my son saw the box in Marbles: The Brain Store. The Creative Set really appealed to me. It comes with a board, markers, eraser, and camera reflector. The program is designed for use with an iPad. Kids draw on the board with the markers and their drawings come to live on the screen. There is also a marbles game where the kids can redirect marbles on the screen by drawing or putting objects on the board. I'm finding out that there are also additional games and kits that can be purchased to teach kids numbers, words, and shapes, all using interactive tools with their hands that influence the program's behavior on screen. So, yeah, my son is getting the Creative Set for Christmas. Amazon is running a sale on the Starter Kit and Genius Kit for Cyber Monday.
Marbles: The Brain Store – Speaking of Marbles, they are offering 20% off on select games including Beasts of Balance, Rubber Band Launcher, Otrio, Osmo and more. My parents have Otrio, and it's a really neat game. It's like tic-tac-toe on steroids. You can also get a $25 gift card for $15 and 10% off of purchases of $200 or more.
ETA hand2mind – When you're a homeschool mom, you get a little excited about educational toys. ETA hand2mind carries a variety of educational tools to teach math and science. They have toys for learning addition, substraction, fractions, and angles. We already use Cuisenaire Rods as part of our homeschooling curriculum, but I may add some fraction tiles and tanagrams. Amazon is having a sale on a variety of ETA hand2mind's products as part of Cyber Monday.
Crafts
Cricut – Kick your crafts up a notch with Cricut. Use the cutter to create lettering, shapes, and designs that can adhere to a variety of surfaces. Cricut is offering an additional 15% off your order, plus free shipping when you use code CYBERMONDAY at checkout.
Craftsy – Craftsy is the go-to site if you want to learn a new skill or improve an old one. They offer a variety of classes from drawing and art to knitting and cake decorating. They also offer a nice selection of craft supplies. All items on the site will be on sale for Cyber Monday. Stop by and see what they have to offer.
Green Kid Crafts – Green Kid Crafts is a crafting subscription box for kids. They are celebrating Cyber Monday by offering a FREE Discovery Box for everyone that joins with a 3, 6, or 12 month subscription. Use coupon code CYBER16 to reserve your free box. Supplies are limited so hurry! To view their subscription options and Discovery Boxes and Kits, go here to start saving! This code is good until Tuesday, November 29, 2016 or until supplies last.
Natural Bath & Beauty
TheCapeCoopFarm Etsy Shop – TheCapeCoopFarm is offering 20% off of the products in their Etsy shop with code MERRY20. They mostly sell soaps, but they have a few other natural beauty products as well. There are also some gift sets that would make really good gifts.
TheMerryGoatSoapCo Etsy Store – TheMerryGoatSoapCo is offering 5 full sized bars of their goat milk soap for $15. That's only $3 per bar, which is unheard of for goat milk soap. These bars will make great gifts or horde them for yourself.
Crunchy Balm – I'm big into natural products that I can use for myself and my family. With things like activated charcoal face soap and beef tallow based lip balms, these products from Crunchy Balm have me intrigued. Today, they're offering 25% off of their products for Cyber Monday.
Baby
Earth Mama Angel Baby – Earth Mama Angel Baby carries some great gift sets for moms and babies. Their Angel Baby Bottom Balm is my go-to ointment for diaper rash. Use coupon code CYBERMONDAY for 30% off EVERYTHING at EarthMamaAngelBaby.com. Valid Monday, November 28th, US orders only.
Ergobaby – Do you have an expectant mom in your life? Is she interested in babywearing? Check out these Holiday Baby Bundles from Ergobaby and Save 30%. Choose one product from each of the Baby Carrier, Infant Insert, Teething Pad, Nursing Pillow and Swaddler categories and watch your special 30% Off price appear! It's a great way to get her off on the right foot with a brand that's trusted and loved in the babywearing community.
GroVia – GroVia is one of the leading cloth diaper companies on the internet. They're offering 20% off on select diapers and accessories.
The Natural Baby Company – Buying for baby but worried about the safety of the gifts you buy? The Natural Baby Company focuses on products that are safe and environmentally friendly. They carry a wide variety of brands that you already know and love. Check out their Cyber Monday sale and save 20% off on select products.
Seventh Generation – Seventh Generation has become my go-to brand for disposable wipes and diapers, but they also carry a wide variety of green cleaning supplies. Shop for gifts or just stock up with this Cyber Monday sale and get 20% off sitewide. Use code: cyberwow
Itsy Bitsy Bums – Discounts on multiple brands of cloth diapers, 35% off on Planet Wise (love their wet/dry bags), and 15% off Tula carriers!!!!! Plus tons of other discounts and freebies. Seriously, go check out this sale.
Clothes
Gymboree – I have a weakness for cute kids clothes, and quite a few of those clothes come from Gymboree. I really like their styles and how they fit. With 50% Off their site plus free shipping, you really can't go wrong.
Crazy8 – Crazy8 is another fun kids clothing company with a great Cyber Monday sale going on. They're offering 30% Off of your entire purchase plus free shipping. You can also get an additional 20% Off with Code CHEER.
ModCloth – Shopping for a teenage daughter? I bet she'll love the unique styles at ModCloth. They focus on carrying clothes and accessories from indie designers, so it isn't what you would typically find at a department store. For Cyber Monday, they're offering 30% off everything on the site. The best part is that we will be running this sale longer than just Cyber Monday to make sure you get everything you need at a great discount. US customers will also receive free shipping.
The Children's Place – When my son was in preschool, and I needed to buy school uniforms, The Children's Place was my go-to retailer. Their clothes are well made, and you can earn rewards cash, which is a plus. They also host some fantastic sales, like this Cyber Monday sale. Their entire site is 60-75% off, plus clearance is also 75% off. It's a great way to stock up on winter clothes. Plus, I like to give my kids a new set of Christmas pajamas every year on Christmas eve, and they have a really cute selection.
KidsShoes – KidsShoes carries a variety of shoes for kids. They are currently running a couple of different sales. Get 30% off KidsShoes.com sneakers with coupon code SNEAKERS. This deal is good for Cyber Monday only. They are also running their Mystery Sale throughg Dec. 2 where you can save up to $100. The deals are not valid on previous purchases, gift certificates or when combined with other offers.
Online Courses
Vintage Remedies Learning Center – Vintage Remedies is one of my favorite places to get aromatherapy information. They offer several courses on aromatherapy and herbalism that are based upon scientific research. With so much misinformation out there, that is really important to me. For Cyber Monday, they are offering some deep discounts on some of their courses, including Aromatic Medicine, Botanical Pediatrics, Traditional Aromatherapy, and Herbalism. If you're ever wanted to learn more about natural medicine, now is the time to do it.
Hobbies
HobbyWOW – My husband has become obsessed with drones, and HobbyWOW is the place to get parts. You don't realize how many replacement blades you should have on hand until you watch your husband slam his drone into a tree a few times. Piloting lesson not included. Good news is the entire HobbyWOW website is 8% off for Cyber Monday. No coupon needed.
Things From Another World – (starts at 6am PST) This online comic shop is running a huge sale for Cyber Monday. You'll want to check this out if you have a comic book lover in your life. 80% off in stock merchandise plus doorbusters.
Botanical Interests – Don't dismiss the popularity of gardening gifts. Botanical Interests in one of my favorite suppliers for organic seeds and gardening supplies. Today, all online orders qualify for free shipping.
HorseLoverZ.com – If anyone is shopping for me, I highly recommend you check out this sale. Extra 10% off all orders over $50, Buy 1, Get 1 FREE on Hundreds of Items + 10,000 Closeouts Up to 90% OFF +Flash sale deals + Plus Free Shipping on all US orders over $99! Free shipping to Canada for orders over $199. I mean, really, that's a lot of free and cheap stuff.
Sports Enthusiasts
NASCAR Online Superstore – The NASCAR fans in your life with love this. Get 30% off of all merchandise on the NASCAR website. Enter code "CYB30" plus get free shipping on all US orders.
NBAStore.com – Got a basketball fan in your life? NBAStore.com is offering 25% off of any order with code "CYBER25"
NFLShop.com – If your Facebook feed looks anything like mine right now, you may have a few football fanatics in your life. Get them gear from their favorite team on NFLShop.com. Enter code "MONDAY" and save 25% off your order over $25.
Misc
PhotoBarn – I am in love with the wood printed photos from PhotoBarn. Included in their list of doorbusters for Cyber Monday are $100 gift cards for $35, $9 Ornaments, $9 6×6 PhotoBoards, $9 5×7 PhotoBoards, FREE 8×8 Wood Prints, and FREE Shipping. My family members should not be surprised if a few of these PhotoBoards show up under their Christmas trees this year. I'm also thinking that I want to get a few wooden ornaments for our tree with pictures of the kids with Santa.
DaySpring – Dayspring sells boxed Christmas cards along with a wide variety of Christian gifts. I really like their Illustrated Faith Bible Journeying Sets. For Cyber Monday, their entire website is 35% off.
Mabel's Labels – Mabel's Labels is more than just personalized label kits. They also offer personalized story books, which make great Christmas gifts for kids. They're offering 40% off for Cyber Monday along with free shipping.
Bite Me Goat Treats – If your family is like mine, it includes some kids of the caprine variety. My friend Jess at The 104 Homestead is offering 25% off of several varieties of her herbal goat treats. I mean, what goat doesn't love treats?
Little Passports – My son has the World Edition subscription for Little Passports and loves it. They make it really easy to incorporate the packages into homeschool lessons, plus he gets little gifts from around the world. Today, they're offering 60% off of your first box, plus 10% off of any of the individual items in their shop.
The Container Store – The Container Store will be offering 20% off on select departments all week. Today is 20% off of kitchen, but check back every day this week for a different department.
Puritan's Pride – You're probably not thinking about vitamins while you're shopping for Christmas gifts, but I'll take any opportunity to stock up while they're on sale. Puritan's Pride is offering Buy 1, Get 2 Free, plus an additional 21% off on Puritan's Pride brand vitamins. All orders also get free shipping. Puritan's Pride is my favorite retailer for vitamins. Not only do they have amazing sales, but I've notice that their vitamins and supplements are much better quality than ones I've bought from other stores.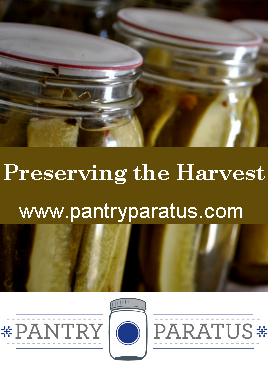 Pantry Paratus – Pantry Paratus carries a wide variety of homesteading and self-sufficiency supplies. Today, all of their books are on sale, plus discounts on multiple other items. They have a lot of products that are hard to find elsewhere, so check them out.
The Grow Network – The folks from The Grow Network (same people who teach webinars on becoming self sufficient) are running a sale on their DVD collections. While supplies last, you can buy Grow Your Own Groceries, Treating Infections without Antibiotics, and Alternatives to Dentists for 40, 50, or 60% off. The sale is scheduled to run through Dec. 1, but they may end it early if they sell out.
Instant Pot – I know a lot of folks who are taking advantage of this deal. This 5 qt Instant Pot is usually $89.95, but it's currently (at time of posting) listed for $49. Amazon is known to change their prices without notice, so I can't guarantee how long it'll stay this low.
Fire Tablets – A lot of families rely upon Fire tablets for entertainment and news. The new Fire tablets also come equipped with Alexa, which can be your own virtual assistant. Fire tablets can also be set up with parental controls, that easily allow you to set screen time and access limits. I like that the HD tablets have a lot of the same functionality of a regular tablet, plus you can have access to Amazon Music and Prime Movies if you're a Prime member
. You can also download movies from Prime so you can watch them offline. Amazon always offers great deals on their products during Black Friday and Cyber Monday sales, and this year doesn't disappoint. Get an 8″ Fire HD Tablet for only $59.99.
ECOlunchboxes.com – I love these stainless steel containers for packing lunches. They have a variety of sizes, and they're easy to clean. I have a few of the Blue Water bento boxes with the silicone lids. For Cyber Monday, they're offering 25% off on orders over $25, plus $6 flat rate shipping.
The following two tabs change content below.
Bonnie was raised in a small farming village in central Ohio where she was active in 4-H and FFA. She grew up surrounded by a large family who taught her how to can, garden and cook from scratch. Now living in Florida and raising two outrageous kids, Bonnie is running the family farm where they raise chickens, ducks, goats, pigs and horses. She also enjoys teaching her kids how to live off of the land, appreciate God's creation, and live a simpler life.