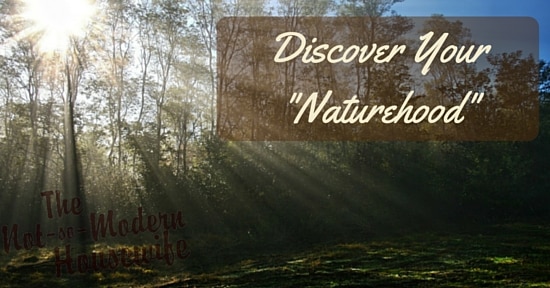 We're lucky enough to live in the woods. It's a wonderful experience for both the adults and the kids. I find the atmosphere relaxing, plus the trees help keep our electric bill down. We can also forage a variety of wild edibles from our own backyard. For our kids, they can learn about the environment, plants, and animals in a way that no classroom could ever teach them. Plus, they enjoy their time outside. They can explore, play, and develop their imaginations. They can get dirty and build their immune systems. There are so many wonderful things that our forest provides.
Affiliate Disclosure
This post may contain affiliate links, which means I may receive a commission if you click a link and purchase something I have recommended. Clicking on the link will not cost you anything extra.
But for many families, they don't have the privilege of having a forest out their backdoor. Over 80% of families live in cities. They may have to go a little further to find their "Naturehood." What is a Naturehood? A Naturehood is any natural environment or green space where you can enjoy and experience nature. It can be a forest, a prairie, or even a city park. Can you believe that so few people even have a yard to enjoy these days? 
Here are some ideas for getting your kids outside this summer:
Create a scavenger hunt – hide items for them or give them a list of local plants to find, but try not to take the plants from their natural environments. Let them take a photo or draw a picture. Teach them about the names of different plant, especially the ones that attract bees and butterflies.
Hunt for wild edibles – there are a lot of local guide books out there that can help you learn about wild edible plants in your area. One book that I really enjoy for Florida is called Florida's Edible Wild Plants: A Guide to Collecting and Cooking.
Set time each day for outside time – remember when our parents used to kick us outside every day? It's time to bring back tradition. Even if it's just a walk around the block, set aside time every day to go outside and see what nature is in your neighborhood.
Join a hiking group – I'm actually a part of a group called Hike It Baby. It's a group that is geared towards parents who want to go hiking with their kids. The great part is that I've experienced new trails and parks that I never knew about before. They have branches all over the country, so you should see if there is one near you.
Visit Discover the Forest – Discover the Forest is a great place to go to find Naturehoods that are local to you. From their website, you can search and find all kinds of parks and forests.
You'd be amazed to discover what may be right outside your own door. There are also some amazing destinations out there. I love camping and a camping trip to a couple of these amazing forests up north (where it's cooler than Florida) sound like heaven right about now.
We highly recommend staying in a lookout tower on our National Forests! #GetOutdoors #ForestChat pic.twitter.com/JLJOqaahjF

— National Forest Fdn. (@NationalForests) June 10, 2016
@DiscoverForest Absolutely! There's much to learn about agriculture while outdoors. #ForestChat pic.twitter.com/qeuiArSoIF

— SD Dept of Ag (@SDAgriculture) June 10, 2016
@DiscoverForest How about a stroll through Falls Park in Sioux Falls? #ForestChatpic.twitter.com/TIrCyHbaQ1

— SD Dept of Ag (@SDAgriculture) June 10, 2016
A little more about Discover the Forest:
Discover the Forest is a public service campaign created by the U.S. Forest Service and the Ad Council with the primary goal of inspiring kids and their parents to re-connect with nature. The campaign brings to life the joy and excitement kids have when they discover the wonders of nature, helping create lasting memories, interest in their environment and a lifelong relationship with it. The campaign website, www.DiscoverTheForest.org, includes an interactive tool that enables users to search for nearby forests and parks, as well as downloadable activities for them to print and take with them when they visit. The campaign also features online communities on Facebook, Instagram, Twitter and Pinterest.
http://www.pinterest.com/discoverforest/
http://www.instagram.com/discovertheforest/
http://twitter.com/discoverforest
http://www.facebook.com/discovertheforest
So tell me, how do you enjoy your Naturehood? Use #DiscoverTheForest on social media to share pictures of your favorites parks and forests.