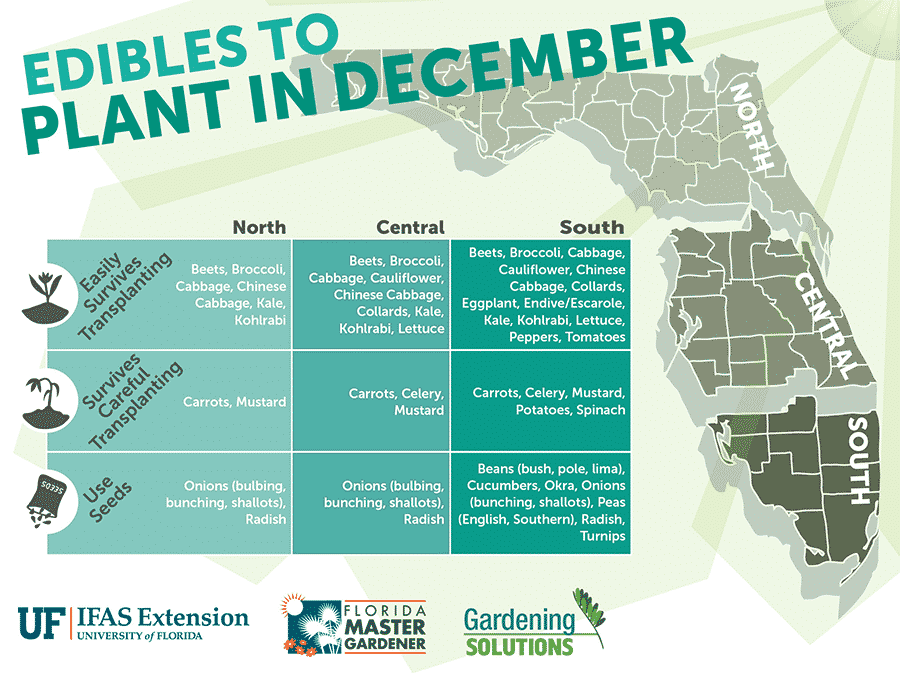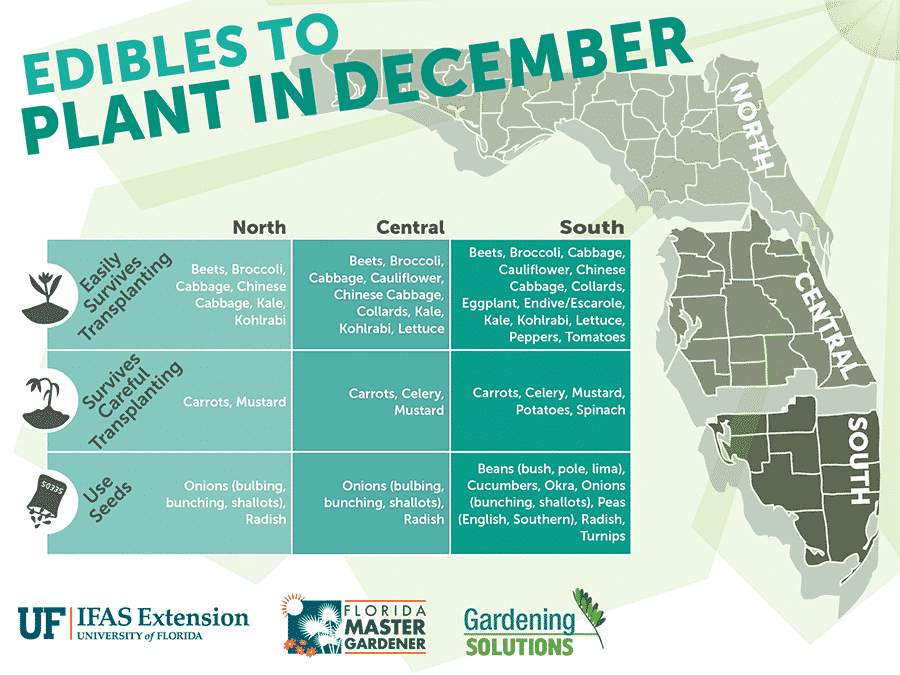 December is an exciting time to garden in Florida if you can find the time with all of the holiday hubbub happening. Don't let the graphic fool you, you can still start collards, kale, lettuce, broccoli, and cabbage from seed. You can start onion seeds, but I just buy sets and start them now. I would not bother trying to transplant carrots. Sow the seeds directing in the ground instead. Someone told me to spread burlap over the seeds after you plant them, it's supposed to be good for the carrots. I'm going to give it a try.
If you live in south Florida, you can see all of the good stuff you can start planting in December. Don't worry central and northern Florida, that's a sneak peak of what's coming for us next month. If you have a way to shelter the plants from the frost, you could start a lot of those seeds now, otherwise the rule of thumb is January 1 (New Years Day & 4th of July). I have a lot of these seeds already, but I'll probably be ordering more this month. Most of my time will probably be spent preparing my beds. I'm planning to expand my growing area this year using my no-till method. I have a roll of hay that I'm going to use for mulch, but I switched feed companies and I no longer have the nice compostable paper feed bags. I'm going to try using cardboard instead.
If you're new to gardening in Florida, I recommend you check out Florida Month-to-Month Gardening. It has really helped me figure out how to keep plants alive in this weird growing environment known as Florida. And since I try to stay organic, I also recommend The Complete Guide to Companion Planting. Bugs are a huge problem year-round here in Florida, and I've found companion planting and encouraging a balance in the garden to be the best way to combat them.
As always, I hope this has been helpful. Until next time, happy gardening.
The following two tabs change content below.
Bonnie was raised in a small farming village in central Ohio where she was active in 4-H and FFA. She grew up surrounded by a large family who taught her how to can, garden and cook from scratch. Now living in Florida and raising two outrageous kids, Bonnie is running the family farm where they raise chickens, ducks, goats, pigs and horses. She also enjoys teaching her kids how to live off of the land, appreciate God's creation, and live a simpler life.