Have you ever seen an herb garden kit at the store and thought it would be easy to make yourself?
The truth is that you can make a DIY garden kit yourself, and it'll cost a lot less than what you pay for a kit from the store.
Personally, I love making DIY gift sets. I can have fun being creative and sourcing different gift ideas for the people I love. Plus, who doesn't love an excuse to go shopping at the craft store?
Affiliate Disclosure
This post may contain affiliate links, which means I may receive a commission if you click a link and make a purchase. Clicking on the link will not cost you anything extra.
A gardening kit is extra special because you can choose plants and seeds based upon what your loved one is most likely to enjoy and use.
I'm a big fan of practical gifts.
Want to give a homecrafted gift, but worried you don't have the time or resources? Keep reading to learn how you can win a special gift package of hand made gifts.
Finding Your Containers
Don't limit yourself to the garden center when finding containers for your gift set. In fact, a garden center is probably the last place you want to look.
Garden centers don't make a huge markup on plants and seeds. They make up those profits by selling supplies, like planters and containers.
The beauty of gardening is that almost anything can be used as a container, you just need to drill some drainage holes.
Craft stores always have something that can be used as a planter. Shop their clearance aisles and take advantage of coupons whenever possible.
The dollar store is also a great place to find containers, although they may be lower quality than the craft store.
Keep in mind that you will need to drill holes for drainage, so try to avoid very thin plastic that will likely crack when drilled.
For the purposes of this gardening kit, you will also want a larger container that will hold the planters.
Since these plants will be grown indoors, we want to make sure they don't leak all over the counter when they are watered.
You won't be drilling holes in the outer container, but you will want to line it somehow to keep water from seeping through.
I'm using cork board tiles that I'm cutting to fit the bottom of my outer container.
Another option is plastic sheeting.
From a design standpoint, mixing container mediums looks really nice, like ceramic planters with a wood container or metal planters with a plastic container.
The nice thing with plastic containers is they don't need to be lined to deal with the water runoff.
Plants vs Seeds
You'll want to fill your planters with something, and part of that decision will depend on the gift recipient.
What types of plants do they prefer? What type of cooking do they do? Which herbs will they use the most of?
Not all herbs are easily started from seed, like rosemary and mint, so it's important to start first with a list a plants your loved one will enjoy. If their favorite herb is rosemary, then it doesn't make sense to give them rosemary seeds. And even if only one plant is rosemary, it'll look silly to have a plant in one container, but seeds for the other containers.
Also consider if the gift recipient is patient enough to wait for seeds to grow. If they are very focused on instant gratification or just don't have enough confidence to grow a plant from seed, then live plants may be a better option.
The next consideration is your budget.
Obviously, seeds will be less expensive than live plants.
If you are making gift sets for multiple people, you also have the added convenience of splitting a seed package between multiple gift sets.
Some herbs I recommend for container growing:
These are all herbs that I've successfully grown from seed and in containers. Many of them are also butterfly host plants, so be prepared to plant extra this spring and summer.
Garden kits are the perfect way to share the gardening spirit any time of year. They allow you to grow your favorite herbs to have fresh in your kitchen at any time.
---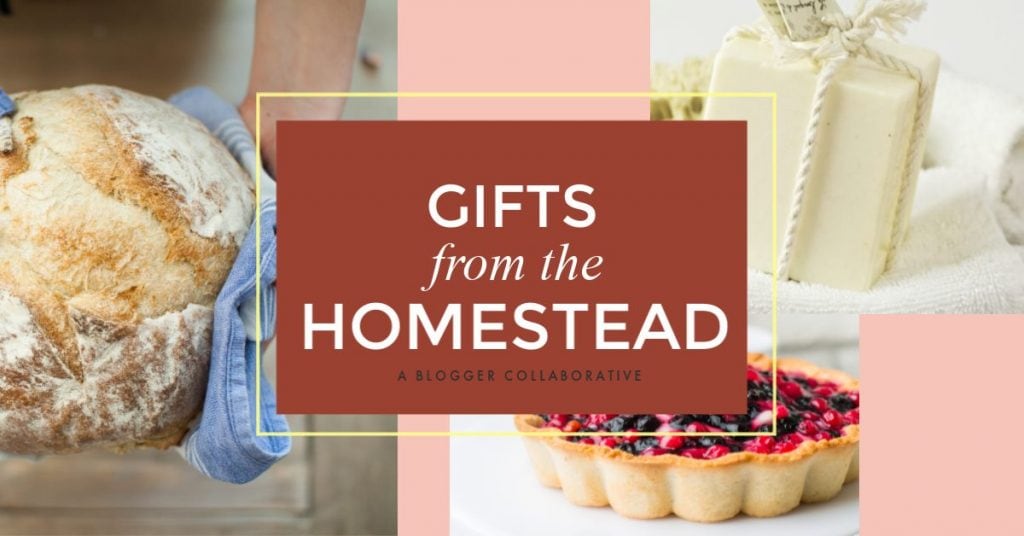 Need more gift ideas? Check out some of these other DIY projects:
Gifts You Can Make in an Hour or Less
How to Can Homemade Salsa || The Not So Modern Housewife
Create a Giftable Indoor Herb Garden Kit || The Not So Modern Housewife
Creative Cookie Packaging Ideas || Rootsy Network
Two Holiday Chai Tea Blends: The Perfect Fall or Winter Gift || Healing Harvest Homestead
Soup in a Jar: the Perfect Comfort Gift || Dehydrating Made Easy
Snickerdoodle Cookies || Nancy On The Homefront
Cinnamon Roasted Almonds (with printable gift tags) || A Modern Homestead
How to Make & Give Homemade Hot Cocoa Mixes || Homespun Seasonal Living
Make Gift-Worthy Bread Mix In A Jar – Great for Your Own Pantry Shelf Too! || Oak Hill Homestead
Make Your Own Lotion Bars || Learning and Yearning
Easy Homemade Bath Salts Recipe || Better Hens and Gardens
Peppermint Foot Salve || The Self Sufficient Home Acre
SPF Lip Balm Recipe || Our Inspired Roots
3 Bedtime Bath Teas for Kids || Homestead Lady
DIY Flaxseed Neck Heating Pad for Soothing Muscles || Joybilee Farm
No-Sew Scented Sachet Bags With 5 Herbal Recipes || Rockin W Homestead
Fall Air Freshener DIY || Feathers In The Woods
Gifts You Can Make in a Day or Less
Easy Applesauce Recipe For Canning or Eating Fresh || Hidden Springs Homestead
How to Make Hot Process Soap Complete Picture Tutorial || Healing Harvest Homestead
Crockpot Apple Butter with Canning Instructions || A Modern Homestead
DIY Quilted Mug Rug || Flip Flop Barnyard
Feathers & Hugs – How to Create a Psalms 91 Throw || The Farm Wife
DIY Flower & Veggie Row Markers || The Self Sufficient Home Acre
Make Your Own Veggie Hod || Nancy On The Homefront
Horseshoe Farm Sign – Fun DIY Gift for the Horse Lover || Homegrown Self Reliance
Gifts You Can Make in a Week
Easy Primitive Throw Pillow Tutorial || Hidden Springs Homestead
How to Make a Rag Quilt || Flip Flop Barnyard
Make Your Own Plant Pots and Baskets || Homestead Lady
Special Gifts That Take One Month to Create (but are well worth the wait)
Making Herbal Vinegar || Better Hens and Gardens
Elderberry Elixir – A Delicious Immune Boosting Gift || Homegrown Self Reliance
How to Make Homemade Vanilla Extract || Farming My Backyard
How to Make Strawberry Wine Step-by-Step || Stone Family Farmstead
How to Make Cold-Process Soap from Scratch || Oak Hill Homestead
---
Are you looking for seeds to create your giftable indoor garden kit? What about the chance to win other handmade treasures to gift to your loved ones?
I've joined together with some other wonderful homesteading bloggers to put together a handcrafted giveaway just for you.
One lucky reader will receive:
Botanical Interests Herb Seed Set
I will be sending the lucky winner a set of certified organic herb seeds from Botanical Interests!
Included in this prize is one package each of Italian Genovese Basil, Common Chives, Long Standing Cilantro, and Common Oregano – perfect for creating an indoor herb garden for your windowsill or to share with the gardener on your gift list! Also makes a great stocking stuffer!
Retail value $8.26 plus shipping
Handcrafted Oak & Maple Cheeseboard with Oak Cheese Knives, and a Northwoods Moose!
Unexplained Underfoot Objects is sending our lucky winner a handcrafted oak and maple cheese board with four oak cheese knives!
These heirloom-quality kitchen accessories are hand-rubbed with mineral oil for a gorgeous finish and protection.
As a bonus, they are also giving away one of their shop mascots, an articulated, NH pine moose from the backcountry of New Hampshire!
The total value of this prize package is $75 plus shipping.
You can find more beautiful handcrafted products for sale on their website New Hampshire Woodworks.
Psalms 91 Throw
Julie from The Farm Wife is sending our lucky winner a Psalms 91 Patchwork Throw! What a wonderful gift for snuggling up on cold winter nights!
This Psalms 91 throw is a perfect gift for any guy on your list who loves to Barbeque! This patchwork throw measures 50″ x 60″. The top is made of cotton fabric with a BBQ theme; the back is a coordinating red fleece. The colors are black, light tan and rust.
Retail Value: $75
Peppermint Bath & Body Set
Lisa Lombardo from The Self Sufficient HomeAcre is sending our lucky winner a set of small-batch Peppermint Bath & Body products!
Included in this set: Peppermint Foot Balm, Peppermint Sugar Scrub, & Peppermint Lip Balm…plus a bonus container of Sore Muscle Rub and a handmade rustic heart ornament!
Retail value of $24 plus shipping.
Set of Four Olivewood Spice Spoons
Lazy Pecan by Rockin W Homestead is sending our lucky winner a set of 4 Olivewood Spice Spoons with a retail value of $17.95 plus shipping!
This Olive Wood Spice Spoon Set is perfect for scooping up sugar, spices, tea and pretty much everything else you can think of.
Each 3-inch long scoop is hand-carved in rural Kenya from sustainably harvested wood and every piece is as unique as the artisan who crafted it!
Homestead Journal, Garden Journal, & Monthly Planner
Melissa from Little Frugal Homestead is sending our lucky winner a Homestead Journal, Garden Journal, and Monthly Inspiration Planner Set with a retail value of $18 plus shipping!
Stay organized with these 6 X 9″ blank, lined journals. Keep track of homesteading and gardening plans and experiences, and use the blank journal to chronicle your thoughts and inspirations!
Nigerian Dwarf Goats 201: Getting Started by Lesa Wilke
Lesa Wilke from Better Hens and Gardens is sending our lucky winner a copy of her new eBook Nigerian Dwarf Goats 201: Getting Started: How to Choose, Prepare, and Care for Your First Goats!
The retail value of her Kindle edition is $6.99.
Have you ever wanted goats but you're not sure where to start? Lesa shares all of the details you need to get started, with extra tips and information about Nigerian Dwarf goats. These diminutive dairy animals make great pets and are a wonderful way to provide milk on a small homestead!