Sunday was the Holy Roman Day of Eggs (aka National Egg Day), so I decided to celebrate by making a frittata. It was so yummy and has made a wonderful quick and easy breakfast to reheat. A frittata is basically an Italian open faced omelet (only fluffier). They can be cooked in a skillet or baked. I've even seen them cooked in a slow cooker. I like to bake mine because it's quick and easy. Like an omelet, a frittata can be filled with a variety of ingredients. I made this frittata with kale, potatoes, onions, garlic and Parmesan cheese.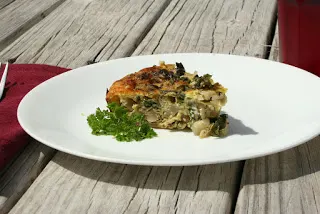 Kale and Potato Frittata
Additional Time:
5 minutes
Ingredients
2 c. Kale leaves, chopped
1 Tbsp Olive Oil
1 medium Onion, diced
1 clove Garlic, minced
2 medium Russet Potatoes, peeled and diced (or a bag of frozen country style hash browns)
6 large Eggs
1/2 c. Milk
1/4 c. Parmesan Cheese, shredded
1/4 tsp Salt
Pinch Ground Pepper
Instructions
Preheat oven 425 degrees.
Wash the kale and pat dry.
Heat the oil in a 10" cast iron skillet over medium heat. Add the onion and garlic and sauté until the onion turns golden, about 10 minutes.
Mix in the potato and cover the pan.
Cook, stirring occasionally, until the potato is tender, about 10-15 minutes.
Add the kale, cover and cook until the leaves are wilted, about 5 minutes.
In a separate bowl, beat together eggs, milk, cheese, salt and pepper until well combined.
Pour egg mixture over the vegetables in the skillet.
Bake uncovered 15-20 minutes or until the center is firm.
Let stand 5 minutes before serving. Slice into pie shaped wedges. Serves 6.