Today, I'm going to share with you a winning dinner recipe that's sure to become a family favorite: pot roast with sweet potatoes and apples. Sounds mouthwatering, right?
When you want to create a cozy and nurturing home environment, there's nothing quite like a mouthwatering, homemade meal. Just imagine the irresistible aroma of succulent Slow Cooker Roast Beef, perfectly seasoned and paired with sweet and tender apples and melt-in-your-mouth sweet potatoes.
As the beef simmers away in the slow cooker, all those flavors blend to create a dish that's not just comforting, but incredibly satisfying.
Affiliate Disclosure
This post may contain affiliate links, which means I may receive a commission if you click a link and make a purchase. Clicking on the link will not cost you anything extra.
This dish, with its mix of savory pot roast and the sweet, comforting flavors of apple and sweet potato, is a perfect balance of taste and nutrition. Whether you're entertaining guests or cooking a hearty meal for your loved ones, this delicious dinner recipe never fails to impress.
So let's gather our ingredients, grab that trusty slow cooker, and embark on a culinary adventure that'll fill your home with love and deliciousness! Trust me, it's going to be amazing.
Table of Contents
Best Slow Cooker Pot Roast with Sweet Potatoes Dinner
To make this delicious meal, you'll need the following ingredients:
2-3 lb beef boneless shoulder roast
2 Tbsp. olive oil
1/2 c. flour
1 tsp. dried thyme
1 tsp. salt
3/4 tsp. black pepper
1 c. beef broth
Water
1 medium onion, sliced
2 minced garlic cloves
3 sweet potatoes
2 green apples, cored and sliced
1 Tbsp. cornstarch
1/4 tsp. cinnamon
2 Tbsp. cold water
salt and pepper t.t.
Heat the olive oil in a cast iron skillet. Combine the flour, thyme, salt, and pepper in a gallon Ziplock bag. Place the roast in the bag and shake it until the roast is coated on all sides. When the oil is hot, place the roast in the skillet and brown on all sides. Remove the roast and place it in the slow cooker.
Add the sliced apples, large sweet potato cubes, onions, and minced garlic to the slow cooker. Pour in the beef broth and enough water to cover the roast. Cook on low for 8-9 hours, or until the meat is tender.
Substitutions for This Recipe
If you don't have a slow cooker, you can also easily make this recipe in an oven. Preheat the oven to 350°F and assemble as directed above. Place everything in a large Dutch oven, cover with foil, and bake for 3-4 hours or until the meat is tender.
If you can't find a boneless shoulder roast, you can substitute it with a chuck roast. You can also use pork or chicken in this recipe for a different flavor profile.
You can also play around with the vegetables and seasonings to customize this dish to your taste. Try adding some carrots, celery, or mushrooms to the mix! Or switch up the herbs and spices for something unexpected.
No matter what you choose, this hearty bowl is sure to be a comforting and hearty meal that will keep your family warm and satisfied. Enjoy!
More Recipes with Sweet Potatoes
Sweet potatoes are versatile and nutritious. Try incorporating them into other recipes such as Sweet Potato Casserole, and Sweet Potato Chili, or add them to your favorite pasta dishes for a healthier twist!
More Sweet Potato Recipes
Sweet potatoes are also great for making baked sweet potato fries or roasting in the oven with other vegetables. Get creative and explore different ways to use this delicious root vegetable!
Serving Suggestions
This is a great dish to serve for family dinner or Sunday brunch. Serve the roast over rice and vegetables paired with your favorite green vegetable such as steamed broccoli or sautéed spinach.
For a more festive presentation, top the roast with some fresh herbs before serving. Parsley, thyme, and rosemary are all great options for adding a pop of color and flavor!
You can also have some fun with the sides. Try pairing this dish with roasted asparagus or your favorite grain such as quinoa or farro. Enjoy!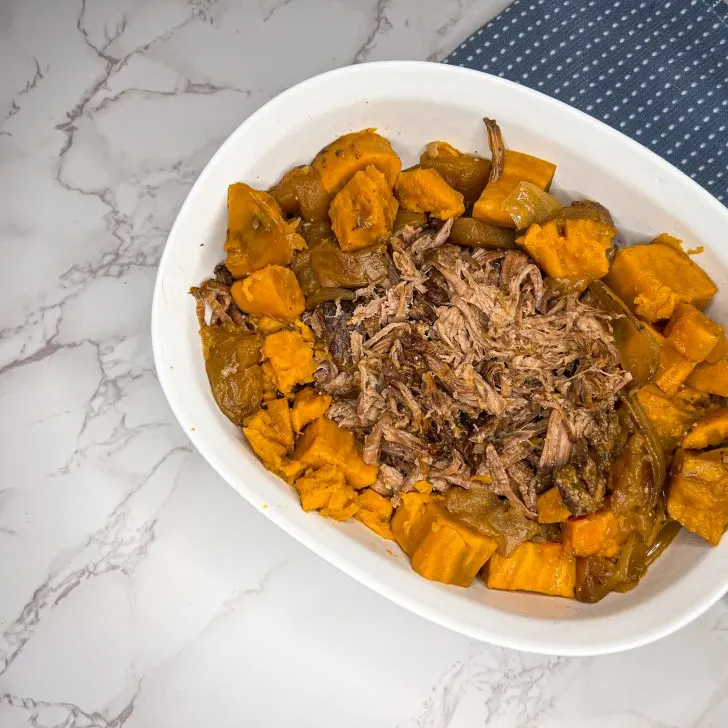 Tips & Tricks for Flavorful Roasts
To maximize the flavor of your roast, season generously with salt and pepper before popping in the slow cooker. This will help bring out all of the delicious flavors of the roast and vegetables.
If you have some extra time, try searing the roast in a hot skillet before adding it to the slow cooker. This will help lock in all of the juices and give your roast a delicious crust.
Finally, don't forget to let your roast rest after cooking for at least 10 minutes. This will ensure that all of its flavor and juiciness is intact when served.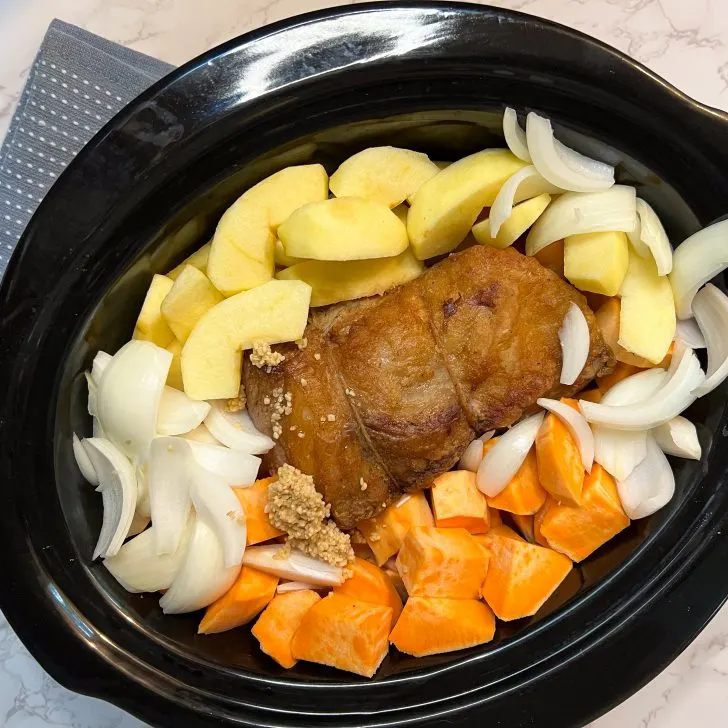 Slow Cooker Pot Roast Perfect for Cold Winter Days
The slow cooking process ensures that the beef is tender and packed with flavor, while the sweet potatoes and apples bring warmth and natural sweetness. It's a perfect meal for days when you need some comfort food.
Plus, slow cooker pot roast is so easy to make that it's perfect for busy weeknights or when you have guests over. All you need to do is put everything in the slow cooker and let it do all of the work!
No matter how you decide to serve it, one thing's for sure—this delicious slow cooker pot roast will become a family favorite in no time!
Frequently Asked Questions:
Can I use a different cut of meat?
If you don't have a boneless shoulder roast, don't worry! Other cuts of meat such as chuck roast or rump roast would work well in this recipe too. Regardless of which cut of meat you choose, cook the meat with the fat side facing up. The fat will melt into the meat as it cooks and will help keep the roast juicy and flavorful.
What are the best potatoes for pot roast?
Sweet potatoes are great for pot roast because they're nutritious and hold their shape while slow cooking. You can also use russet potatoes or Yukon gold potatoes for a more traditional pot roast flavor. Make sure to cut them into 1-inch cubes and add them to the slow cooker after the roast has been cooking for about 2 hours. This will give them enough time to cook without turning mushy.
What other vegetables can I use?
The great thing about pot roast is that you can get creative with what type of vegetables you add! Carrots, onions, celery, and mushrooms all work well in this pot roast recipe below. Just make sure to cut them into 1-inch cubes so that they will cook evenly with the meat and potatoes. If you're looking for a more colorful dish, try adding some bell peppers or zucchini slices during the last 30 minutes of cooking time.
What meat goes best with sweet potatoes?
The sweetness of slow-cooked pork shoulder or beef brisket perfectly complements the natural sweetness of sweet potatoes. For a more savory flavor, try using roast chicken or turkey breast. No matter which meat you choose, make sure to cook it low and slow so that it comes out juicy and tender!
Do sweet potatoes take longer to cook than russet potatoes?
No, sweet potatoes cook slightly faster than russet potatoes. This is because sweet potatoes are naturally lower in starch and have a higher water content. If you're worried about your potatoes being too mushy, you can add them in the last 2 hours of cooking time; however, I've found sweet potatoes to hold their shape pretty well in the slow cooker.
Is it better to bake or boil your sweet potatoes?
That depends on what you're using them for. If you want to keep the skins on, baking is the best way to go since it will help keep them intact. If you're making mashed potatoes or a casserole, boiling is usually the easiest and quickest option. But no matter how you choose to prepare your sweet potatoes, make sure to add a bit of butter and a sprinkle of salt for extra flavor! Having said that, slow cooking is still probably the best way to get the most out of all that natural sweetness.
Why is boiling sweet potatoes better for you?
When it comes to cooking sweet potatoes, boiling is the way to go! This method retains more beta-carotene and makes the nutrient more easily absorbable compared to baking or frying. Boiling also helps retain more of the potato's natural sweetness, which can be enjoyable when you're looking to add a bit of flavor to your recipes without adding extra sugar or syrup. Plus, boiling is an extremely easy and quick way to cook sweet potatoes!
Should I peel sweet potatoes before boiling?
Peeling potatoes depends on how you plan to use them. If you're making mashed potatoes or a delicious casserole, it's a good idea to peel them first. Sweet potatoes, on the other hand, hold their shape well when boiled, and the skins might not give you the texture you're looking for. But when roasting, keeping the skins on helps keep those sweet potatoes nice and moist. Of course, if you're boiling them, you don't have to worry about that. So, peel or not to peel, it's all about what you're cooking up!
Will sweet potatoes spike blood sugar?
Sweet potatoes are well-known for their fiber richness and low glycemic index, meaning they have a slower and more gradual effect on blood glucose levels. That's why they're often recommended as a safe and healthy option for people with diabetes, instead of other root veggies like white potatoes. As long as you're not going overboard, sweet potatoes won't cause a sudden spike in your blood sugar. And if you want to up the nutrition game, try adding some nuts or seeds on top to balance out the meal's glycemic load.
What flavors taste good with sweet potatoes?
It's no surprise that the combination of sweet potatoes and apples is a classic. But you can also pair sweet potatoes with savory ingredients like bacon, caramelized onions, or smoked paprika. Herbs such as thyme, rosemary, oregano, and garlic are great for adding depth to your dishes too. Feel free to get creative with spices and herbs to find the flavors that work best for you and your family!
What makes sweet potatoes taste better?
One great way to bring out the flavor of sweet potatoes is to roast them in the oven with a bit of oil and some herbs or spices. Roasting brings out their natural sweetness without making them too sweet while adding salt, pepper, garlic powder, or nutmeg will enhance the flavors even more. If you're looking for healthier options, you can also steam or boil your sweet potatoes to get a smooth, creamy texture without all the added fat.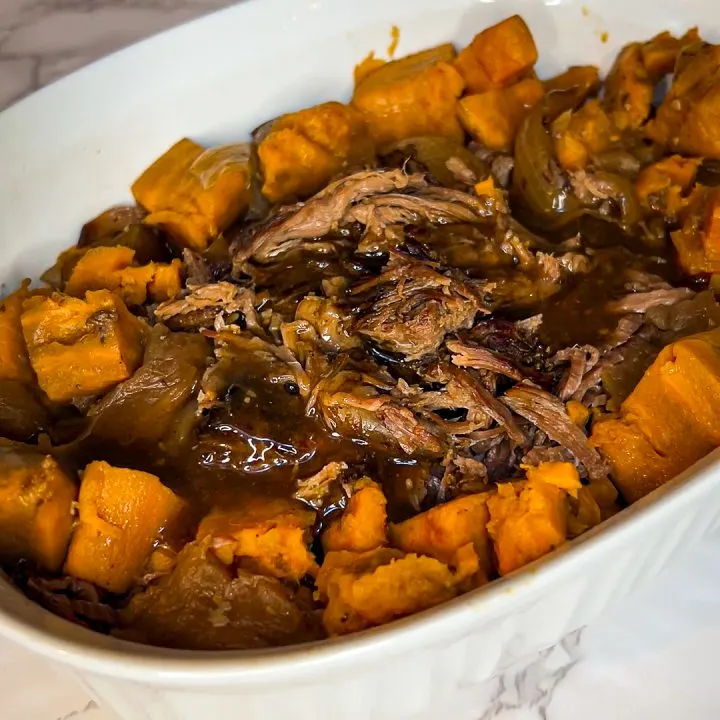 Beef Roast with Sweet Potatoes
Additional Time:
15 minutes
Total Time:
9 hours
30 minutes
Ingredients
2-3 lb Beef Boneless Shoulder Roast
2 Tbsp. Olive Oil
1/2 c. Flour
1 tsp. Dried Thyme
1 tsp. Salt
3/4 tsp. Black Pepper
1 c. Beef Broth
Water
1 medium Onion, Sliced
2 minced Garlic Cloves
3 Sweet Potatoes
2 Green Apples, Cored and Sliced
1 Tbsp. Cornstarch
1/4 tsp. Cinnamon
2 Tbsp. Cold Water
Salt and Pepper t.t.
Instructions
Heat the oil in cast iron skillet.
Combine flour, thyme, salt, and pepper in a gallon Ziploc bag.
Place roast in the bag and shake until roast is coated on all sides.
When oil is hot, place the roast in the skillet and brown on all sides. Remove the roast and place in the slow cooker with the fat side facing up.
Add beef broth and enough water to bring the liquid level up to 2 inches from the bottom of the slow cooker.
Add apples, sweet potatoes, onions and garlic. Cut the sweet potatoes into large cubes.
Cook the roast on low heat for 8-9 hours.
Place the roast, sweet potatoes, onions and apples on a serving platter and hold.
In a small bowl, combine cornstarch, cinnamon and cold water. Whisk until well combined and no lumps remain.
Add the juices from the slow cooker to a small sauce pan and simmer over medium heat and whisk in slurry mixture. Simmer and whisk for 15 minutes or until it reaches desired thickness. Season with salt and pepper to taste.
Serve sauce with roast and potatoes.
Recommended Products
As an Amazon Associate and member of other affiliate programs, I earn from qualifying purchases.
Nutrition Information
Yield

8
Serving Size

8 oz
Amount Per Serving
Calories

1015
Total Fat

60g
Saturated Fat

24g
Trans Fat

2g
Unsaturated Fat

31g
Cholesterol

296mg
Sodium

627mg
Carbohydrates

24g
Fiber

3g
Sugar

8g
Protein

91g
Final Thoughts
Making a slow cooker pot roast is easier than you think! All you need to do is season the meat, add your favorite vegetables and potatoes, and let it all cook in the slow cooker for several hours. Enjoy the delicious aromas that will fill your home as it cooks—it's sure to make your mouth water! With minimal effort and maximum flavor, this slow cooker pot roast is sure to be a hit with the whole family. Serve it with some crusty bread and you've got yourself a hearty, delicious meal. Bon appétit!