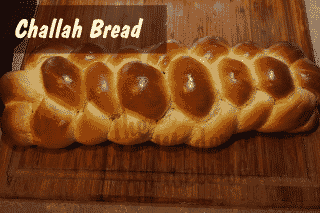 Tonight at sundown marks the beginning of Chanukah, an eight day long Jewish holiday commemorating the rededication of the Holy Temple in Jerusalem at the time of the Maccabean Revolt of the 2nd century BC.  In honor of Chanukah and my Jewish friends, I decided to make Challah Bread.  Two loaves of Challah are traditionally served during the three Shabbat meals on Friday night, Saturday morning and Saturday afternoon.  It represents the manna that fell from heaven and fed the Israelites as they wandered in the desert for 40 years during their escape from Egypt.  It is an enriched dough made with eggs, but it does not contain any dairy or meat products.  The braided loaves are perfect for family meals because pieces can easily be torn from the loaf as it is passed around the table.
I had the privilege of attending a Shabbat meal while I was in Israel.  The delicious bread is what led me to research Challah bread and want to learn to make it for myself.  Many recipes I've found tell you to braid the loaf into three strands, but in my opinion, it just isn't Challah if it isn't a six-strand loaf.  Not only is it more impressive looking, but it forms the classic knots that make this loaf so great for passing around at a family meal.
Challah Bread
2 3/4 tsp Instant dry yeast
1 1/4 c Warm water (100-110 F)
6-7 c Bread flour
5 Tbsp Sugar
4 Egg yolks
2 Whole eggs
5 1/2 Tbsp Vegetable oil
1 Tbsp Salt
Egg Wash
1 Whole egg
6 tsp Water or Milk (milk is not Kosher, but makes a nicer wash)
Whisk the yeast and warm water together in a mixing bowl and let stand for 10 minutes to activate the yeast.  Add the rest of the ingredients, making sure to avoid letting the salt come into direct contact with the yeast.  Add 5-6 cups of flour to start.
Using a mixer with a dough hook, mix on low speed until all ingredients are combined, about 3 minutes.  Add more flour as needed until the dough no longer sticks to the mixing bowl.
Increase to medium speed and mix until proper gluten development is achieved, about 5-6 minutes.  The dough should be stiff so it will braid properly.  To test for gluten development, take a pinch of dough and slowly pull it apart until you can see light through the dough.  This is called the Window Pane Test.  If you can pull it apart without the dough breaking, the gluten is properly developed.
Spray a large bowl with non-stick spray.  Place the dough in the bowl, cover, and leave in a warm, draft-free place until doubled in size, about 2 hours.  Fold the dough once, halfway through bulk fermentation.
Turn the dough onto a floured surface and divide in half.
Divide the half into six equal pieces.  (for my loaf, each strand weighed approximately 3 oz)  You need to weigh the strands and get them as equal as possible so your braid looks even.
Degas the dough by pressing flat.  Pinch the sides together so it starts to form a strand.  
 Roll the dough out into a smooth strand.  It will be short at first, but this is just to initially shape the dough.
Repeat this process for all 6 strands.  Cover the strands with plastic and let rest 10-20 minutes.  This will let the gluten relax so they will roll out properly.
Roll the strands out to the desired length.  They should be about 1″ in diameter for a good braid.  These strands are about 18″ long.
Braid the dough:
Repeat this process for the second half of the dough until you have two braided Challah loaves.  Set them on a baking sheet, well spaced from each other and cover with plastic.  Let rise 1 1/2 to 2 hours.
Preheat the oven to 375 F.  Whisk together the ingredients for an egg wash.  Using a pastry brush, brush the loaves with the egg wash, making sure you get into the braid.  Bake for about 30 minutes or until a digital thermometer inserted in the center of the loaf reads 195 F.
This bread is great for dinner or sandwiches.  It also makes excellent French Toast.