Vánočka is a rich, flavorful bread from the Czech Republic that is traditionally served at Christmas time.
It can be braided 2 ways: as a 6 strand braid or as 3 loaves (4 strand, 3 strand and 2 strand) stacked on top of each other.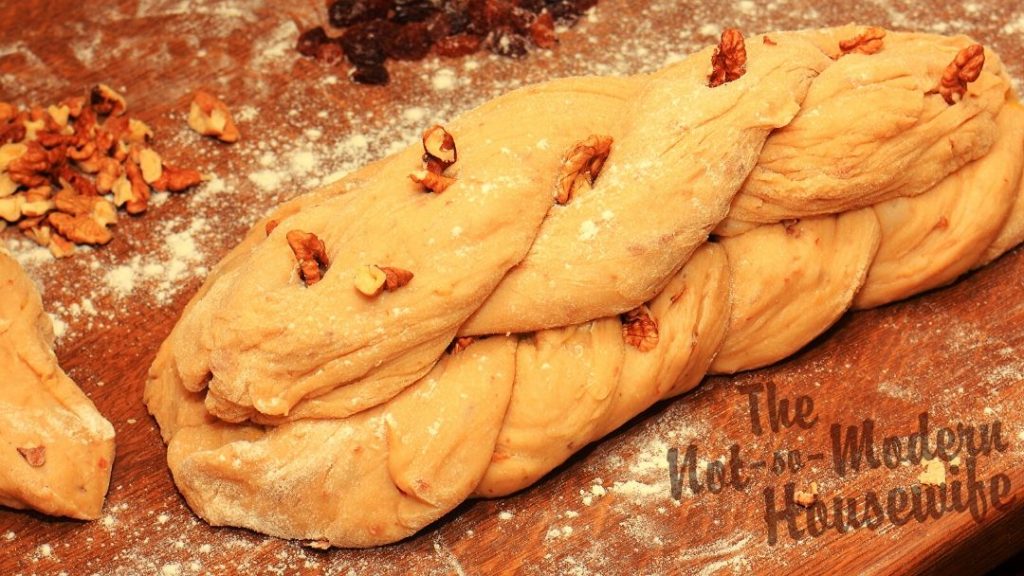 I tried the latter and was disappointed with how much the bread spread out as it rose and baked.
Affiliate Disclosure
This post may contain affiliate links, which means I may receive a commission if you click a link and make a purchase. Clicking on the link will not cost you anything extra.
I think a 6 strand loaf would have more structure and less warping. Check out my Challah Bread post to see how to braid a 6 strand loaf. I've also included a video below.
It's really not that difficult and very impressive looking.
The dough itself is a lot like Challah or Brioche.
What makes this bread so unique is the fresh ground nutmeg and star anise. It gives the bread a really wonderful, complex flavor.
Because of the amount of fat and sugar in the recipe, it rises quickly.
I ended up making the dough a day ahead of time and refrigerating it. This gives the dough more time to develop its flavor.
The next day, take the dough out of the fridge and place it in the oven on the warm setting. You can take it out of the oven once the bowl warms up and the dough starts to rise.
Make sure you take it out before you start to preheat the oven.
Punch down and fold the dough once to encourage more gluten development. Heavy doughs like this need good gluten development to help them to rise.
This bread was a real hit in our house. I can see myself making more very soon. It's great sliced or toasted with a little butter.
Pin the recipe for later: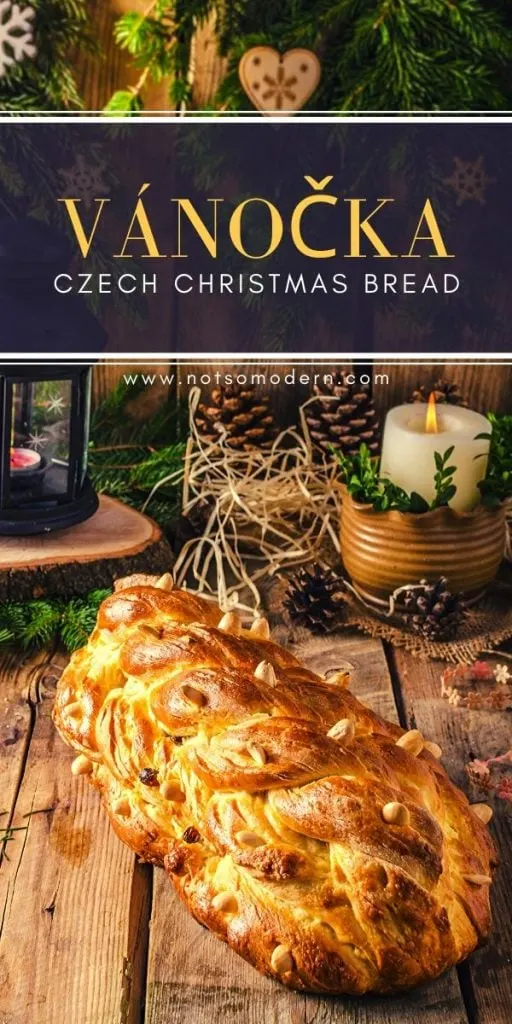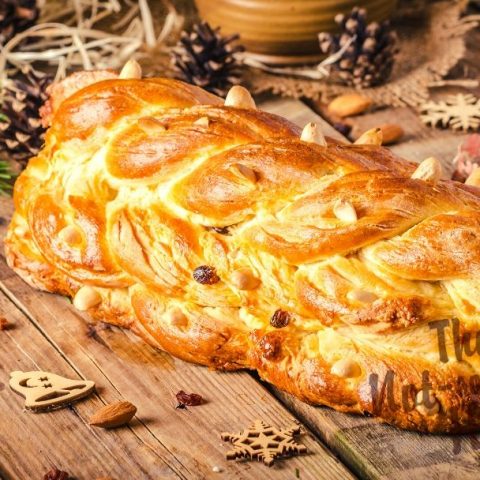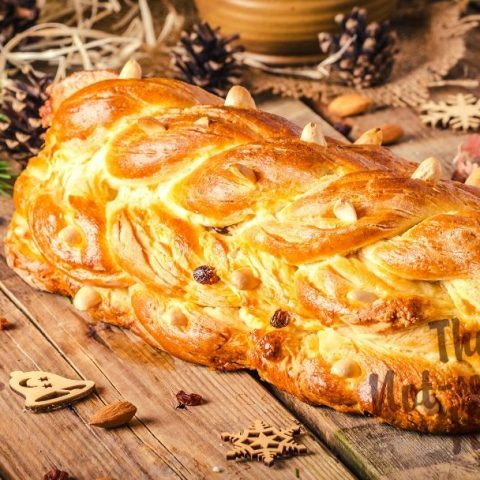 Vánočka
Total Time:
3 hours
45 minutes
Ingredients
1 Tbsp active dry yeast
1 c milk, warmed to 100 degrees F
9 Tbsp sugar
6 c bread flour
1 tsp vanilla extract
1/2 tsp salt
1 lemon, zested
1 nutmeg nut, grated
1 egg yolk
1 star anise, grated
4 oz butter
3 Tbsp of raisins
3 Tbsp of almonds, sliced
1 Tbsp sliced almonds, for topping
Egg wash
Instructions
Sprinkle the yeast into the warm milk, add in 1 tablespoon of sugar and then leave it in a warm place to activate the yeast.
When the yeast begins to bubble, add the rest of the flour, 8 tablespoons of sugar, vanilla, salt, lemon zest, nutmeg, egg yolk, and star anise into a bowl with the previous mixture and mix on low speed.
Once the ingredients are well combined, add in the softened butter and continue to mix on low speed.
Once the butter is incorporated, increase the speed to medium speed and mix until the dough is a smooth finish.
Stir in the raisins and almonds on low speed.
Spray a large mixing bowl with non-stick spray.
Shape the dough into a smooth loaf and place in the mixing bowl. Cover and leave in a warm place to rise. (or refrigerate over night as stated above)
Punch down and fold halfway through rising time. (about 2 hours total)
When the dough has risen completely, divide it on a pastry board into the desired number of strands. Roll each strand until about 1/2 an inch thick.
Lay parchment paper on a baking sheet and gently set the vánočka on it. Cover and let rise until doubled in size.
Whisk together the egg and milk for the egg wash. Brush with egg wash and sprinkle with sliced almonds.
Bake at 350 degrees for about 45 minutes or until golden brown and the internal temperature reads 200 degrees.
Nutrition Information
Yield

8
Serving Size

1 Serving
Amount Per Serving
Calories

625
Total Fat

19g
Saturated Fat

9g
Trans Fat

0g
Unsaturated Fat

9g
Cholesterol

79mg
Sodium

293mg
Carbohydrates

96g
Fiber

4g
Sugar

17g
Protein

17g