This flavorful chicken tortilla soup is a big hit in my house. Farmboy loves spicy food, so I'll strain off the liquid and serve him a few scoops of the chicken and vegetables. He eats all of it. This recipe could easily be adapted for a slow cooker. It's also a great way to use leftover grilled or roasted chicken.
I actually used homemade chicken stock for this recipe, made by simmering chicken backs and necks with a mire poix of onion, celery and carrots. I let it simmer for a few hours, adding more water as the liquid evaporated. After a few hours, I strain it through a fine mesh strainer. It's a simple and inexpensive way to add a lot of flavor to your soups. Store bought broth or stock works just as well for this recipe, although I recommend stock for soups. Also, try to buy low sodium stock or broth. It's easier to add more salt than make something less salty.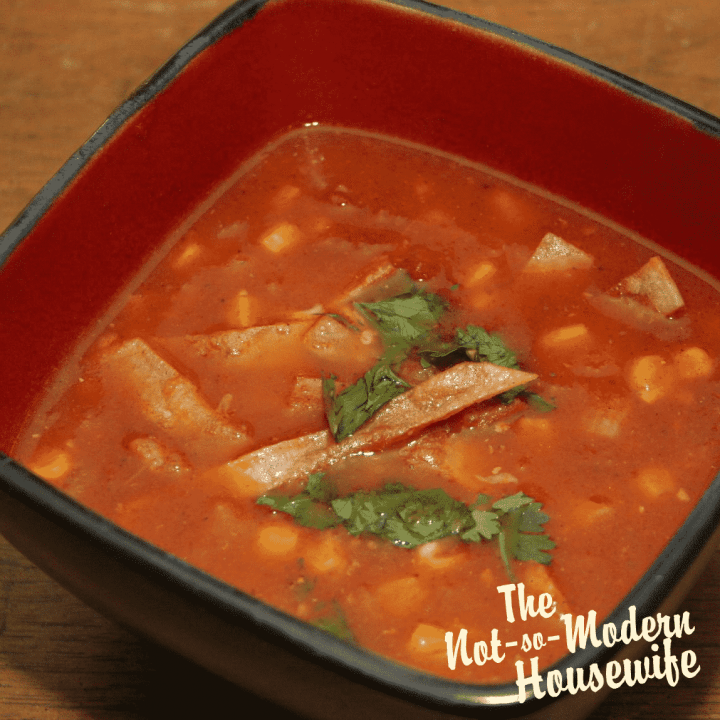 Chicken Tortilla Soup
Ingredients
1 Tbsp olive oil
1 medium onion, diced
4 garlic cloves, minced
2 boneless skinless chicken breasts, diced
2 tsp cumin
1 tsp chili powder
1/2 tsp cayenne pepper
1/2 c. dry sherry
4 c. chicken broth or stock
28 oz. crushed tomatoes, in their liquid
2 c. frozen corn
15.5 oz can black beans
Salt and pepper to taste
Toppings
Tortilla strips or chips
Shredded Monterey Jack cheese
Fresh cilantro, minced
Instructions
Heat the olive oil in a stock pot on medium high heat.
Season the diced chicken with salt and pepper.
Add the diced chicken and brown until no pink remains.
Add the onion and saute until soft.
Add garlic. Saute until aromatic, about 30 seconds.
Add cumin, chili powder and cayenne pepper and stir until is coats the chicken and onions.
Add the sherry and deglaze the pot by scraping all of the good bits off the bottom of the pot.
Add the chicken broth, tomatoes, corn and black beans.
Bring the soup to a boil, then reduce to a simmer. Simmer for 30 minutes.
Adjust seasonings as desired.
Serve hot. Top with tortilla strips, cheese and cilantro.