I am always looking for healthier options for my family, but I love the crispiness that comes with deep fried foods. I've found that a great way to get that crispy texture while baking is through Japanese Panko bread crumbs. These crispy baked zucchini spears are breaded using a standard breading procedure with Italian seasoned Panko bread crumbs. They are crispy and crunchy on the outside while being soft and tender on the inside. I serve them with a side of ranch dressing. They are delicious.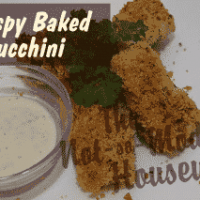 Crispy Baked Zucchini
Ingredients
2 medium zucchini squash
1 c. All-Purpose flour
Salt, to taste
Pepper, to taste
2 eggs, beaten
1 c. Italian seasoned Panko bread crumbs
Instructions
Set up your breading station (I use Rubbermaid containers): 1 dish w/ flour seasoned with salt and pepper, 1 dish w/ beaten eggs, and 1 dish w/ Panko bread crumbs.
Preheat oven 425 degree. Prepare your baking dish by spraying with non-stick spray.
Clean the zucchini and cut into spears by quartering the zucchini lengthwise, then cutting into approximately 2" pieces.
Coat zucchini in seasoned flour. Brush off all excess flour. Dip the zucchini in the egg. I found that letting the zucchini sit in the egg for a few seconds on each side helped the flour absorb the egg and keep the breading from eventually falling off. Coat the zucchini in Panko bread crumbs.
Place the breaded zucchini in a baking dish. Bake @ 425 degrees for 20-25 minutes or until the breading has turned a golden brown and a fork slides easily into the zucchini.
Serve warm with ranch dressing or vegetable dip.
Notes
Use one hand for flour and one hand for egg, that way you still have one mostly clean hand if you need to answer the phone or catch a rampaging toddler. It also cuts down on wasted Panko bread crumbs that end up stuck to your fingers instead of your zucchini.