Espagnole sauce (or brown sauce) is considered to be one of the five "Mother Sauces." It's more than just a gravy. It is a combination of beef stock, roux, tomato puree and seasonings that combine to form caramelized goodness that will make any beef dish better.
If you have access to veal, lamb or venison stock, it can be substituted for beef stock and be used to compliment any of those dishes as well. Espagnole sauce is also used to make a variety of small sauces such as the ever popular Demi-glace.
I've altered the traditional recipe slightly because I was doing such a small amount. It still turned out terrific.
Affiliate Disclosure
This post may contain affiliate links, which means I may receive a commission if you click a link and make a purchase. Clicking on the link will not cost you anything extra.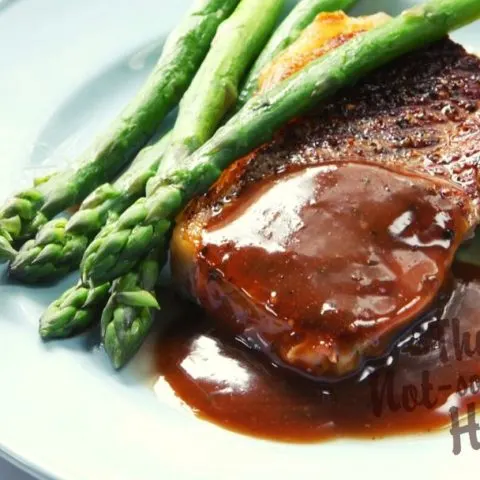 Espagnole Sauce
Ingredients
1 Tbsp Butter
2 oz Onions, diced
1/2 oz All purpose flour
1 1/4 c Beef stock
1/2 oz Tomato puree
1 Bay leaf
Instructions
Melt the butter in a saucepan, then add the diced onions. Cook until the onions are caramelized.
Add the flour, coating the onions and absorbing all of the flour.
Slowly whisk in the stock, breaking up any lumps. Whisk in tomato puree and add bay leaf. Bring the sauce to a boil.
Skim off any impurities and skin that rises to the surface. Continue to boil until the sauce reduces by half, about 30 minutes.
Strain the sauce through a fine mesh sieve. Use while it's still hot. This recipe makes about 1/2 cup of sauce.