I've made this cake recently for my weekly Bible study. We were having a birthday celebration and I wanted my gluten-free friends to have a cake to enjoy as well.
I got the recipe from The Allergy-Free Cook Bakes Bread by Laurie Sadowski.
What actually happened is that the gluten-free friends each took a piece (or two), and then my gluten eating friends also had some after they had finished the regular birthday cake.
Affiliate Disclosure
This post may contain affiliate links, which means I may receive a commission if you click a link and make a purchase. Clicking on the link will not cost you anything extra.
It was just too yummy to pass up.
I did divert from the recipe slightly by making it as a bunt cake instead of as a free-formed sheet cake.
I will give you the directions for how I recommend doing it in a bunt cake pan. It held it's shape nicely and was soft and moist.
I wasn't expecting this kind of texture from a cake made with yeast, but it was very nice.
The cardamom may have been a little strong for my taste, but the other ladies loved it. I think nutmeg could easily be substituted if you decide that you don't like the cardamom or if it isn't available.
As one lady described this cake "it's like French toast with apples."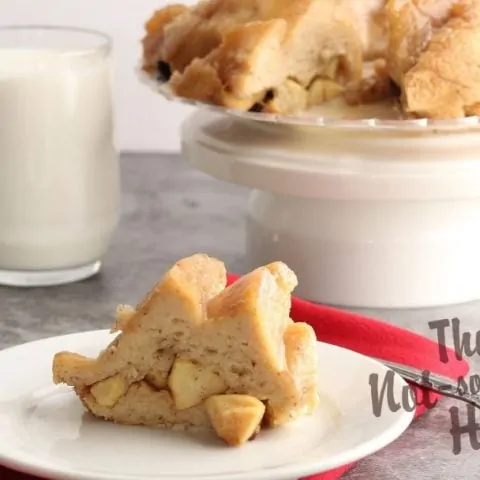 Apple Spice Cake with Vanilla Glaze
Total Time:
1 hour
15 minutes
Ingredients
Cake
1 c coconut milk, warm (100-110° F)
2 1/4 tsp active dry yeast
1 Tbsp ground flax seeds
1 Tbsp unrefined cane sugar
3/4 c millet flour
1/2 c arrowroot starch
1/2 c sorghum flour
1/3 c quinoa flour
1/4 c tapioca flour
1 1/2 tsp xanthan gum
1/2 tsp sea salt
1/4 c unsweetened applesauce
1/4 c warm water
2 Tbsp agave nectar
2 Tbsp coconut oil, melted
Filling
2 tart apples, such as granny smith, cored and cut into small cubes (about 2 cups)
2/3 c unrefined cane sugar
1 tsp ground cardamom
1 tsp ground cinnamon
Glaze
3/4 c confectioners' sugar, sifted
1 Tbsp coconut milk
1 tsp vanilla extract
Instructions
To make the cake, pour the coconut milk into a large measuring cup. Stir in the yeast, flax seeds and sugar. Let stand for about 5 minutes, until the yeast has bubbled and foamed about 1/2 inch.
Put the millet flour, arrowroot starch, sorghum flour, quinoa flour, tapioca flour, xanthan gum and salt in a heavy-duty stand mixer or a large bowl. Stir with a dry whisk until combined.
Put the applesauce, water, agave nectar and coconut oil in a small bowl. Stir until well combined.
Turn the stand mixer or hand mixer on low speed and gradually add the proofed yeast mixture, then the applesauce mixture to make a dough.
Turn off the mixer and scrape down the sides of the bowl with a rubber spatula. Resume mixing on medium-high speed for 2 minutes. The dough will be very sticky, similar to a thick muffin batter.
To make the filling, put the diced apples, sugar, cardamom and cinnamon in a small bowl. Toss until the apples are coated with sugar and spices.
*This is where my directions differ from the recipe book.* Spray a bunt cake pan with non-stick spray.
Pour 2/3 of the cake batter into the bunt pan, smoothing with a spatula so it evenly fills the entire pan.
Spoon apple filling evenly onto the cake batter. Cover the filling with the remaining 1/3 of the cake batter, using a spatula to cover evenly.
Let the cake rise uncovered in a warm, draft-free place for about 40 minutes, until doubled in size.
About 10 minutes before the dough is done rising, preheat the oven to 375 degrees. Bake for 20-25 minutes, until the cake is lightly browned and the apples have softened.
Let the cake cool for a few minutes, then turn bunt pan over onto a cooling rack or cake stand.
To make the glaze, put the confectioners' sugar, coconut milk, and vanilla extract in a small bowl. Stir until well combined. If necessary, stir in just enough coconut milk to thin the glaze.
Drizzle over the warm cake. Serve warm.
Recommended Products
As an Amazon Associate and member of other affiliate programs, I earn from qualifying purchases.
Nutrition Information
Yield

8
Serving Size

8 Servings
Amount Per Serving
Calories

363
Total Fat

11g
Saturated Fat

9g
Trans Fat

0g
Unsaturated Fat

2g
Cholesterol

0mg
Sodium

155mg
Carbohydrates

63g
Fiber

3g
Sugar

37g
Protein

4g