Today, I have Jessica from The Mad Hatter at Home sharing a delicious recipe for Festive Pork Tenderloin with German Carrots. I have known Jessica since high school. She has always impressed me with her ingenuity and resourcefulness. The recipes on her blog look so delicious, it's hard to believe their Gluten-free, a realm that I have yet to venture into. I don't know if I would ever go completely gluten-free, but I think I will be trying a few of her recipes soon.
Hello to readers of The Not So Modern Housewife! I'm Jessica, also known as the Mad Hatter of Home Improvement. As the name suggests, I'm a bit of a renovation project enthusiast… but I'm also an experimental cook and baker who is always looking for newer, better, more affordable ways to enjoy the activities and foods that I love! I specialize in creating gluten-free recipes that I share with friends and fans alike via The Mad Hatter at Home.
Bonnie invited me to share a favorite holiday recipe with you, and I wanted it to be something with a New-Year's theme. Pork and sauerkraut are a long-standing New Year's staple in many households; an homage to European and Pennsylvania Dutch traditions. Pork symbolizes progress (at least in the animal kingdom); the idea behind this being that a pig will always "root" forward, while a cow will stand still. This philosophy makes pork roast the ideal New Year's meal to promote progress in the upcoming year. For those of you who are curious, chicken is also taboo for a New Year's meal… since chickens are prone to scratching and pecking at the dirt, many people believe that eating poultry at the turn of the New Year will bring bad luck and hard times to those who partake.
Affiliate Disclosure
This post may contain affiliate links, which means I may receive a commission if you click a link and make a purchase. Clicking on the link will not cost you anything extra.
Not one to buck tradition (but also not a sauerkraut fan), I decided to concoct a pork recipe that combines some of my favorite flavors – sweet fruit preserves, savory herbs, and a bit of Asian flair with the addition of soy sauce. I use San-J Gluten-Free Tamari, but any brand of soy sauce you have on-hand will do nicely!
Festive Pork Tenderloin
1 whole pork tenderloin, trimmed and silver skin removed
1 jar (12-14 ounces) Peach Preserves or Orange Marmalade
1 teaspoon ground thyme leaves
4 tablespoons soy sauce
½ teaspoon granulated garlic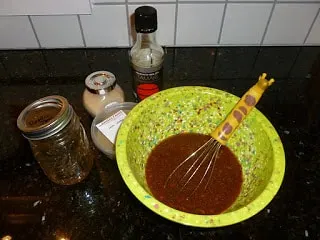 Mix Preserves, thyme, soy sauce and garlic together.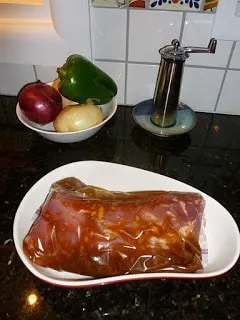 Divide this mixture and place half of it in a large (1 gallon) zipper-top bag. Place the other half in an airtight container and reserve in the refrigerator. Add the pork , press the air out of the bag and seal. Roll around to thoroughly coat the pork with marinade. Place the bag in a dish to catch any drips and allow this to marinate in the refrigerator for a minimum of 2 hours, and no more than 12 hours for best results.
Preheat oven to 375 degrees. Remove the pork from the marinade and place in a glass or ceramic roasting pan. Insert a probe thermometer in the thickest part of the tenderloin, then tent the entire pan loosely with foil. Roast for 40-50 minutes or until internal temperature reaches a minimum of 145 degrees.
While the pork is roasting, pour the reserved marinade into a small saucepan and simmer over medium heat until reduced by half. Turn heat to low to keep this warm for serving.
Remove the pork from the pan to a carving board; allow it to rest for 5 minutes before slicing. Slice into medallions and serve drizzled with reduced glaze.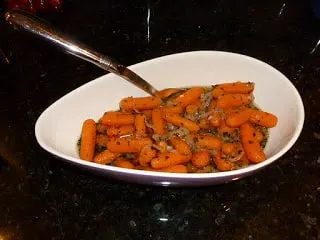 German Carrots
This recipe is one that my family has made for years… I am not sure exactly where the name came from, but my grandmother has always called them her German carrots. From as early as I can remember, this has always been on the menu at all of our family dinners, especially around the holidays. It is a lovely accompaniment to ham, turkey, chicken, or lamb, and is a different spin on the candied carrots that many of us enjoy!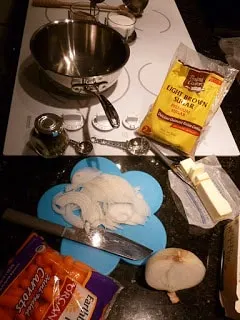 Ingredients:
1 pound baby carrots (or whole carrots cut into sticks)
1 teaspoon dried sweet basil leaves
3 tablespoons butter
½ medium sweet onion, sliced thinly
2 tablespoons light brown sugar
Salt and pepper to taste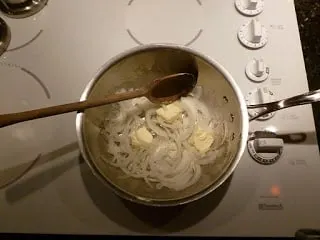 In a large saucepan (with a lid), sauté the onions in the butter over medium high heat until just softened.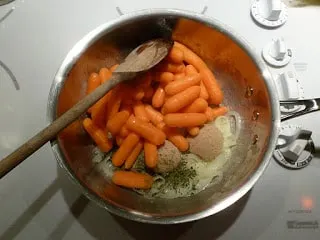 Add the remaining ingredients, stir well, and cover. Reduce heat to medium-low and allow to cook for 20-25 minutes or until the carrots are fork-tender. Serve alongside your favorite main dish and enjoy!