Lydia Richmond from Cluttered Genius is with us today to share this recipe for Glazed Chicken Skewers. Lydia teaches for NCVPS (NC Virtual Public School) as an English teacher. Before starting her at-home gig in April of 2011, she was a face-to-face teacher at a local high school rocking the literature and writing world. Because she loves to talk about herself, she started blogging. Over the years, she's decided to try to make this a real thing. Now, she blogs daily about various topics: parenting, health, faith, recipes, crafts, and more. Currently, she's working on publishing her first children's book, A Day to Remember.
Recently, I had a chance to try out eMeals and their recipe suggestions. My husband and I do love to try new recipes, but I have to make sure that the 8 year old will like them as well. I was so excited when I made the Glazed Chicken Skewers from eMeals and everyone loved them.
Have you ever made a recipe that pleasantly surprised you?
Affiliate Disclosure
This post may contain affiliate links, which means I may receive a commission if you click a link and make a purchase. Clicking on the link will not cost you anything extra.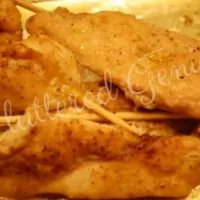 Glazed Chicken Skewers
The recipe was extremely easy, and the taste was the perfect "kick" that we all love. In fact, my daughter loved them so much she requested the leftovers for lunch the next day (and that rarely happens).
Ingredients
2 lb boneless skinless chicken breasts, cut into strips
8 Tbsp butter, melted
1 c. brown sugar, packed
1 Tbsp Cajun seasoning
Bamboo skewers
Aluminum foil
Instructions
Preheat oven 375 degrees.
Place melted butter in a shallow bowl.
Place 1 cup brown sugar & 1 tablespoon Cajun seasoning in pie plate.
Dip each chicken strip into melted butter then thread onto skewer.
Press each side of chicken into brown sugar mixture and place on foil lined baking pan.
Bake at 375 degrees for 20 minutes or until desired doneness.
Notes
This made a lot of chicken skewers, and I commented to my husband that I think it would have been better suited for a fun cookout or party simply because there was just too much for the three of us to eat (my almost-2 year old refuses to eat meat).

Adapted from eMeals