Jessica from The Mad Hatter at Home is here to share her recipe for gluten-free deep dish pizza. Jessica is a home improvement enthusiast and gluten-free cook. She has some great gluten-free recipes on her blog. This pizza recipe with gluten-free crust look really easy and so tasty. Thank you, Jessica, for sharing.
Every now and again, I get a hankerin' for some deep dish pizza… previously this would be an easy case to remedy since there's a Pizzeria UNO just down the road from me. I say 'previously', since I was recently diagnosed with Celiac Disease. I have dabbled with gluten-free cooking for years now, but I'd really never thrown down the gauntlet and said, "I'm going to do this!"
Until now.
Affiliate Disclosure
This post may contain affiliate links, which means I may receive a commission if you click a link and make a purchase. Clicking on the link will not cost you anything extra.
I recognize that many restaurants offer a gluten-free menu; unfortunately this is often an expensive venture, and the risk of cross-contamination is extremely high when you're putting your meal in the hands of a line cook at a chain restaurant, since they don't have the time or space for a dedicated gluten-free prep zone.
Recognizing that I still wanted my pizza, I took my own knock-off recipe for Gino's East (a Chicago institution), and spun the dough recipe a bit until I got the texture right with a gluten-free flour blend. Some gluten-free all-purpose flour blends contain an ingredient called xanthan gum, which helps replace the chewiness that would have otherwise been supplied by gluten, a protein found in wheat, barley, rye, and in oats that are cross-contaminated during processing. If your preferred flour doesn't contain xanthan, you'll want to add it to this recipe. The addition of xanthan gum helps with texture, but not always with dough stretch, which is an important component of any good pizza dough. Much of this stretch can be replaced with the addition of a whole egg; if you or someone in your family has an egg allergy, you can add about a teaspoon of granulated pectin to the warm water for the dough.
Hope you enjoy!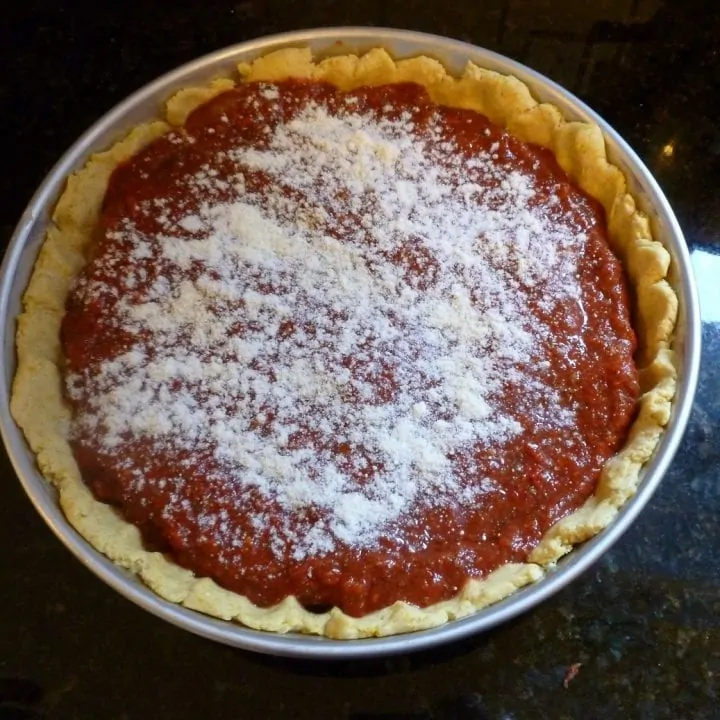 Gluten Free Deep Dish Pizza
Total Time:
1 hour
50 minutes
Ingredients
Tomato sauce
28 ounce crushed tomatoes in puree
2 teaspoons salt
¼ teaspoon black pepper
1 teaspoon dried basil
1 teaspoon dried oregano
¼ teaspoon garlic powder
Stir all ingredients together; cover and set aside while the dough is rising.
Crust
1 cup of warm water
1 packet quick-rise yeast
1 tablespoon sugar
1/2 cup yellow cornmeal or corn grits
1 teaspoon salt
3 tablespoons corn oil
1 large egg, beaten
3 cups of your favorite GF flour blend
2 teaspoons xanthan gum, if this is not already in your GF Flour blend
6-8 drops yellow food coloring, optional
1 tablespoon extra virgin olive oil
Toppings
12-14 slices unsmoked Provolone cheese
14-16 ounces 4-5 links mild Italian Sausage, casings removed
Tomato Sauce, recipe follows
¼ cup grated Parmesan cheese
Instructions
Take the water and put it in your mixer bowl, then add the yeast and sugar. Stir well and let the yeast foam up to be sure that it is active!
Add the rest of the crust ingredients, except for the olive oil.
Using your mixer's dough hook, knead the dough until it is well combined. (If you have a bread machine, you can use the dough setting on it if you prefer.)
Let the mixer knead the dough for 10 minutes, then take the dough ball out of the bowl, pour in the olive oil, place the dough ball back into the bowl and toss to coat.
Cover with plastic wrap and a towel and set the bowl in a warm place to let the dough rise until it starts to poof up - about 30-45 minutes.
Since this is not gluten-containing dough, you're not going to get the same rise out of it… I'm usually happy if it's half-again as big as when I started.
Assembly
Preheat oven to 400 degrees.
After the dough has 'poofed', take a deep dish pizza pan (or a 10 inch round cake pan with straight sides) and coat the inside of it with about a tablespoon of butter, then spray with a non-stick spray to ensure even coverage.
Flip the dough into the pan and press down into an even layer, and then pinch the dough up along the sides of the pan.
Lay the Provolone cheese in the bottom in two layers, tearing the slices to fit as needed, and then press the raw sausage over the top of the cheese. It helps to make the sausage into small (2-3 inch) "patties" before you press it into the pizza.
Top with your prepared tomato sauce and sprinkle with the Parmesan cheese.
Bake at 400 degrees for 45-50 minutes or until sauce is bubbly, crust edges are browned and sausage is cooked through. Allow to rest for 5- 10 minutes