Today, I am honored to host Kerry from Valium, Vodka and Vegetables as our guest blogger. I met Kerry when our mutual love of Hobbits brought us together for a movie premier. I have learned that she is creative, funny and has a passion for delicious food. Her guest post today is no exception. I will admit that I haven't attempted fudge in quite a while because my previous attempts had been unsuccessful. Her post makes me think that I can actually do it and get it right.
Kerry Phillips is one half of the writing team at Valium, Vodka, and Vegetables. A stay at home mom and early childhood educator, Kerry writes about ways to nurture your family while saving money, focuses on greener, simpler living, and talks about life as the mother of a learning-delayed child. She lives in Columbus, Ohio with her Big Dude, her Little Dude, and Cosmo the Wonder Cat.
As much as I love to cook, there was always one thing that eluded me – fudge. It drove me nuts. But, try as I might, I always ended up with something that resembled a candy bar, or topping for ice cream.
Affiliate Disclosure
This post may contain affiliate links, which means I may receive a commission if you click a link and make a purchase. Clicking on the link will not cost you anything extra.
And so I surrendered. I decided that it was simply a skill that would always elude me, much like calculus or reaching a tall shelf without a stool. It wasn't many years later, until Jeff and I were faced with having to give gifts on a shoestring budget at Christmastime, that I decided to give fudge another chance. Jeff did a little studying, and a little experimenting, and whipped up a perfect batch of fudge on his second try. I hate it when he shows me up in the kitchen.
But I learned how to finally achieve a great tray of fudge. There are three key things to remember: read your recipe twice, prep all of your ingredients first, and use a candy thermometer! That being said, I'm going to give the recipe for the base first, then instructions for 3 basic flavors. After that, I'll give instructions for swirled fudge, as well as using other ingredients and flavors.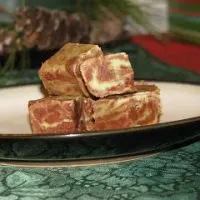 Easy Swirl Fudge Recipe with Mini Marshmallows
Ingredients
Fudge Base
5 oz evaporated milk (NOT sweetened condensed)
2 1/2 - 3 c sugar (personal taste, we tend to go towards 2 1/2)
4 - 8 Tbsp butter depending on flavor (4 Tbsp for peanut butter fudge, 8 Tbsp for others)
Chocolate Fudge
12 oz semi-sweet chocolate chips (if you use chips with a high cocoa butter content, like Ghirardelli, use 6 Tbsp butter instead of 8)
2 c mini marshmallows
1 Tbsp vanilla extract, real if you've got it
Peanut Butter Fudge
18 oz peanut butter, Skippy is our preferred PB for this
1 c finely chopped peanuts
2 c mini marshmallows
1T vanilla extract
Vanilla Fudge
12 oz white chips (not white chocolate)
2 c mini marshmallows
1 Tbsp vanilla extract, real if you've got it
Instructions
Be sure to cut your butter into chunks, and allow your butter to soften to room temperature.
In a sauce pot, heat the milk on low, then stir in sugar. Turn the heat up to low medium, depending on your stove/cookware. Best to start lower and work your way up if needed.
Now, forget any ideas about how long to cook it. You're going based on temperature, and you're working with finicky stuff. Your elevation will affect how long you end up cooking it. If you follow the temperature guidelines, your fudge will work regardless of weather or humidity.
Continuously stirring with a wooden spoon, cook the fudge until you reach 234 to 240 degrees. If you find that the mixture is starting to scorch on the bottom, turn your temperature down a little bit. It's better to be on the lower end of the range - going over a bit is okay, but don't stop cooking until you at least reach 234 degrees.
A visual cue is that the mixture will darken pretty quickly, and the bubbles will pull and stretch along the edges. Once you're at 234, turn off the heat, and stir in your butter until melted and smooth.
At this point, you'll add your flavorings. You should already have a large mixing bowl with your ingredients ready to go.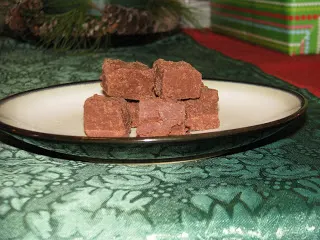 Chocolate Fudge
Combine the ingredients. Grease a 9x9 pan in advance. Butter is best, Pam is good.
Once your base is ready, pour it over the chips/ marshmallow mixture. You can ease it out with a spoon, but do not scrape the sides-the crystallized sugar will mess up how the fudge sets.
Mix it all together until everything is fully blended and a consistent color. At this point, it'll be a large ball, possibly still a little less firm.
Dump the mixture into your greased pan, flatten it out, and let it set for a few hours. Don't refrigerate it while it's setting; that can give your fudge a gritty texture. If all goes well, you'll have melt in your mouth fudge.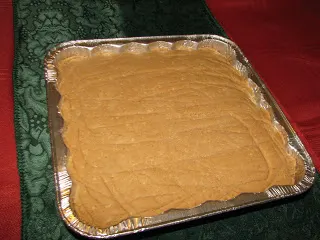 Peanut Butter Fudge
Lower the butter you put into the base to 4T. Follow the directions for mixing chocolate fudge, and wait anxiously for a few hours before you can dive in.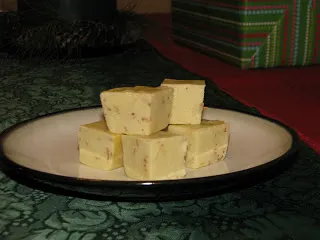 Vanilla Fudge
Follow the same instructions as you would for chocolate.
Combining Flavors
Other ways we've played up our fudge has been to swirl it with other flavors. To do this, simply divide the flavoring ingredients in half into two separate bowls.
For example, to swirl chocolate and peanut butter, one bowl will have 1 c marshmallows, 6 oz chocolate chips, and ½ Tbsp vanilla. The other will have 9 oz PB, 1 c marshmallows, and ½ Tbsp vanilla.
Once you've got your two bowls ready, put the chocolate into the bowl with the peanut butter, gently fold the two together, then put it in the pan.
To use a flavor like mint or orange, use white chips. Use 1 Tbsp of your flavoring of choice, and the same amount of chips and marshmallows.
Gel food coloring works best if you want to color your fudge. If you want to swirl a flavor with chocolate, halve the chips and marshmallow, but keep the extract at 1 Tbsp. Then put the chocolate into the bowl with the other flavor, and gently fold.
We've gotten pretty creative with our fudge. Don't be afraid to add nuts or dried fruit, or bits of candy. If you want your fudge to have a "crust", gently press graham cracker crumbs or crushed Nilla wafers onto the top of your fudge immediately after you've pressed it into your pan. You're really only limited by your imagination and taste buds once you've gotten the hang of the basics. We've made Key Lime fudge, maple, chocolate covered cherry, banana cream pie, and pumpkin. We're also planning to make a chocolate raspberry swirl, and a blueberry cheesecake fudge.
Good luck! And trust me, this will make you popular.