With summer approaching, many of you are probably looking forward to the long, sunshine filled days ahead. That sunshine can do more than just warm our skin and give us our daily doses of vitamin D. It can also dry and sanitize our laundry. A clothesline is a very simple way to reduce your energy use and lower your budget. We've seen an average savings of $50 per month on our electric bill since starting to use the clothesline. Granted, we're not hanging every load of laundry out to dry because of either weather or time constraints, but it has certainly offered us a significant savings.
Since we live in the woods, our property is limited to only a couple of spots of full sunlight. One of them is in the front yard, and while our house sits back from the road by a couple hundred feet, I don't want everyone who pulls in our driveway to get a peek at my drawers. That leave me with the area immediately behind the house. This actually works well for me because my washer and dryer are just inside the back door. I chose to set up a clothesline on two pulleys for two reasons. First of all, I'm short and any laundry hung at my eye level would almost certainly result in it draping the ground. With the pulley system, I can have one end at my level and the other end much higher so my laundry is well above ground level. Second of all, I have a very active toddler who doesn't allow me a lot of time to hang laundry. My setup allows me to stand on the steps at the back door, keep the laundry basket on a stool (so I don't have to keep bending over) and my clothespins next to my laundry basket and hang my laundry from one stationary position. It makes the whole process go a lot faster, plus I'm not carrying a heavy laundry basket full of wet laundry all over the back yard. The only negative aspect to this method is that I can usually only hang one large load of laundry at a time.
Here is what I would recommend for a ~100 ft pulley clothesline:
200 ft cotton clothesline
100 clothespins
5-6 clothesline separators
2 pulleys (I've actually found the plastic ones to be more reliable than the metal)
2 hooks
1 clothesline tightener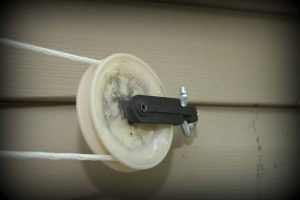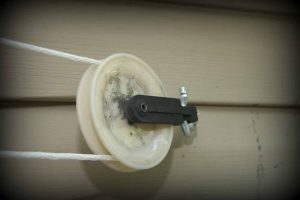 First of all, determine where you will hang your pulleys. I have one just above my head next to my backdoor so I can stand at the back step and hang laundry. The hook is screwed into a stud and the pulley is attached to the hook. The other pulley is about 20 ft above the ground on a tree across the yard. Again, the hook is screwed into the tree first, then the pulley is attached. Utility poles are also a good option for hanging pulleys because you don't have to worry about tree branches hanging above or shadowing your clothes.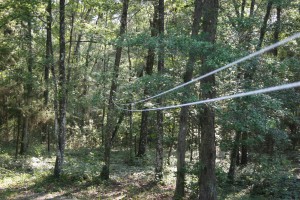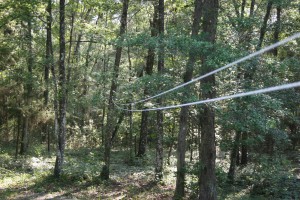 Next, run your clothesline through the two pulleys.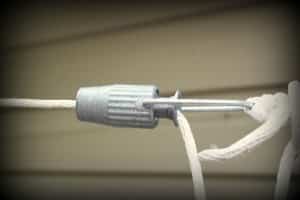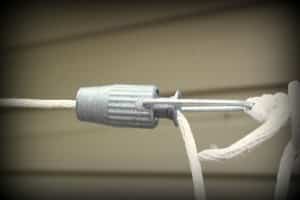 Tie one end of the clothesline to the clothesline tightener. Thread the other end through the tightener. If you have any trouble threading the clothesline, try wrapping a little bit of duct tape around the end of the clothesline. Now grip the tightener with one hand and pull the clothesline with the other hand until taut. You will have to tighten the clothesline the first several uses as it stretches. This is completely normal. The clothesline tightener will make it much easier for one person to do this by themselves. You can also tighten the clothesline while it is full of wet clothes. Our first clothesline did not have a tightener. Hubby and I could barely tighten the line with the two of us, especially while clothes were hanging on the line. I cannot recommend this device highly enough.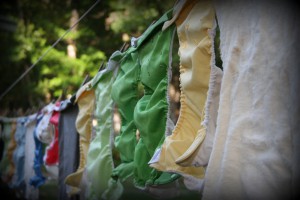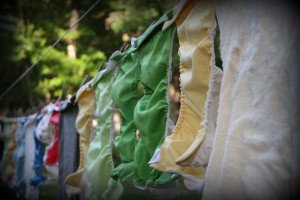 Now, a couple notes about hanging the laundry to dry. I recommend placing a clothesline separator between clothing items every 10-20 ft to keep the clothesline from sagging too much and the clothes from dragging the ground. This will vary depending on how wet the laundry is. Towels and jeans will need separators closer together than diapers and t-shirts. Also, I always try to fold some of the fabric over the clothesline before pinning it. This will give the fabric a better grip on the clothesline and prevent it from falling to the ground when the wind blows. Happy pinning! 😉
The following two tabs change content below.
Bonnie was raised in a small farming village in central Ohio where she was active in 4-H and FFA. She grew up surrounded by a large family who taught her how to can, garden and cook from scratch. Now living in Florida and raising two outrageous kids, Bonnie is running the family farm where they raise chickens, ducks, goats, pigs and horses. She also enjoys teaching her kids how to live off of the land, appreciate God's creation, and live a simpler life.