Homemade laundry detergent is a cost effective way to save money on your laundry routine. This liquid laundry detergent recipe costs pennies per load to make yourself, and it works great!

Commercial laundry detergent is expensive, with dyes and fragrances that could irritate your family's skin. This DIY detergent is gentle enough to use on cloth diapers without negative side effects.

This recipe makes a total of 10 gallons of liquid laundry detergent. The concentrate can be stored in a 5 gallon bucket, but then should be mixed with equal parts water when it is poured into a dispenser.

Affiliate Disclosure
This post may contain affiliate links, which means I may receive a commission if you click a link and make a purchase. Clicking on the link will not cost you anything extra.
In place of fabric softeners, add ½ cup of distilled white vinegar to your washing machine's fabric softener dispenser. It will automatically dispense vinegar during the rinse cycle, helping the clothes to rinse clean and smell fresh.

Looking for whiter whites? Add ½ cup of baking soda to your laundry when you add the detergent. The baking soda will take the dinginess out of your clothes.

You can also whiten your laundry by hanging it on a clothesline to dry.

I have a top load washer that I have used this recipe with for years. I've had readers with front load who also report success with this recipe. It is low on suds, so it's safe for your High Efficiency machines too.

Looking for a borax-free recipe? Try my powdered laundry detergent recipe.
Homemade Liquid Laundry Detergent
4 c. hot tap water
1 Fels-Naptha soap bar
1 c. Arm & Hammer Super Washing Soda*
1/2 c. Borax
10-15 drops of Essential Oil per 2 gallons of detergent
1. Using the large grate holes on your food processor, grate the bar of Fels Naptha soap. Add the grated soap to a medium saucepan with water. Bring the water to a low simmer. Stir continually over medium-low heat until the soap dissolves and is melted.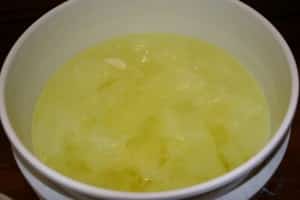 2. Fill a 5 gallon bucket half full of hot tap water. Add melted soap, washing soda, and Borax. Stir well until all of the powder is dissolved.

3. Fill the bucket to the top with more hot water. Stir the detergent until it is well mixed. Place the cover on the bucket, and let it sit overnight to thicken.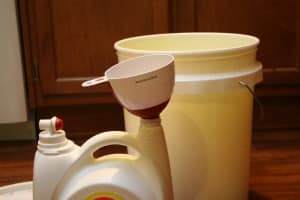 4. Stir the gelled solution. Use a kitchen funnel to fill a used, clean laundry soap dispenser half full with your homemade laundry soap, and then fill the dispenser the rest of the way with water. Add essential oils if you're using them. Shake or stir the container before each use.

Yields 10 gallons of liquid laundry detergent
Top Load Machine- 5/8 Cup per load (Approx. 180 loads)
Front Load Machines- ¼ Cup per load (Approx. 640 loads)
*Arm & Hammer "Super Washing Soda" – Baking Soda will not work, nor will Arm & Hammer Detergent – It must be sodium carbonate!!

Get everything you need (minus the essential oils) in one handy kit: