Affiliate Disclosure
This post may contain affiliate links, which means I may receive a commission if you click a link and purchase something I have recommended. Clicking on the link will not cost you anything extra.
I don't know about you, but I get really tired of paying these outrageous prices for a bottle of laundry detergent.  Even if I can find it on sale, it's at least $2-3 a gallon.  Then I have to worry about whether it has perfumes or dyes that are going to irritate my family's skin.  And have you looked at the ingredients? They're mostly water. This DIY liquid laundry detergent is perfect if you're looking for a way to save money. It will make 10 gallons of laundry detergent and costs pennies per load.  It lasts my family of five about two months.  I've even been known to use it on cloth diapers with great success. (only use about 1/3-1/2 the usual amount)
Liquid Laundry Detergent
4 c. hot tap water
1 Fels-Naptha soap bar
1 c. Arm & Hammer Super Washing Soda*
1/2 c. Borax
10-15 drops of Essential Oil per 2 gallons of detergent
1. Grate the bar of Fels-Naptha soap (I use a cheese grater with large holes) and add to a medium saucepan with water. Stir continually over medium-low heat until the soap dissolves and is melted.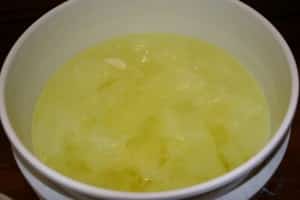 2. Fill a 5 gallon bucket half full of hot tap water. Add melted soap, washing soda, and Borax. Stir well until all of the powder is dissolved. Fill the bucket to the top with more hot water. Stir, cover, and let sit overnight to thicken. (DO NOT skip this step)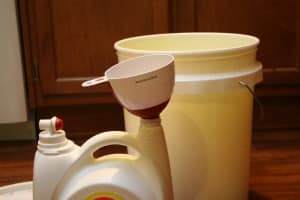 3. Stir the gelled solution. Use a kitchen funnel to fill a used, clean laundry soap dispense half full with soap and then fill the rest with water. Add essential oils if you're using them. Shake the container before each use.
Yields 10 gallons of liquid laundry detergent
Top Load Machine- 5/8 Cup per load (Approx. 180 loads)
Front Load Machines- ¼ Cup per load (Approx. 640 loads)
*Arm & Hammer "Super Washing Soda" – Baking Soda will not work, nor will Arm & Hammer Detergent – It must be sodium carbonate!!
Get everything you need (minus the essential oils) in one handy kit: