Every year, my husband impatiently awaits the arrival of peppermint ice cream at the local grocery store every Christmas.
It is like a food holiday (it ranks right up there with the first bags of candy corn being sold before Halloween).
I finally got an ice cream maker and decided that I would start making our own peppermint ice cream.
Affiliate Disclosure
This post may contain affiliate links, which means I may receive a commission if you click a link and make a purchase. Clicking on the link will not cost you anything extra.
Not only could I make it all year round, but I would know what was going into the ice cream and I would finally have a use for all of those leftover candy canes.
Pin this recipe for later: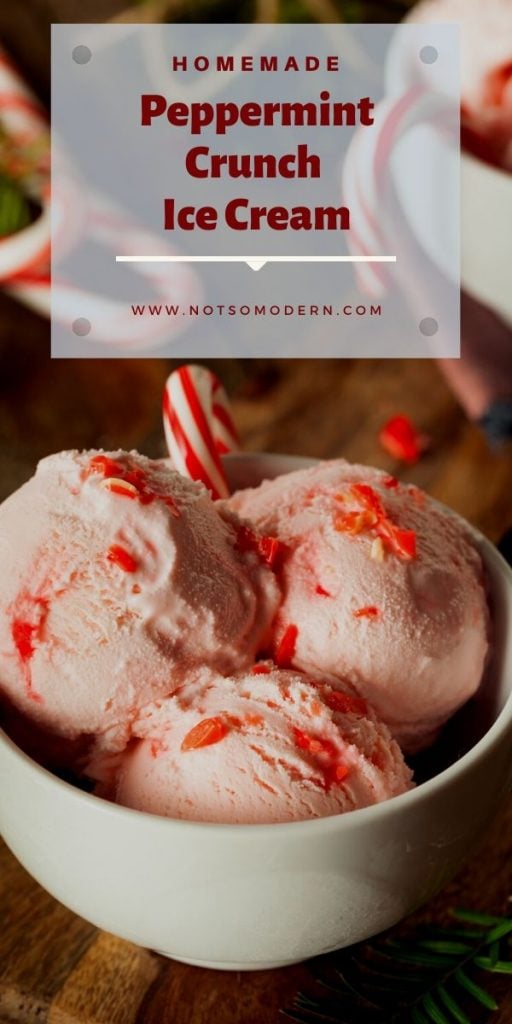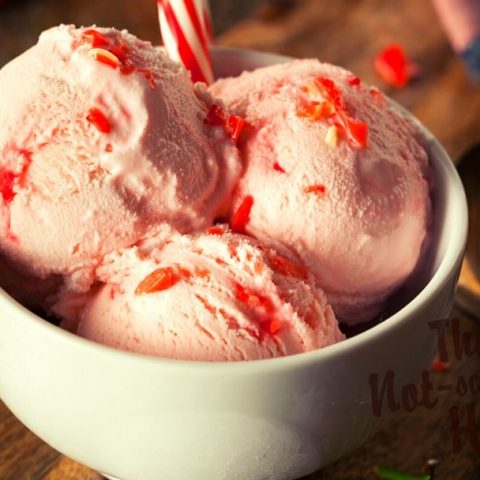 Peppermint Crunch Ice Cream
Ingredients
2 c Heavy Whipping Cream
1 tsp Pure Vanilla Extract
1/2 tsp Peppermint Extract
2/3 c Sugar
6 Egg Yolks
1/4 c Crushed Peppermint Candies
Instructions
There are a few tools you will need to have on-hand before you begin. You will need either two whisks or a whisk (for the egg yolks) and a wooden spoon (for the cooking cream). You will also need a food thermometer, preferably electronic. You are cooking eggs, so you have to make sure they reach the proper temperature. I wouldn't want any of you to get sick. You will also need a fine mesh sieve.
It is also important to have all of your ingredients ready before you begin. Ice cream base must be stirred the whole time it is cooking, so you will not have time to measure or gather ingredients while it is cooking.
In a heavy saucepan, mix together cream, vanilla, peppermint and 1/3 c sugar until fully combined.
In a mixing bowl, whisk egg yolks and 1/3 c sugar until smooth and fully combined.
Bring the cream mixture to a boil over medium heat, stirring constantly. Once it starts to boil, remove from the heat and slowly whisk the hot cream into the egg yolks. Start by adding a very little bit while whisking vigorously. Slowly add more and more cream while whisking until all of the cream has been added. Adding the cream too quickly or failing to whisk while adding the cream could result in scrambled eggs and no one likes scrambled eggs in their ice cream. This process works best if you have a second person to pour the hot cream while you whisk.
Add the base back to the saucepan and return to the heat. Whisk the base constantly until it reaches 175°F on the digital thermometer. Again, failing to whisk or letting the mixture get too hot will result in scrambled eggs. Not heating to 175°F could result in food borne illness. Pour the mixture into a clean bowl through a fine mesh sieve to ensure the resulting mixture is smooth and lump free.
Cover the bowl and put in the refrigerator for at least 4 hours, preferably overnight. The base should be thoroughly cooled before being added to the ice cream maker. This ice cream base will keep in the fridge for up to two days if you can't get to it right away.
Since ice cream base is basically a custard, don't be surprised if it has a firm consistency like pudding after it has cooled. Pour or scoop the base into the ice cream maker and begin churning.
Once the base starts freezing (after about 5-10 min), add the crushed peppermint candies.
Continue churning until the ice cream reaches the desired consistency, soft or firm. (Firm freezes better, but I've found that the KitchenAid ice cream bowl never really gets to a firm consistency.)
Scoop the ice cream into a freezer safe container. It can be stored in the freezer for up to 8 days, but it probably won't last that long once your husband or kids find it
Recommended Products
As an Amazon Associate and member of other affiliate programs, I earn from qualifying purchases.
Nutrition Information
Yield

8
Serving Size

1/2 cup
Amount Per Serving
Calories

315
Total Fat

25g
Saturated Fat

15g
Trans Fat

1g
Unsaturated Fat

8g
Cholesterol

206mg
Sodium

23mg
Carbohydrates

20g
Fiber

0g
Sugar

19g
Protein

4g