Are you looking to create delicious meals for your family while also staying within a budget? If so, I'm here to tell you that cast iron chicken wings are the perfect solution!
Not only are they an incredibly flavorful and easy-to-make dinner option, but they also save money compared to purchasing pre-made from restaurants or stores. Plus, with my tried and true tips and tricks, you'll find that making homemade cast iron chicken wings doesn't have to be difficult or time consuming.
In this blog post, I'll guide you through the entire process of creating scrumptious homemade chicken wings in no time at all!
Affiliate Disclosure
This post may contain affiliate links, which means I may receive a commission if you click a link and make a purchase. Clicking on the link will not cost you anything extra.
Table of Contents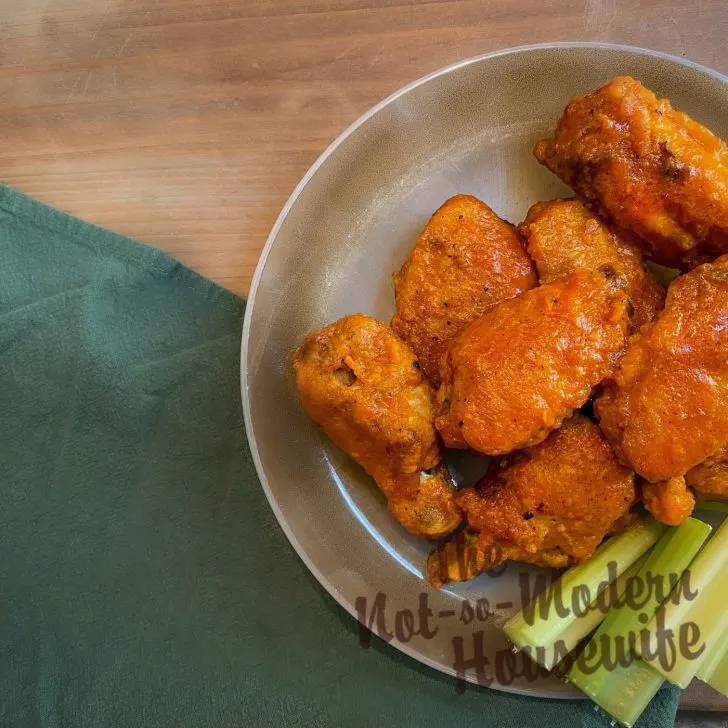 Baked vs. Fried Chicken Wings: Which One Wins
While baking is a healthier option, I can't deny that frying wings gives them a crispiness we all crave. So let's settle the debate: For the sake of these homemade buffalo wings, I am all in for pan frying!
Baking chicken wings is another great way to get delicious, crispy wings without the added fat of frying. To bake wings, place them on a lightly greased baking sheet and season with salt, pepper, and your favorite spices. Bake in a preheated oven at 400°F for about 45 minutes or until the internal temperature reaches 165°F.
Can You Fry Wings in a Cast Iron Skillet? Of Course!
When it comes to frying chicken wings, cast iron skillets are the ideal choice. Not only do they distribute heat evenly, but they are able to maintain high temperatures for a longer period of time, making them perfect for searing and locking in flavor.
Cast iron skillets also have amazing non-stick properties; when you preheat them well, you can use just a thin layer of oil to ensure your wings do not stick. Pan frying in a cast iron skillet completely eliminates the need for a deep fryer.
To get the crispiest wings, skip the batter and opt for a light dusting of flour and your favorite spices – this will give your wings an extra crunch without all the added calories!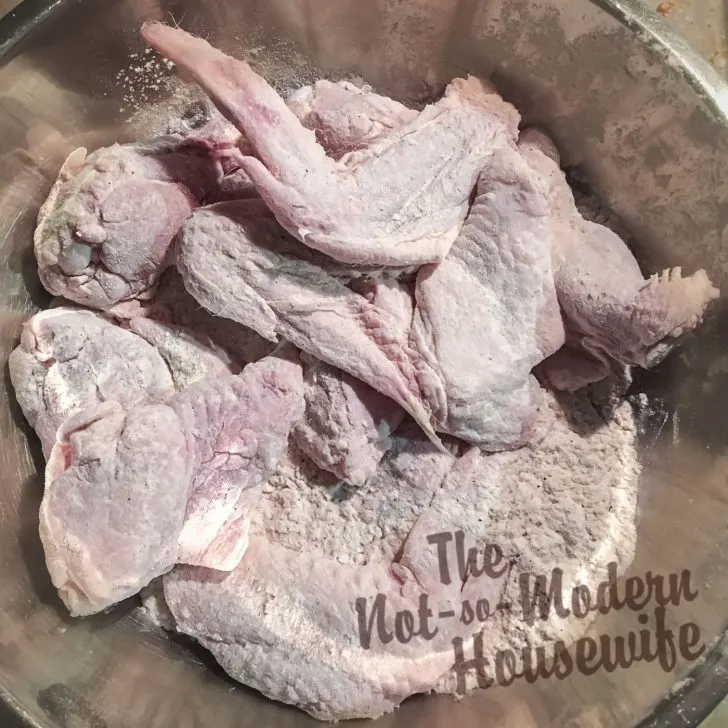 Seasoning Cast Iron Chicken Wings: The Magic Dust
Using a seasoned flour to dust the wings will not only make them mouthwateringly crispy, but also help your sauce of choice stick to the crispy skin of the wings without creating a greasy mess.
The second part of this magical mixture is the spices you use. Experiment with different combinations to find your perfect flavor, but some of my personal favorites include garlic powder, onion powder, paprika, and a pinch of cayenne pepper for a bit of heat.
What is the Best Oil to Fry Chicken in a Cast Iron Skillet?
A high-smoke-point oil, like peanut or grapeseed oil, is your best bet for frying wings in a cast iron skillet. Lard is also a good fat for frying because it won't oxidize at high temperatures like vegetable oils.
No matter what oil you choose, be sure to preheat the skillet before adding the wings. This will help create an even crispier crust and keep your wings absorbing too much oil. A good temperature to aim for is around 325° – 350°F. Once your oil reaches that point, it's time to add the wings!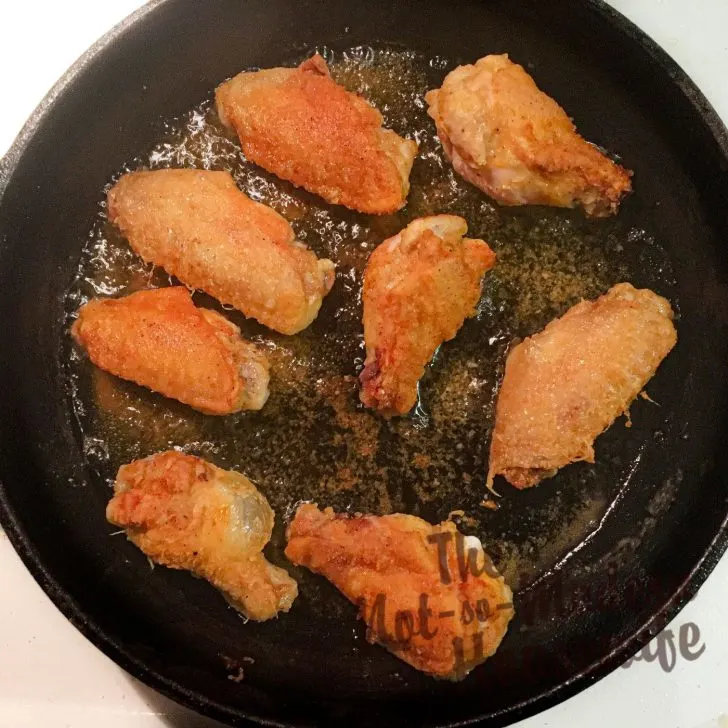 How Long to Pan Fry Chicken Wings
Generally, it takes about 4 to 5 minutes per side to fry chicken wings in a cast iron skillet, but this may vary depending on the size of the wings.
To tell when your wings are done, turn them over and check for an even golden-brown color. The internal temperature should also be above 165°F. Here's a secret tip: If you break open the wing, you'll know it's cooked through if the meat is no longer pink and all juices run clear!
How do You Know When Wings are Done Frying?
Using a meat thermometer on chicken wings is difficult due to their size and shape. Since they are so small, it is hard to accurately insert the thermometer into the center of the wing without piercing through it. The thin bone and cartilage in the chicken wing can also make it tough for a thermometer to provide an accurate reading.
A more reliable way to tell if the wings are cooked through is to cut into them and check for even color and that all juices run clear. If they look golden-brown and no longer pink inside, then you know they're done!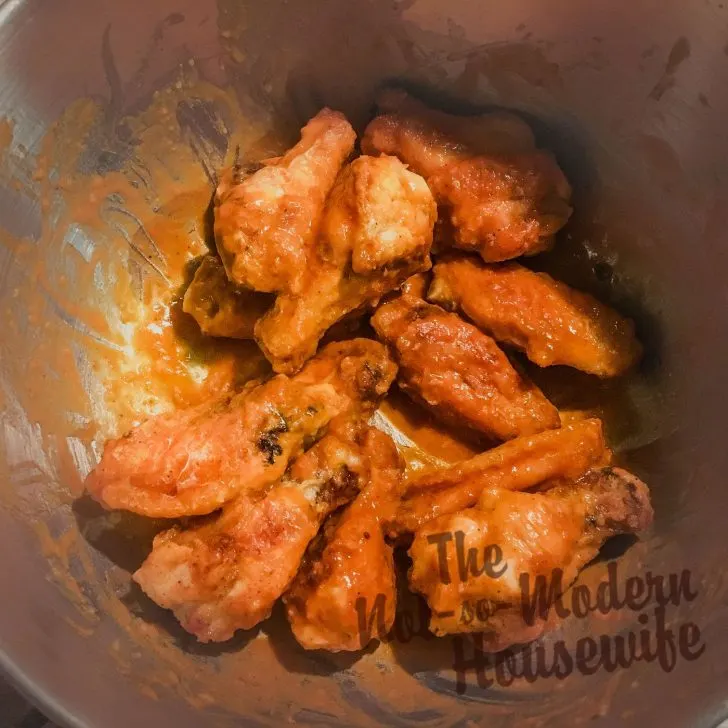 How to Pan Fry Chicken Wings: The Step-by-Step Guide
Pan-frying chicken wings is a simple and delicious way to make a tasty snack or meal. The key to success in pan-frying chicken wings is to ensure that the wings are cooked through and evenly browned, without becoming soggy or burnt.
Prepare your wings by cutting off the tips and separating the wings and drumsticks.
Heat about 1 inch of oil in your cast iron skillet to 350°F or 175°C.
Dust your wings in seasoned flour.
Fry the wings in batches, ensuring they don't overcrowd the skillet, for 4 to 5 minutes per side, or until golden and crispy.
Once cooked, coat the wings with your favorite buffalo wing sauce (I recommend Franks RedHot Buffalo Wing Sauce for convenience).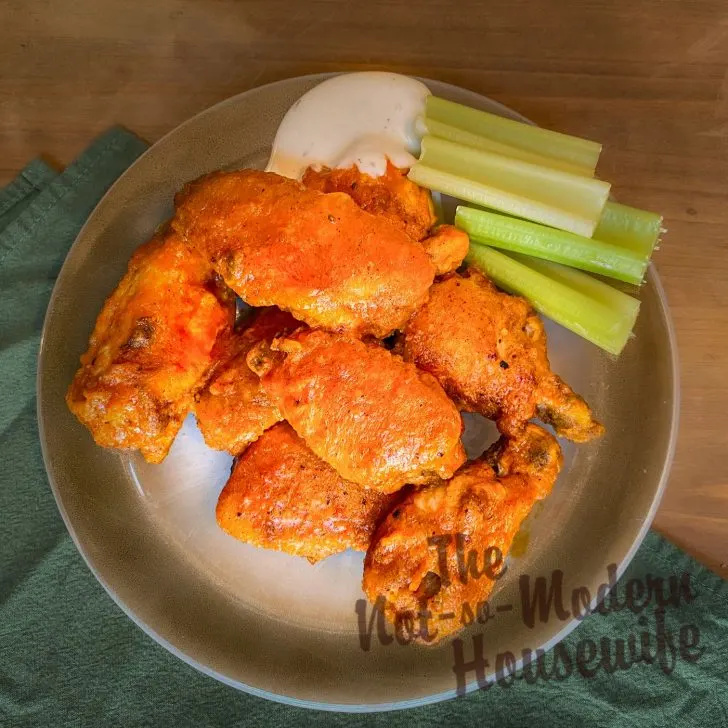 What to Serve with Wings: The Sides Matter
When it comes to choosing side dishes to pair with buffalo chicken wings, the possibilities are endless! From salads and slaws to dips and sandwiches, there is something for everyone.
Salads are a great accompaniment to wings. A classic Caesar salad pairs nicely with the spicy flavors of the wings, while a fruit-based salad offers a cool and refreshing contrast. Slaws are also great for adding crunch and acidity to the dish.
Dips such as blue cheese or ranch are classic sauces to serve with wings. You can even make your own dip from scratch. Sandwiches, burgers and wraps are great for a heartier meal. They can be filled with lettuce, tomato, cheese and other vegetables to round out the dish.
Finally, don't forget the potatoes! French fries, potato wedges or sweet potato fries all pair well with wings. For a healthier option try roasted vegetables like asparagus or Brussels sprouts.
How to Reheat Chicken Wings: Leftovers? Sure!
Reheating fried chicken wings is easy in an oven. Preheat to 350°F or 175°C, spread the wings out on a baking sheet, and bake them for 10-15 minutes until hot and crispy.
You can also place them in a skillet with some oil to help restore crispiness.
Alternatively, you can reheat your wings in the microwave for 1-2 minutes until heated through. Be sure to cover the wings with a paper towel before microwaving to prevent drying out the chicken.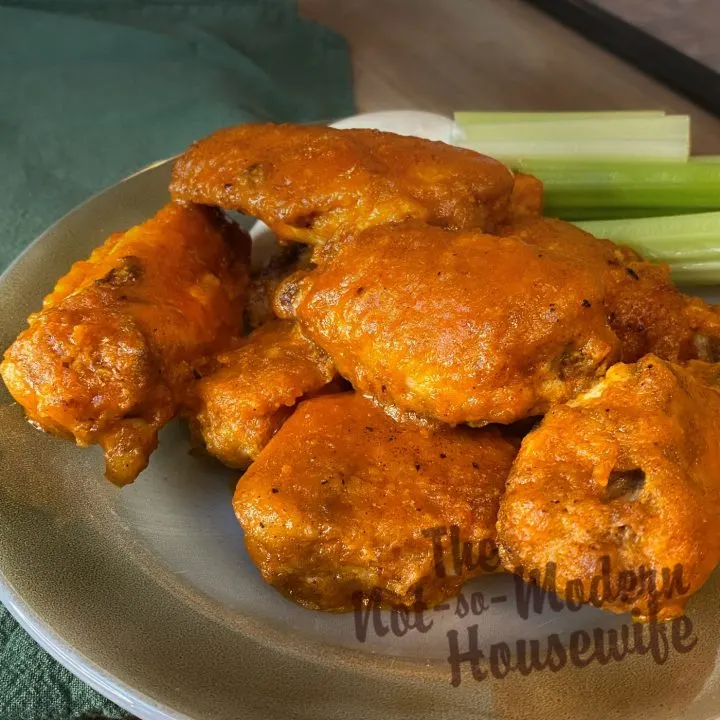 Restaurant-Style Buffalo Chicken Wings
Ingredients
4 lb fresh chicken wings
1 c flour
2 tsp salt
1 tsp pepper
1 tsp paprika
lard or peanut oil, (for frying)
1/2 bottle wing sauce
Ranch or bleu cheese dressing, (for serving)
Celery and carrot sticks, (for serving)
Instructions
Heat your frying oil. If using a deep fryer, preheat the oil to 350°F or 175°C. If pan frying, pour about an inch of oil into a 10" cast iron skillet. Let the oil heat on to medium heat while you're prepping the wings.
Remove wing tips and cut wings into wings and drumsticks. Cut through the joints for best results. Discard wing tips.
In a mixing bowl or resealable bag, combine the dry ingredients. Toss the wings and drumsticks in the seasoned flour until lightly coated. Using metal tongs, shake off any excess flour and place the wings in the hot oil.
The oil should "sing" when the wings are added (meaning it should boil rapidly). If it isn't singing yet, remove the wing and give it a few more minutes to heat up. Fry the wings for about 4 minutes on each side (8-10 minutes total if you're using a deep fryer).
Keep an eye on the oil. If it starts to boil too violently, turn the heat down slightly. If it isn't boiling enough, turn the heat up slightly. The wings should be a light golden brown when done.
Remove the wings with a clean pair of metal tongs and place on paper towels to soak up any excess oil.
You will probably have to cook the wings in several batches (4 lbs is a lot of chicken wings). Keep in mind that the oil temperature drops every time you add new wings. Give the oil a few minutes to come back up to temperature between batches. This will ensure your wings are cooked thoroughly and won't absorb too much excess oil.
Place the fried wings in a mixing bowl and add the wing sauce. It's best to add a little at a time and use the tongs or a large spoon to turn the wings and ensure they are coated with sauce.
Serve warm with ranch or bleu cheese dressing and celery and carrot sticks.
Notes
Due to the possibility of food born illness when handling raw poultry, I recommend using one pair of tongs for handling raw chicken and a separate clean pair of tongs for handling cooked chicken to avoid the risk of cross contamination.
Recommended Products
As an Amazon Associate and member of other affiliate programs, I earn from qualifying purchases.
Nutrition Information
Yield

10
Serving Size

6 wings
Amount Per Serving
Calories

691
Total Fat

49g
Saturated Fat

17g
Trans Fat

0g
Unsaturated Fat

28g
Cholesterol

151mg
Sodium

1229mg
Carbohydrates

29g
Fiber

2g
Sugar

1g
Protein

32g
Final Thoughts
All in all, making delicious cast iron chicken wings at home doesn't have to be a difficult task requiring lots of time and preparation!
With the right recipe, some basic ingredients, and just a bit of pan-frying know-how, you can make restaurant-style cast iron chicken wings in the comfort of your own home.
So if you're looking for a tasty, crowd-pleasing dish that your family and friends can enjoy, this is it—simply gather up the ingredients listed above, give our recipe a try, and don't forget the side dishes! You won't regret it.
Plus, who doesn't love enjoying great food without breaking the bank?
Let me know how it turns out by leaving a comment or even posting an awesome photo on Instagram! Tag me @notsomodern