Aebleskiver (pronounced EB-el-sku-wyr) are a Danish dessert often served during Advent with glögg (Danish mulled wine).
It's like a really fluffy ball shaped pancake. The word æbleskiver means "apple slice" in Danish. Traditionally, a small slice of apple is baked into the balls; however, ableskiver's can hold a variety of fillings from sweet to savory. They can also be made plain and served with fruit jam.
Aebleskiver can be served with jam, powdered sugar, syrup or applesauce.
Affiliate Disclosure
This post may contain affiliate links, which means I may receive a commission if you click a link and make a purchase. Clicking on the link will not cost you anything extra.
We tried a variety of fruit fillings when making them. The apple slices didn't quite cook all the way through and were still a bit crunchy. I'll try it with thinner slices of apple next time. I'd also like to try apple pie filling.
My favorite aebleskiver were with frozen raspberries. We also tried blackberry jam, but it was very messy and didn't stay in the center very well when I turned the aebleskiver.
Aebleskiver require a special cast iron aebleskiver pan to get the proper shape. I bought a pre-seasoned cast iron aebleskiver pan by Camp Chef from Amazon.
This pan does not have a solid bottom, so if you have an induction or glass topped stove, you may like this electric aebleskiver pan.
Its a really nice, heavy pan that does a great job of evenly cooking the aebleskiver. I was also able to use it the first time without having to do any additional seasoning.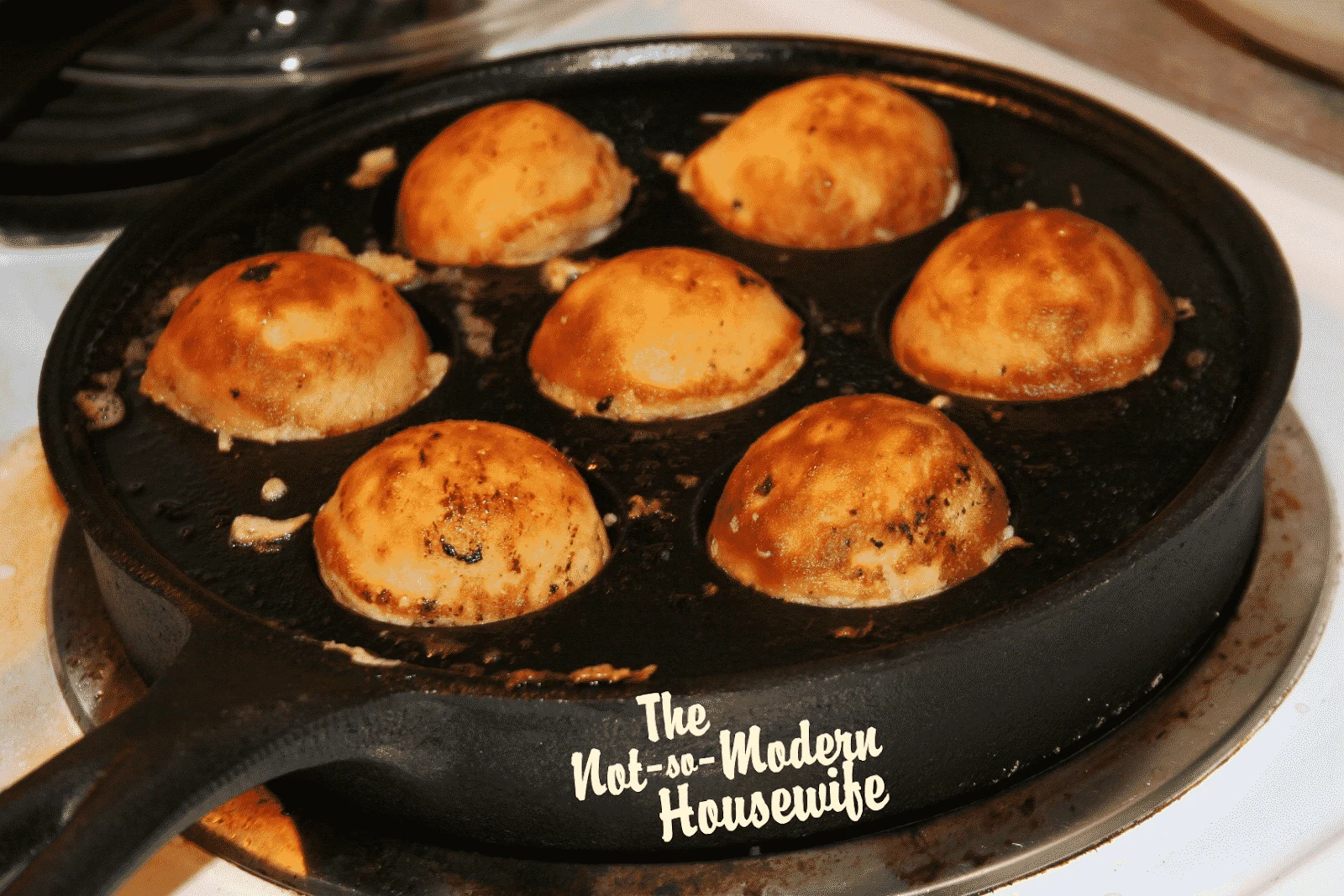 The trickiest part about making an aebleskiver is getting the perfectly round shape. The best way to do this is with 3-4 quarter turns while the aebleskiver cooks.
Traditionally, a knitting needle is used to make the turns, but I did pretty well with a metal spoon. For a good tutorial on cooking aeleskiver, check out this video by Aunt Else's.
I really like this aebleskiver recipe. By separating the eggs and beating the whites separately, you're incorporating more air into the batter and making fluffier aebleskiver. The only downside is that they need to be cooked right away for best results.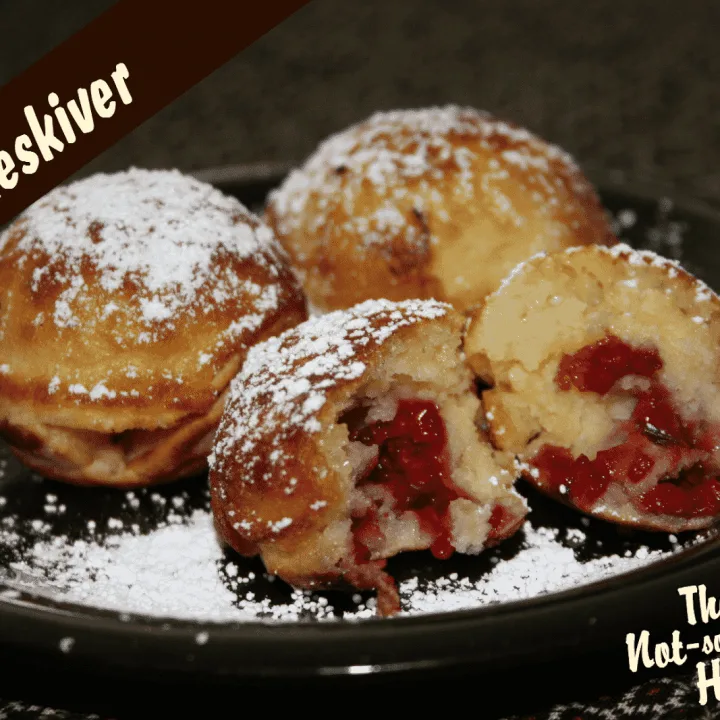 Aebleskiver
Ingredients
2 egg whites
2 c all-purpose flour
1 Tbsp sugar
1/2 tsp baking soda
1/2 tsp salt
2 egg yolks
4 Tbsp butter, melted
2 c buttermilk
1 stick butter
Instructions
Heat the aebleskiver pan over medium heat.
In a small bowl, beat the egg whites with an electric mixer until stiff peaks form. Set aside.
Mix together flour, baking powder, salt, baking soda, sugar, egg yolks, melted butter and buttermilk. Beat until smooth. Gently fold in egg whites.
Put a small amount of butter in each well of the aebleskiver pan. The butter will sizzle when the pan is hot enough.
Pour approximately 2 Tbsp of batter in each well. I used a medium sized portion scoop and it gave me just the right amount of batter. The batter should come just short of the top of the well. It will expand quickly.
Put desired filling into the center of the batter. Use a spoon to cover filling with batter.

Once the sides start to get bubbly, perform the first turn. Follow the video for a demonstration on how to perform the turns.
The aebleskiver are done when they are golden on all sides. Serve warm with powdered sugar, syrup, applesauce or fruit jam.