There are several people in Ohio who probably think I'm nuts for giving out this recipe. This pie won me the county pie baking competition three years in a row. It's been requested and fought over. At Thanksgiving, I usually have to make at least two of them. It is a good pie, but I'll tell you a secret…there's no secret ingredient. It's not some special formulation that I came up with all on my own. I think the recipe originally came from my mom's Betty Crocker cookbook. It's been very easy to memorize. The ratios are simple. Then again, I've made this pie as often as some people have made boxed macaroni-n-cheese. If I didn't have it memorized by now, there'd really be something wrong. I've also been able to adapt this recipe for every other fruit pie or cobbler I've made. Some fruits may need more flour or sugar than others, but it's all basically the same.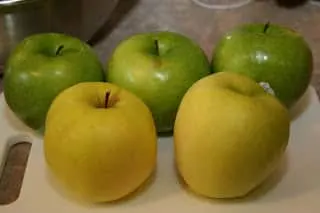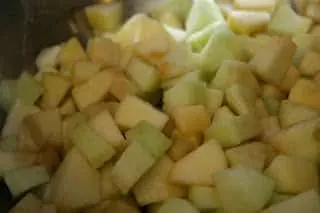 Bonnie's Famous Apple Pie
3 Granny Smith Apples, peeled, cored and diced
2 Golden Delicious Apples, peeled, cored and diced
1 Tbsp lemon juice
1/4 c. All Purpose Flour
3/4 c. Sugar
1/2 tsp Cinnamon
1/2 tsp Nutmeg
1 Tbsp butter
Double pie crust
Milk
Sugar
Preheat your oven 375 degrees. Peel, core and dice the apples. Toss them in lemon juice on to prevent browning.
Affiliate Disclosure
This post may contain affiliate links, which means I may receive a commission if you click a link and make a purchase. Clicking on the link will not cost you anything extra.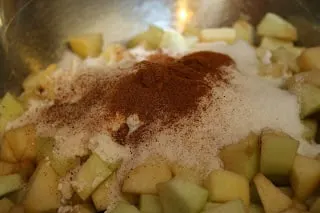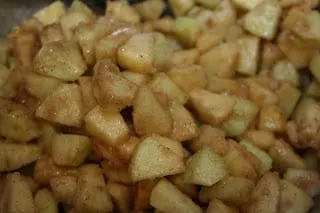 Fold the dry ingredients into the apples until they're well covered. (Henry loved these raw apples covered in sugar and spices. I had a little extra filling, so I gave him a small bowl. He's not spoiled or anything.)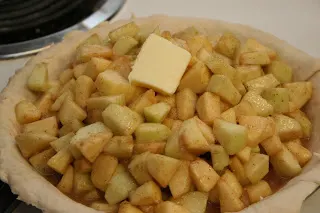 Roll out half of the pie dough for the bottom crust. Lay it in the pan and scoop in the apples. Top with butter. Cut away excess crust just beyond the lip of the pie pan. This will help you when you seal the crust, plus prevent you from having too thick of a crust.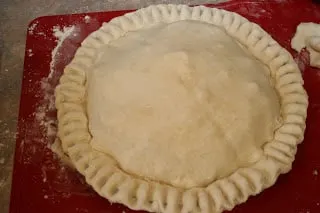 Roll out the second crust and lay the over the top of the apples. Pinch the edge of the crust so it grabs the bottom crust. You can then finish it with a fork or the edge of your finger.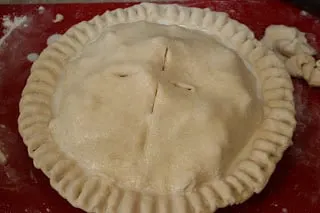 Using a pastry brush, brush milk evenly over the top crust. Sprinkle it with sugar. It should just be a light dusting that absorbs into the milk. You shouldn't see any standing white sugar on the crust when you're finished. Also, try to avoid any puddles of milk (like I have). Cut vents into the top crust of the pie. Place the pie on the middle rack in the oven with a sheet pan on the rack below it to catch any drips. Bake for 50-60 minutes.
Turn the pie if one side starts to get color before the other. Also, tent the pie with foil if it starts to get too much color before its done baking. I don't wrap foil around the crust. In my experience, it doesn't do much and the crust ends up sticking to the foil. If your crust is burning that easily, then your oven is probably too hot. If anything, I have to tent my pies the last 5-10 minutes. The pie is done when you start to see the juice thickening and bubbling from the top. If you don't see any juice bubbling up, your apples aren't ready yet, doesn't matter what color your crust is.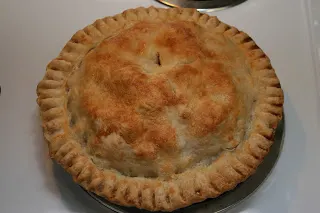 Bon Appetite!