Do you ever feel like you need a caffeine IV drip? Are you so tired that even the thought of making coffee sounds exhausting? If so, then boy do I have the perfect solution for you.
Death Wish Coffee is touted as the strongest coffee in the world, and many people say it actually delivers on that promise. So today I'm going to review Death Wish Coffee and see if it's worth all the hype.
Spoiler alert: it is! Keep reading to find out why.
Affiliate Disclosure
This post may contain affiliate links, which means I may receive a commission if you click a link and make a purchase. Clicking on the link will not cost you anything extra.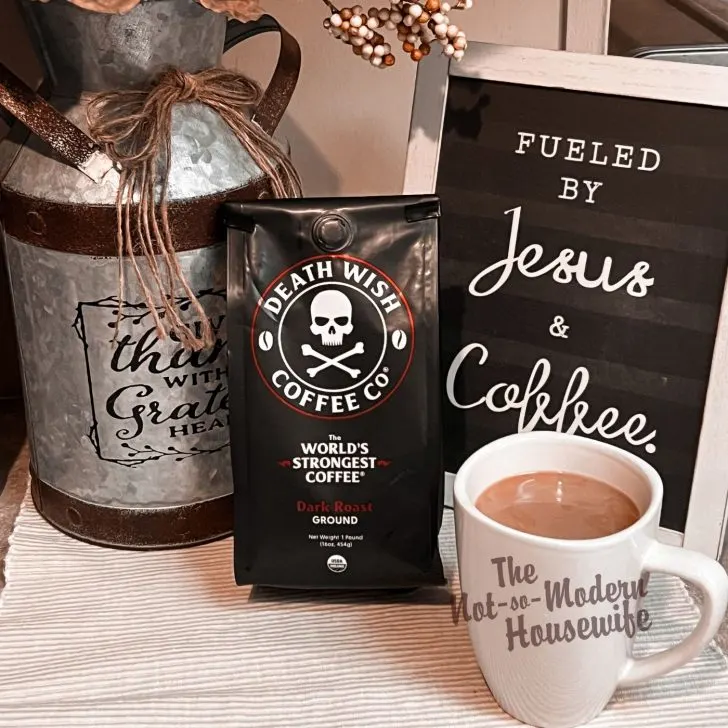 The Search for The Perfect Dark Roast
It's no secret that my existence pretty much relies upon a steady stream of coffee to get me through the day. Just listen to one episode of the Grounded in Simplicity Podcast and you'll find at least one instance of Danielle telling me to put down the coffee and drink some water.
If you're wondering, yes, I'm drinking a cup of Death Wish Coffee Dark Roast as I write this.
So many readers will probably find it interesting to learn that my husband was not really a coffee drinker when we got married. He bought me a Keurig just because I'd make a full pot of coffee for myself and it would go cold or burnt before I could drink it all.
It wasn't until he worked for an architecture firm owned by a Cuban family that he suddenly developed a taste for coffee. But not just any coffee… dark Cuban roasts.
Talk about wanting to wake your ancestors.
But I'm not a big fan of bitter dark roasts. My joke for a long time was that I don't like coffee flavored coffee, so don't expect to see me drinking shots of black espresso anytime soon.
I did eventually work my way up to drinking black coffee, but that's when I decided to retire the Keurig and go back to brewing by the pot. That's another story for another day.
So when I tell you we've spent years going back and forth trying to find beans that satisfy my need for smooth, flavorful coffee, and his need for bold, strong coffee, it has been a struggle.
Plus let's add the fact that I prefer organic coffee because there are a lot of pesticides and other artificial chemicals used in the coffee industry.
So yeah, these are the kinds of odds that we're up against when we try a new brand of coffee.
Before Reading Reviews of Death Wish Coffee, Consider This…
Death Wish Coffee is known for high caffeine content, but how high? And is that much caffeine safe?
When deciding whether or not to try Death Wish Coffee Co, it's important to remember that everyone's experience is going to be different. Some people may find the strength of this coffee too much for them while others may need a whole pot just to get through the day.
So before you make up your mind, take some time and consider your unique situation and what you need from a cup of coffee. After all, it's about finding the perfect drink for you!
Beginner's Guide to Coffee Beans
Now that you know why Death Wish Coffee might be a great fit for you, let's talk about some of the beans used in this incredible blend.
Death Wish Coffee Co's blend is made up of only two types of beans: Arabica and Robusta. These beans are carefully selected from around the world, with each variety adding its own flavor and strength to the blend.
The Arabica beans provide more aroma, milder flavor, and are generally less bitter than Robusta beans. On the other hand, the Robusta bean brings a more flavor, is more bitter and generally a stronger coffee bean.
These two beans together create a unique blend that provides the perfect balance of flavor and strength.
Death Wish Coffee uses small batches to roast coffee so they can maintain a higher level of quality control, ensuring that each bean is roasted to perfection. This process also reduces the acidity of the beans, giving Death Wish's coffee blend a smoother taste.
It also means it may be the perfect coffee brand for you if coffee typically gives you heartburn.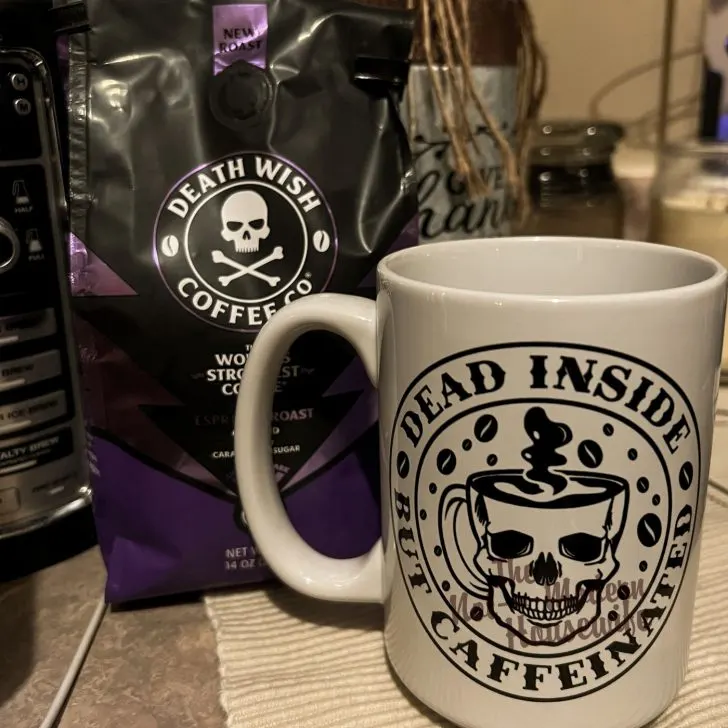 Death Wish Coffee Caffeine Contents
Death Wish Coffee proposes that it is the "world's strongest coffee," due to the combination of beans and special roasting process it uses. This energy-inducing coffee contains 59 mg of caffeine per fluid ounce, while a traditional cup of coffee only has 12 to 16 mg.
That means one cup of Death Wish Coffee is equivalent to 3-5 cups of joe at your local diner.
Death Wish Coffee Warning: Is It Safe?
Coffee itself has been shown to have multiple health benefits, including increased energy levels, weight management, improved athletic performance and protection against chronic disease.
When it comes to caffeine intake, studies show that consuming moderate amounts of caffeine will not increase your likelihood of developing heart disease, high blood pressure, cancer or other health problems. However, it is important to note that moderation is key.
The recent U.S. Dietary Guidelines state that 400 mg of caffeine a day is perfectly fine for most adults as part of a healthy diet . To put this into perspective, that's the equivalent of two to four 8 oz cups of coffee.
Over 400 mg of caffeine and coffee drinkers could experience symptoms such as insomnia, anxiousness, or a fast heart rate, but this is largely dependent upon your individual metabolism and tolerance for caffeine.
So how much caffeine is in Death Wish Coffee?
Death Wish Coffee contains 472 mg of caffeine per 8 ounce cup. For context, many people consider a "cup" of coffee to be 12-20 ounces.
Should you try it?
Caffeine affects individuals differently. Normal caffeine consumption can make you feel energized and alert, but consuming more than normal can cause side effects such as nervousness, anxiety, irritability, or an irregular heartbeat.
Coffee is also a diuretic, which means that it increases the production of urine. So if you're particularly sensitive to caffeine or other stimulants, drinking too much coffee can cause dehydration and other health problems.
So while Death Wish Coffee may be the perfect drink for some, it's important to think about your individual needs and caffeine sensitivity before trying it out.
If you're looking for a kick of energy or a unique flavor experience, this amazing blend of beans is definitely worth a try! Just make sure you start slow and don't drink too much at once.
And don't forget to enjoy your cup of coffee responsibly!
How do you brew?
When you purchase coffee on the Death Wish website, you have the option of single serve K-cup coffee pods, ground coffee, or whole bean coffee. You'll also find Medium Roast, Dark Roast, Espresso Roast, and Flavored blends.
You know what you won't find? Decaf.
Can I get an Amen?!
These coffees are great in a French press, but can be used in your standard coffee maker as well. Personally, I order the whole beans so I can grind them fresh.
My Review of Death Wish Coffee
First, let's talk about the taste. Some people may be worried that because it's so strong, Death Wish Coffee will have an overwhelmingly bitter or burnt flavor. However, I can tell you from experience that this is not the case – it's bold with a delicious smoothness to it and notes of dark chocolate and black cherry.
I really like the flavor, plus it's smooth, not bitter, and doesn't give me heartburn.
My husband has finally found a coffee he likes too. Death Wish Coffee has all of the dark boldness he's been craving. I'm pretty much committed to buying their Dark Roast beans for life now.
Second, let's discuss the strength of Death Wish Coffee. As I said before, this is the strongest coffee on the planet, with double the caffeine content of your regular cup of joe. This will give you a lasting energy boost that will get you through even the toughest days!
I have a noticeable increase in energy. It normally need 3-4 cups of coffee to get through the day and even then I'm dragging. I'm feeling pretty satisfied with 2 cups of Death Wish Coffee.
I don't notice any negative effects after 2 cups of coffee, but I am used to drinking a fair amount of caffeine through the day. I could certainly see someone getting jittery if they are sensitive to caffeine.
Finally, it's important to note that Death Wish Coffee is USDA Organic and Fair Trade Certified™ – so you can feel good about what you're drinking. I like that they're committed to sustainable growing practices and paying farmers fairly.
The Dark Roast is as good as any coffee shop beans at a fraction of the price with the convenience of being brewed at home.
So if you're looking for a great coffee that will provide you with the energy and focus of multiple cups of regular coffee, then Death Wish Coffee Company is the perfect choice for you. It's strong, delicious, and guilt-free – what more could you ask for?
Where Can I Buy Death Wish Coffee?
You can purchase Death Wish Coffee on the official website or in stores like Walmart, Target, and Whole Foods. If you're ordering from the website, be sure to check out their subscription service for discounted pricing.
You can also get 15% off your first purchase by clicking this link.
So why not give it a try? Get ready for an amazing energy boost and delicious flavor! After all, it is the world's strongest coffee – it could wake the dead!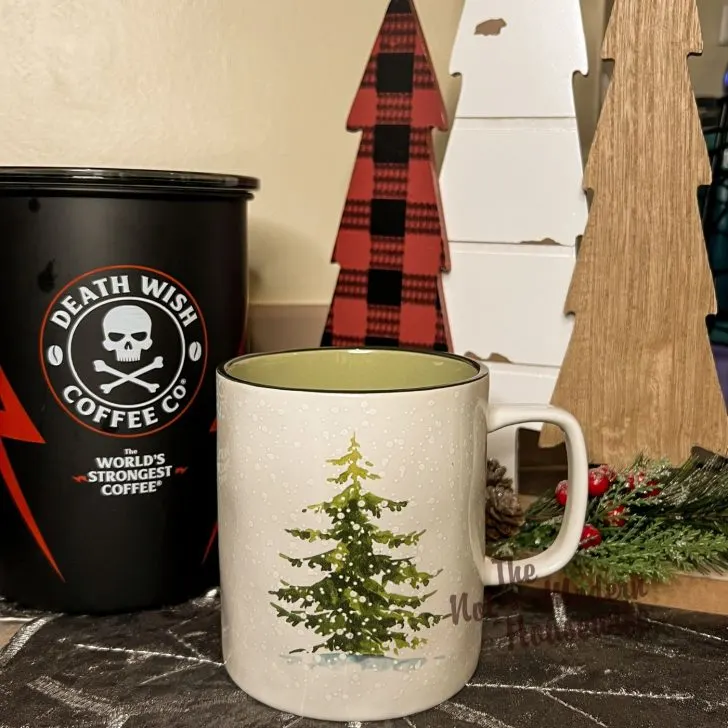 Final Thoughts
Death Wish Coffee is the perfect drink for tired women – and men! With its strong flavor and double the caffeine of regular coffee, it's a great way to get a lasting energy boost. Plus, it's certified organic and Fair Trade Certified™ so you can feel good about what you're drinking.
So why not give it a try? Buy a bag today and enjoy an amazing cup of coffee! You won't regret it.