There's nothing quite like the aroma of freshly brewed coffee in the morning. It wakes you up, warms you up, and sets the mood for the day.
But for coffee lovers, nothing beats the experience of sipping on a hot cup of Death Wish Coffee.
And if you're looking to add a little flavor to your daily cup of Joe, then the limited-time vanilla flavored coffee is just what you need!
Affiliate Disclosure
This post may contain affiliate links, which means I may receive a commission if you click a link and make a purchase. Clicking on the link will not cost you anything extra.
In this blog post, I'll share all the ways you can incorporate Death Wish Coffee into your daily routine and make each moment a little sweeter.
Table of Contents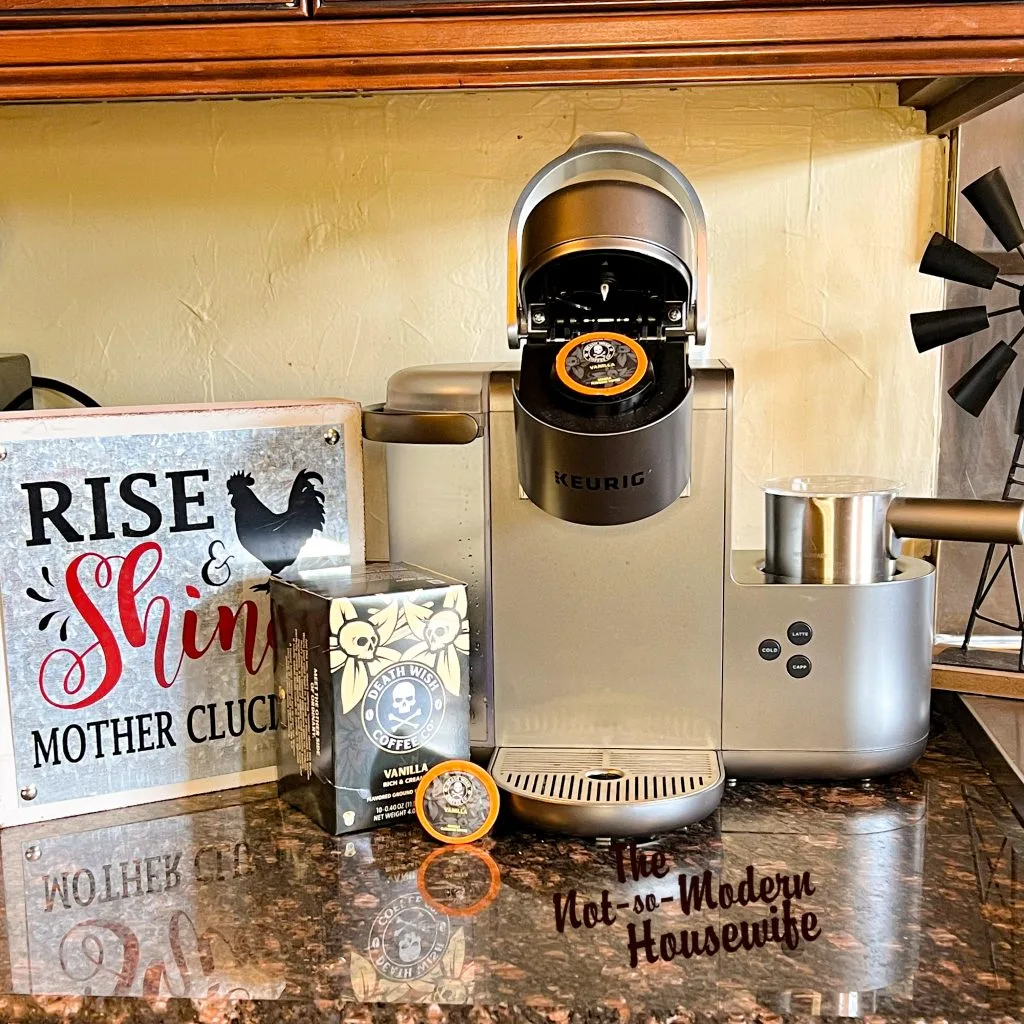 Introducing Death Wish Coffee Limited Edition Vanilla Death Cup
Do you want delicious coffee that never fails to give you a much-needed energy boost? Do you love the classic taste of vanilla, but have trouble finding a cup of joe that combines it with an unmistakable coffee flavor? Look no further than Death Wish Coffee's Limited Edition Vanilla Death Cup!
This medium roast coffee balances bold yet smooth notes with the sweet essence of vanilla. Every sip is low in acidity and full-bodied yet incredibly smooth, giving each cup a pleasant aftertaste. Drinking Death Wish Coffee's Vanilla Death Cup ensures that your busy day can continue without experiencing even a hint of burnout.
This blend is made from sustainable, fair trade arabica and robusta beans and kept in sealed packages until right before brewing for maximum freshness— giving you peace of mind as you make their morning brew!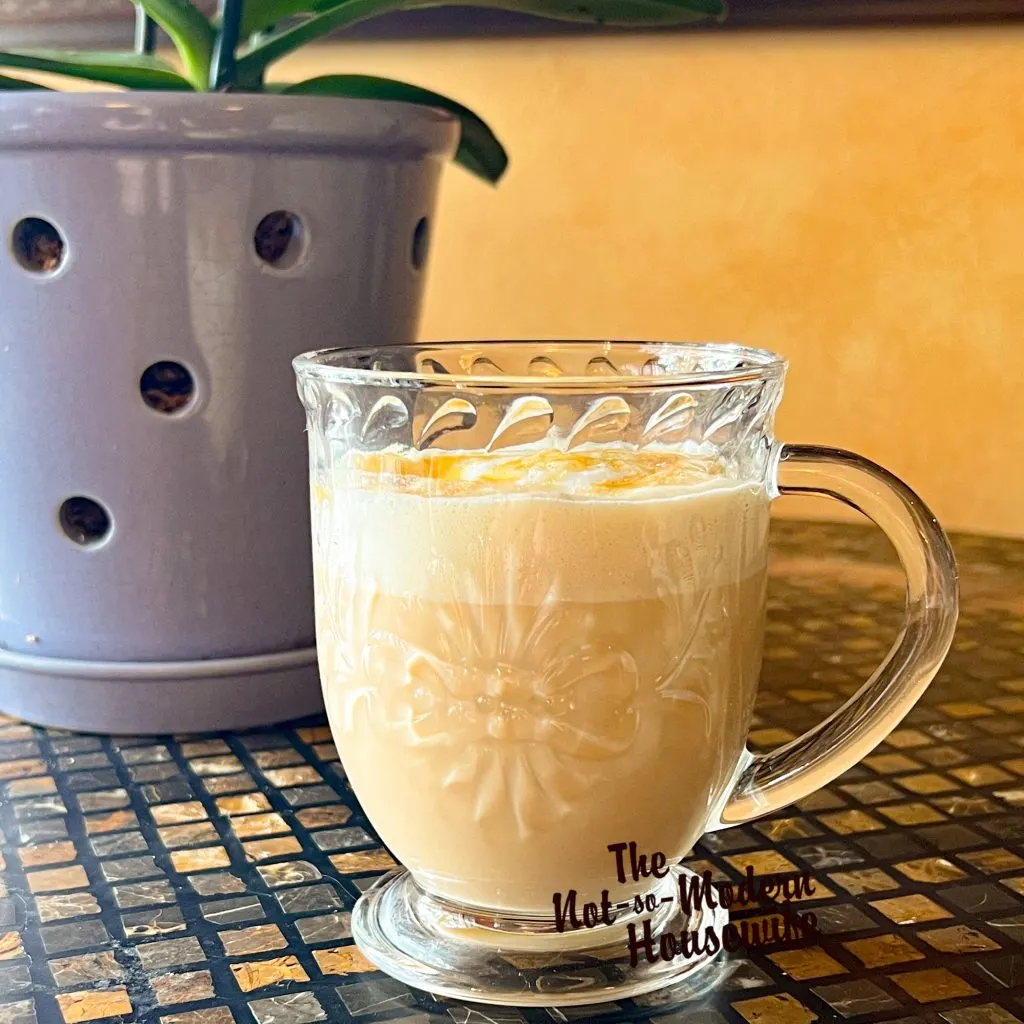 Make Your Favorite Vanilla Coffee at Home
Are you tired of spending all of your money at the local coffee shop to enjoy a delicious hot latte or vanilla ice coffee? Now, you can make your own favorite vanilla flavored coffee drinks from the comfort of your own home!
Death Wish's Vanilla Death Cups are the perfect way to start your day. With just one cup of this delicious coffee, you'll be ready to take on whatever life throws at you. The smooth taste and rich flavors are sure to put a smile on your face.
Brewing up a hot cup of vanilla coffee has never been easier. Made with the same quick and easy single-cup brewing process that you're already used to, all you need to do is pop the Death Cup into your machine and enjoy!
While brewing single serving cups is convenient, it isn't my preferred method to brew coffee. This is because the machines push the water through the grounds so quickly, it generally makes for a weak cup of coffee.
But I can confidently say that I was pleasantly surprised to find that the Vanilla Death Cups retained their bold flavor when brewed. The flavor was stronger when my machine was on the espresso setting rather than brewing a regular cup, so if you prefer a stronger cup of coffee, brew the coffee as an espresso shot so more of the flavor is extracted from the coffee grounds.
I was also impressed with the overall flavor of this coffee. As advertised, there is a distinct flavor of vanilla that comes through in the aroma and flavor as well. I didn't need to add any vanilla extract to enjoy a rich vanilla latte. I'm sure this could be blended with a wide variety of flavored syrups if you're looking to switch things up. I really enjoyed the combination of vanilla with caramel syrup.
Overall, the Vanilla Death Cups from Death Wish Coffee Co make for a great addition to anyone's morning routine. If you're in search of a bold cup of coffee that also has the added flavor of vanilla, then this is the coffee for you. I highly recommend checking it out and trying some for yourself.
Tips and Tricks for Brewing the Perfect Cup of Vanilla-Flavored Coffee
Brewing the perfect cup of vanilla-flavored coffee can be tricky, but with a few tips and tricks you can easily make a delicious cup every time. The key to making a great cup of coffee is in the blend, so choose one that has both bold flavor and subtle hints of vanilla.
When it comes to brewing your coffee, use filtered water for best results. To really bring out the flavor of the beans and enhance their natural sweetness, try adding just a bit of sugar or caramel to your cup before you start brewing. This will help draw out the flavor of the coffee and make it more enjoyable.
Set your single cup coffee maker to brew strong coffee or an espresso shot to ensure maximum flavor in your vanilla coffee. The coffee will take slightly longer to brew, but the taste will be worth the wait.
After the coffee has finished brewing, add a dash of cream or milk if desired. The subtle flavor of vanilla will become more present and you can enjoy your cup of delicious coffee.
Add a Sweet Twist to Your Coffee with Delicious Toppings
If you're looking to really bring out the flavor of your vanilla-flavored coffee, consider adding a few special toppings. Sprinkle some cinnamon on top for an extra kick or add just a bit of brown sugar crystals or caramel for added sweetness.
Here are some other toppings you could consider:
Chocolate syrup
Caramel syrup
Whipped cream
Ground nutmeg
Crushed hazelnuts
Marshmallows
Chocolate shavings
These small additions can make all the difference in giving your cup of coffee its own unique flavor. You can also add a dollop of whipped cream or some chocolate chips for a truly indulgent treat.
No matter how you choose to enjoy your vanilla-flavored coffee, it's sure to be the perfect pick-me-up any time of day!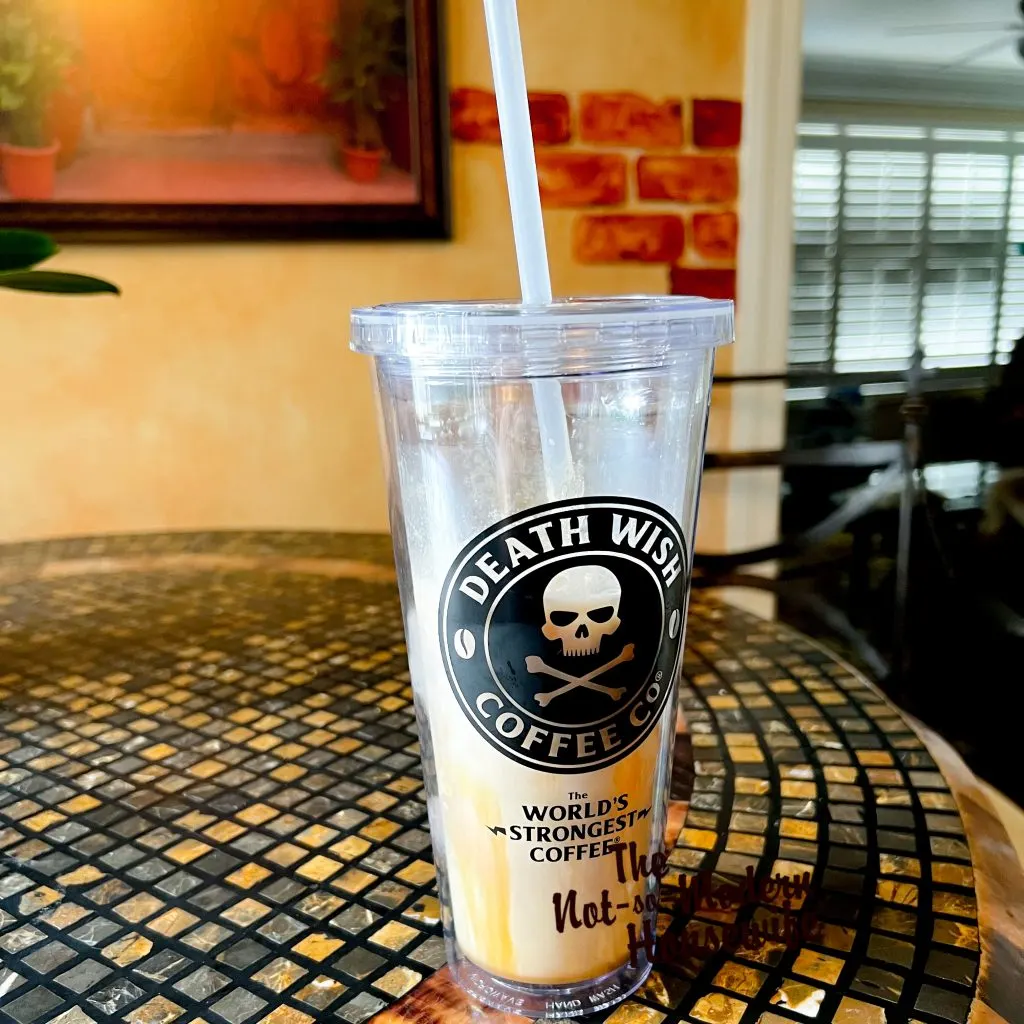 Get Creative with Recipes – How to Infuse Vanilla Into Your Everyday Beverages
If you're looking to further enjoy the flavor of vanilla in your coffee or other beverages, why not get creative and experiment with recipes? Here is a list of my favorite vanilla syrup espresso beverages you can make at home:
Vanilla Latte: Combine freshly brewed vanilla espresso with steamed milk and a touch of simple syrup. Top with some cinnamon or cocoa powder for an extra flavor boost.
Vanilla Cappuccino: Brew vanilla espresso and pour it into a cup. Top with steamed and frothed milk and sweetener. Dust with cocoa powder or cinnamon for added visual appeal.
Vanilla Mocha: Mix together brewed vanilla espresso, chocolate syrup, and steamed milk. Garnish with whipped cream and a drizzle of chocolate syrup.
Vanilla Frappuccino: In a blender, combine vanilla espresso, milk, ice cubes, and simple syrup and blend until smooth. Top it with whipped cream and a sprinkle of cocoa powder or crushed cookies.
Vanilla Iced Coffee: Fill a tall glass with ice and pour in strong brewed coffee. Add your preferred amount of milk or non-dairy milk, along with simple syrup if desired. Stir well and enjoy a refreshing vanilla iced coffee afterwards.
Vanilla Cold Brew: Combine coarsely ground vanilla coffee beans with water in a jar or French press. Let it steep in the refrigerator overnight or for 12-24 hours. Strain the cold brew coffee concentrate and dilute it with milk and sweetener to your liking. Serve over ice.
Coffee Ice Cubes: Brew the Vanilla Death Cup and pour it into ice cube trays. Freeze them and use the coffee ice cubes to chill your drink and enhance your iced coffee without diluting the flavor.
Vanilla Coffee Martini: Use the Vanilla Death Cup as the base for a unique and flavorful cold coffee martini. Mix it with vodka, a splash of vanilla liqueur, and a touch of simple syrup. Shake well and serve chilled.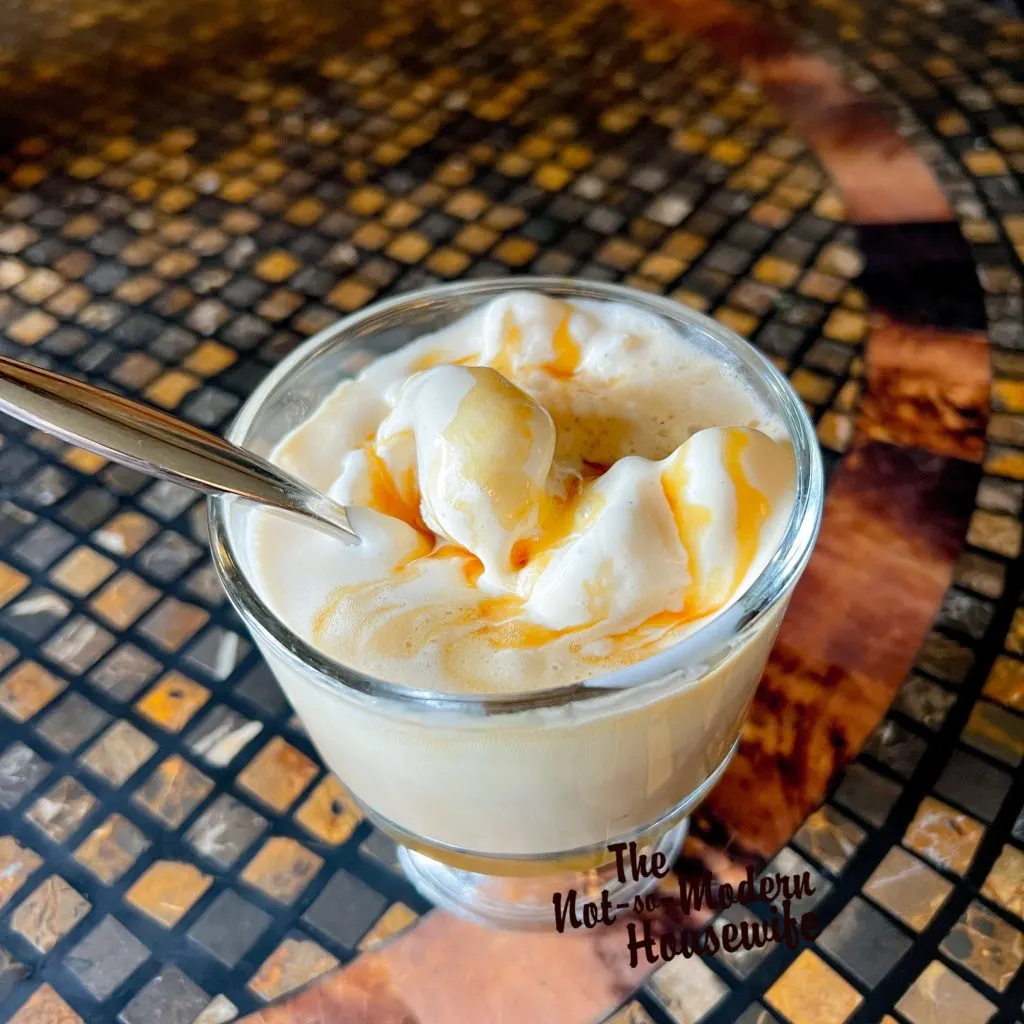 Making an Impression with Vanilla Flavored Coffee Foods & Desserts
You can also add a shot of Vanilla Death Cup to your favorite recipes. Use it to add an interesting twist to ice cream, smoothies, and spice rubs. Or, pour a few shots over your morning oatmeal before adding milk and sugar.
Finally, you can use the Vanilla Death Cup as an ingredient in all kinds of desserts. Try it in cakes, cookies, mousses, custards, and more. The possibilities are endless – get creative!
Here are a few recipe card ideas to get you started:
Coffee Protein Shake: Add a shot of brewed Vanilla Death Cup to your favorite protein shake for a caffeinated boost to power through your workouts.
Coffee Spice Rub: Create your own unique black coffee spice rub with freshly ground coffee and warm spices like cinnamon, nutmeg, and cardamom. Perfect for adding flavor to beef roasts.
Vanilla Affogato: Brew an espresso shot of vanilla coffee and pour it over a scoop of your favorite vanilla ice cream or gelato. The combination of the rich coffee and creamy sweetness creates a decadent and delightful summer dessert.
Vanilla Coffee Float: Fill a glass with vanilla coffee and top it off with a scoop or two of vanilla ice cream. Watch as the ice cream melts into the hot coffee below, creating a creamy and indulgent float that will transport you to coffee heaven.
Vanilla Mocha Milkshake: Blend the Vanilla Death Cup with vanilla ice cream, milk, and a drizzle of chocolate syrup for a delightful and indulgent milkshake.
Vanilla Coffee Overnight Oats: Infuse your morning oats with the delicious vanilla flavor out of the Vanilla Death Cup by using it as the liquid component when preparing overnight oats. Add your favorite toppings and enjoy a tasty and caffeinated breakfast.
Final Thoughts
Incorporating Death Wish Coffee into your daily routines is easy and enjoyable. Whether you're a coffee lover or just starting to discover the joy of coffee, Death Wish Coffee has something to offer.
Try out the vanilla flavored coffee for a limited time, and experiment with different ways to enjoy it. From baking to cocktails, you can create delicious and unique recipes that will give your taste buds a treat with the Vanilla Death Cup. Enjoy!