Pineapple glazed pork ribs are a delicious and easy way to add flavor to your next BBQ. The dry rub and pineapple glaze are packed with flavor, and they work together to make these smoked pork ribs juicy and succulent.
In addition, smokers add a lot of flavor to the pork ribs, which helps to make them more delicious. After using our smoker to cook ribs, I've sworn not to cook ribs any other way.
Keep reading to learn how to make moist and delicious pineapple glazed pork ribs for your next BBQ!
Affiliate Disclosure
This post may contain affiliate links, which means I may receive a commission if you click a link and make a purchase. Clicking on the link will not cost you anything extra.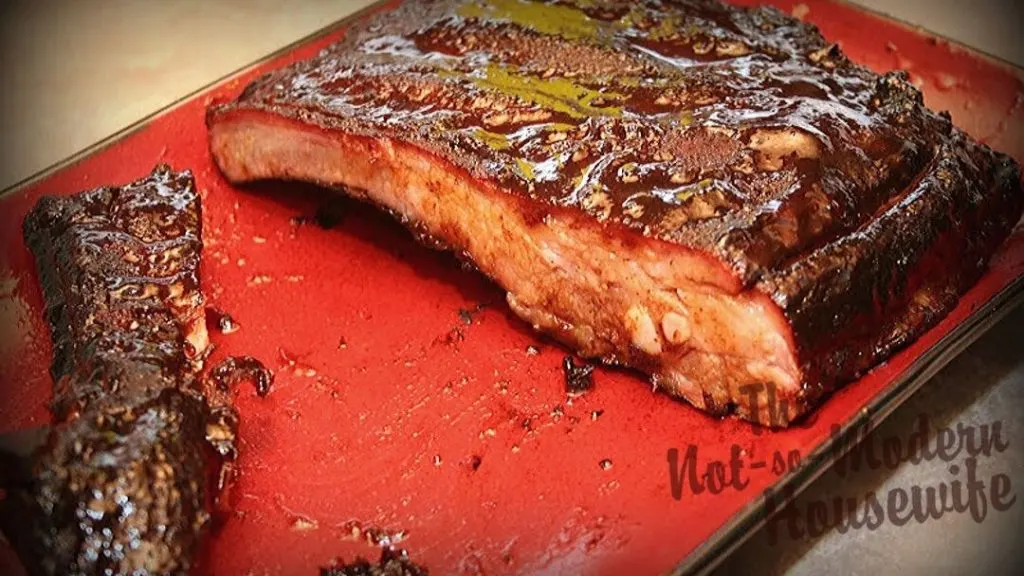 How to Avoid Dry and Flavorless Pork Ribs
Rib meat is located close to the bone and contains a large amount of connective tissue and fat. Therefore, it needs to be cooked over low heat for an extended period of time. When ribs are properly prepared, the meat should be tender and moist.
Cooking your pork ribs slowly and at a low temperature will help them to cook evenly and prevent them from becoming dry. A smoker is perfect for cooking ribs because it slowly cooks the meat while also adding delicious flavor to it.
A smoker will also use moisture and humidity to cook your ribs, which keeps them from drying out. Moisture is one of the key ingredients when it comes to saving tough, dry meat.
You can also add moisture to your pork ribs by using a marinade or a sauce. A marinade is a liquid that you soak the pork ribs in before you cook them. A sauce is typically a mixture of sugar, spices, and liquid that you brush on the meat while it's cooking.
Glazes can also help to add moisture and flavor. A glaze is a sauce that you put on your pork ribs after they are cooked. The pineapple glaze in this recipe is a great example of a delicious glaze that will help to keep your pork ribs moist.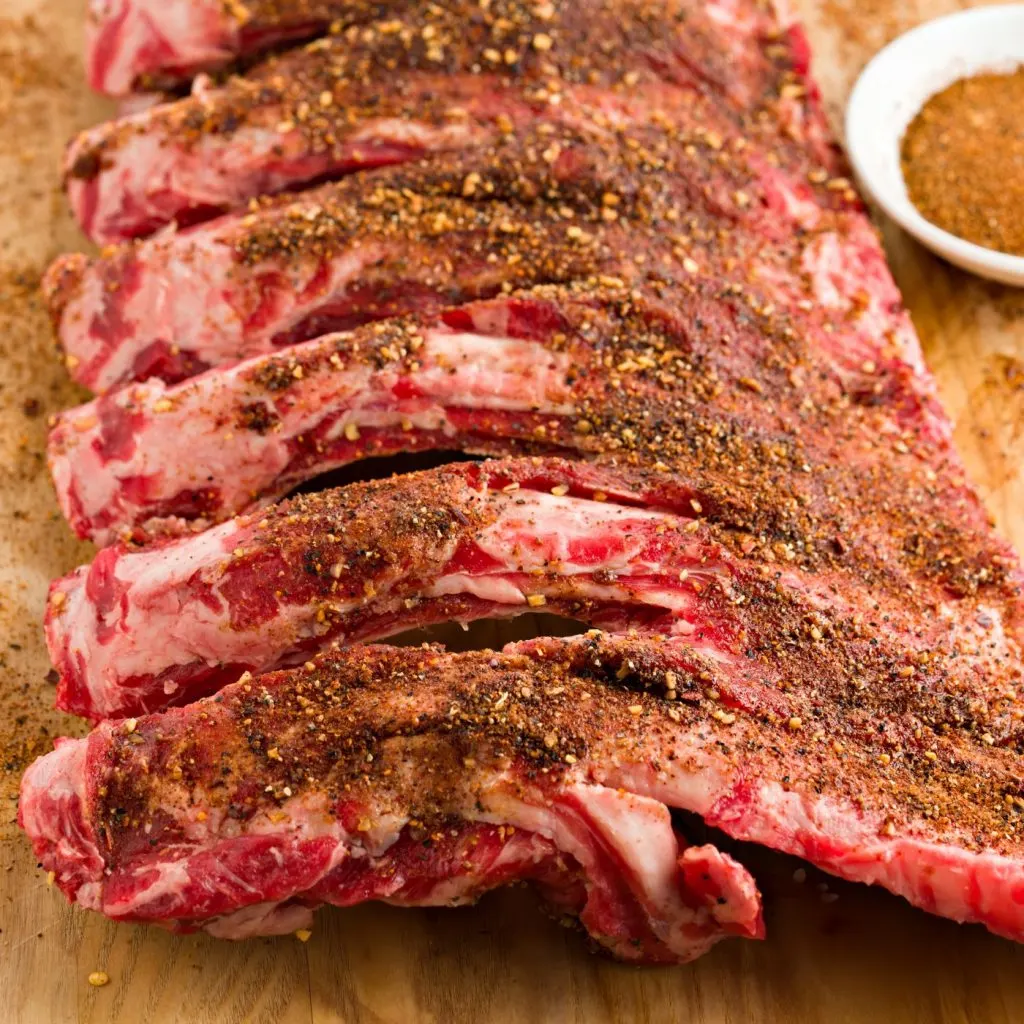 Purpose of Dry Rubs on Smoked Meat
One of the best ways to add flavor and texture to smoked meat is by using a dry rub. A dry rub is made up of spices, herbs, and other seasonings that are rubbed into the surface of the meat prior to cooking. This adds tons of flavor while also creating a nice, crispy outer crust on the meat.
Dry rubs are a great way to add flavor to meats without using a lot of extra fat or calories. This recipe for a paprika-based dry rub is easy to make and can be used on chicken, pork, or beef.
Simply mix together all of the ingredients and apply it to the meat before cooking. The spices will create a flavorful crust that will locked in the natural juices of the meat.
For best results, let the rub sit on the meat for at least 30 minutes before cooking.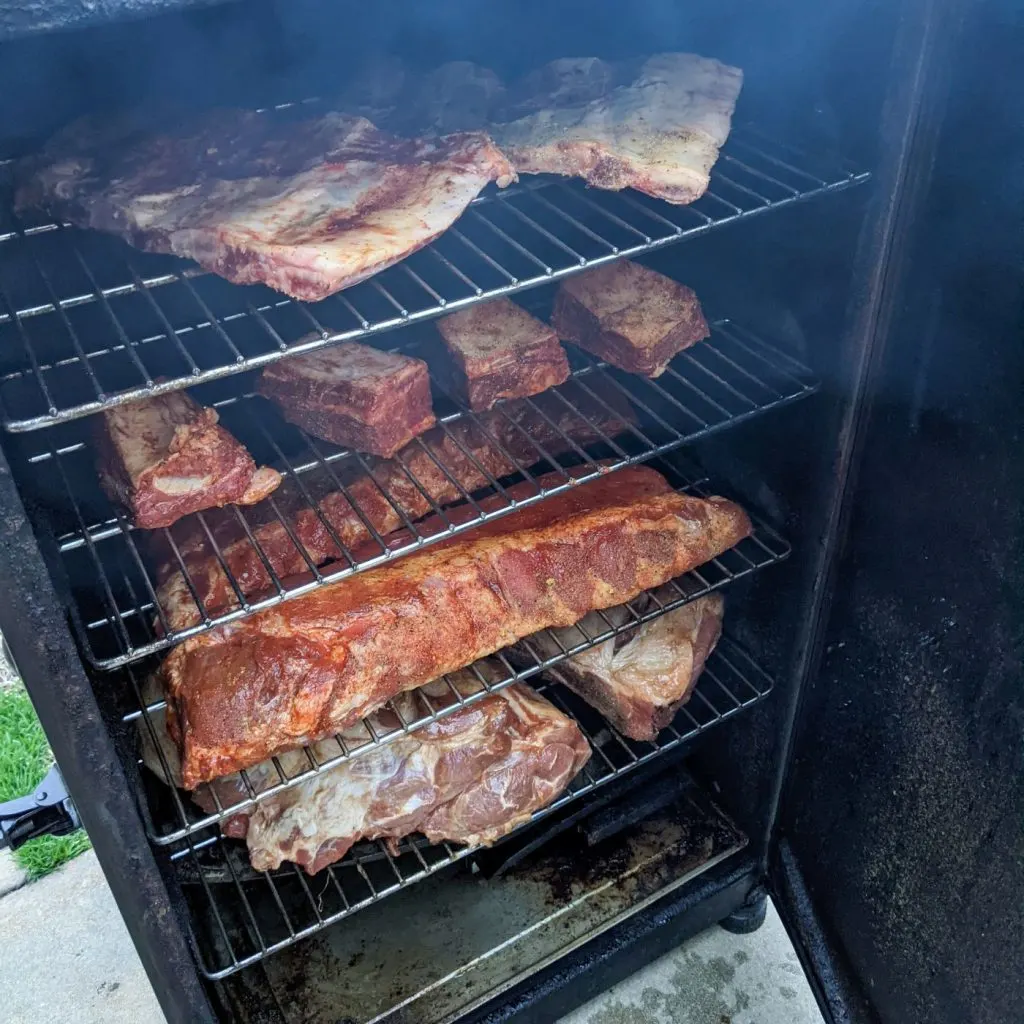 Creating Perfectly Smoked Ribs
Although the process of smoking ribs isn't complicated, there are several things that could prevent you from making the perfect rack.
One of the most important things to consider when smoking ribs is the temperature and humidity levels of your smoker. You want to make sure that you are maintaining optimal temperatures throughout the entire cooking process.
In addition, it's also important to pay attention to the rub or sauce that you are using on your ribs. Using a high-quality rub or sauce can make a huge difference when it comes to the overall texture and flavor of your ribs.
Once you have mastered the art of smoking ribs, you will be able to create deliciously flavorful and tender meat every time!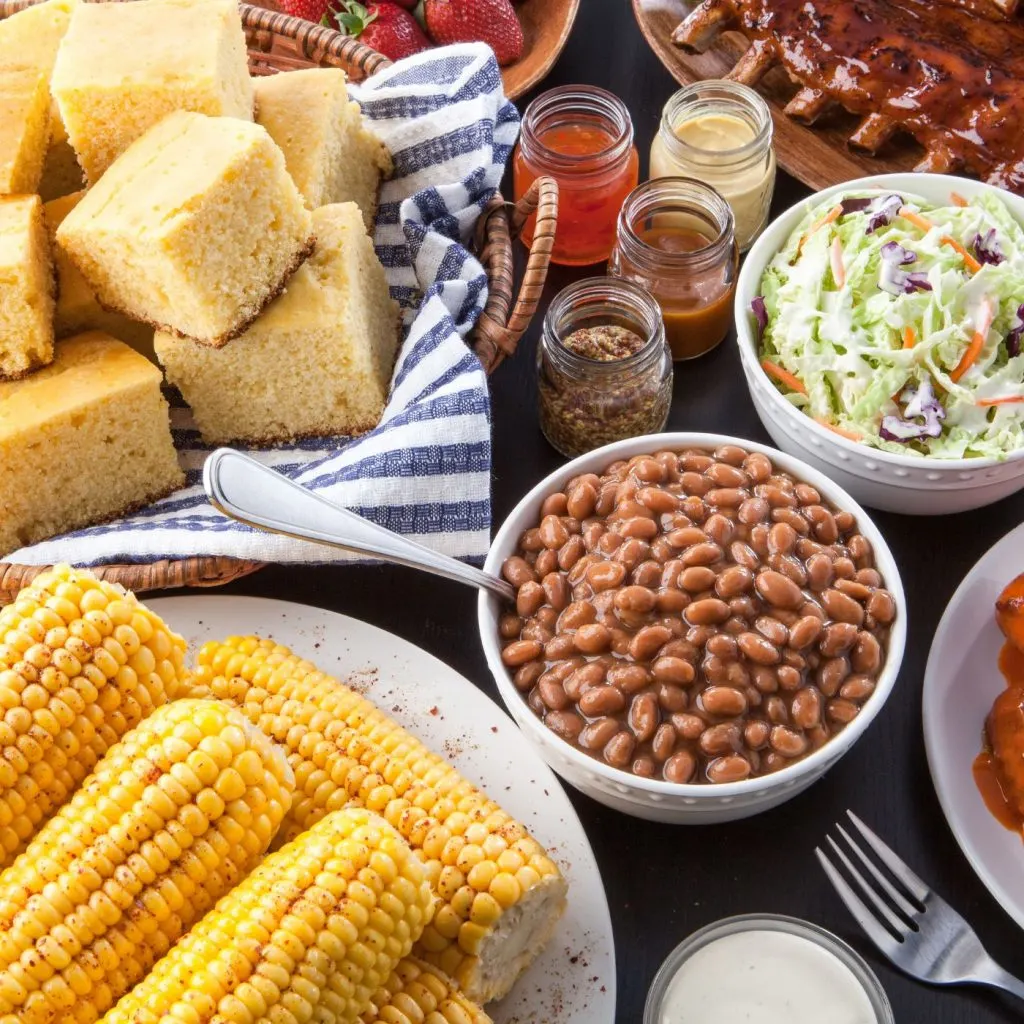 What to Serve with Smoked Ribs
Smoked ribs are the perfect dish to serve at any BBQ or gathering, as they are always a crowd-pleaser.
Some great side dishes that go well with smoked ribs include coleslaw, potato salad, macaroni and cheese, corn on the cob, and baked beans.
You can also add a little extra flavor to your ribs by serving them with a some extra pineapple glaze as a sauce.
Whether you're grilling outdoors during the summer months or cooking up these delicious pork ribs on a cold winter day, they are sure to be a hit at your next get-together!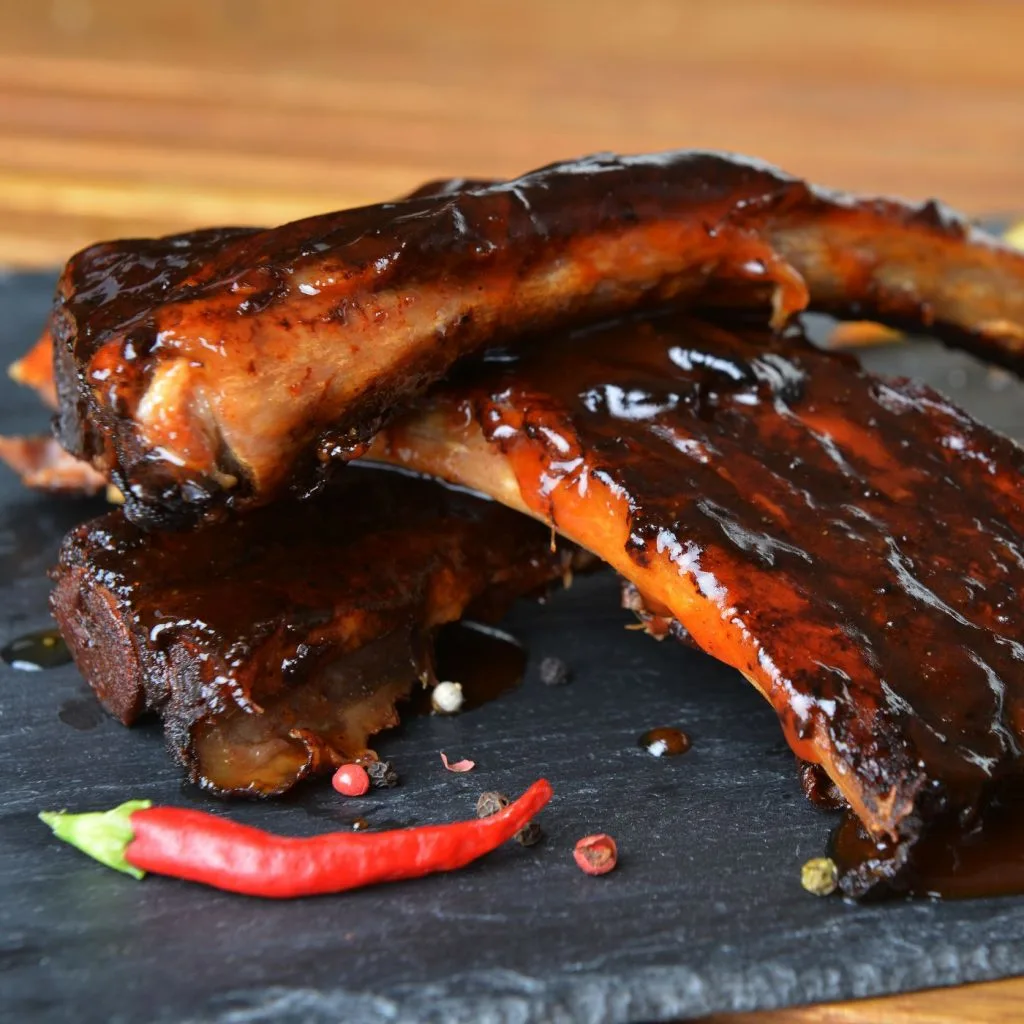 Final Thoughts
If you are looking for a delicious and easy way to prepare pork ribs, then smoking them is definitely the way to go. Smoking your ribs slowly over low heat will help them to cook evenly and keep them from drying out.
There are several different tips and tricks that you can use when smoking ribs, including using a dry rub or a marinade, using the right temperature and humidity levels in your smoker, and pairing your smoked ribs with tasty side dishes.
So if you are looking for a delicious and crowd-pleasing dish to serve at your next BBQ or gathering, be sure to give these moist and delicious pineapple glazed pork ribs a try!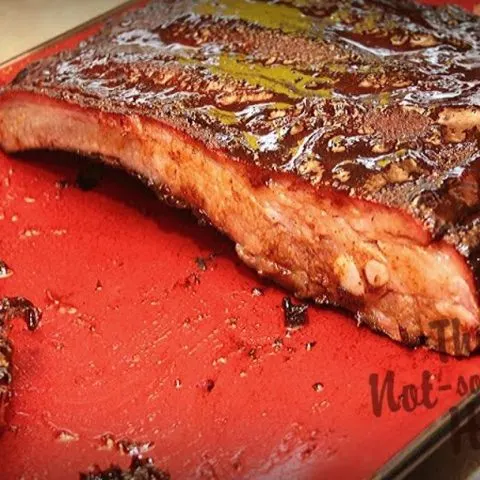 Smoked Pork Ribs with Pineapple Glaze
Ingredients
Dry Rub
1 tsp. paprika
1 tsp. salt
1 tsp. chili powder
1 tsp. ground cinnamon
¼ tsp. cayenne pepper
1 tsp. brown sugar
Glaze
¼ c. pineapple juice
2 Tbsp. brown sugar
¼ c. ketchup
2 Tbsp. Worcestershire sauce
Instructions
Soak wood and start coals about 1 hour before starting the meat.
Once the coals are white, place the soaked wood on the coals and a pan of water in the top of the smoker (refer to the owner's manual for your smoker since models may vary in design). The temperature gauge on the smoker should also register in the "ideal" range.
In a small bowl, mix together ingredients for the rub with a dry whisk.
Place ribs in a baking dish, sprinkle rub onto ribs and rub in. Turn meat over and repeat on other side. Make sure ribs are well coated on all sides.
Place the ribs on the rack in your smoker and close the lid. Let smoke 2 - 3 hours.
Towards the end of the cooking time (last 30 minutes) prepare the glaze.
In a small saucepan, combine pineapple juice, ketchup, Worcestershire sauce and 2 Tbsp. brown sugar.
Bring it to a boil over medium-high heat and simmer for 8 – 10 minutes until it is thickened and has reduced by 1/3.
Reserve half of the glaze for serving. Brush the ribs with the remaining glaze.
Ribs are done when the bones are exposed at the tips and the meat is tender. You can test them with a fork to see if the meat falls off the bone.
Recommended Products
As an Amazon Associate and member of other affiliate programs, I earn from qualifying purchases.
Nutrition Information
Yield

12
Serving Size

4 oz
Amount Per Serving
Calories

430
Total Fat

35g
Saturated Fat

10g
Trans Fat

0g
Unsaturated Fat

16g
Cholesterol

119mg
Sodium

380mg
Carbohydrates

5g
Fiber

0g
Sugar

4g
Protein

24g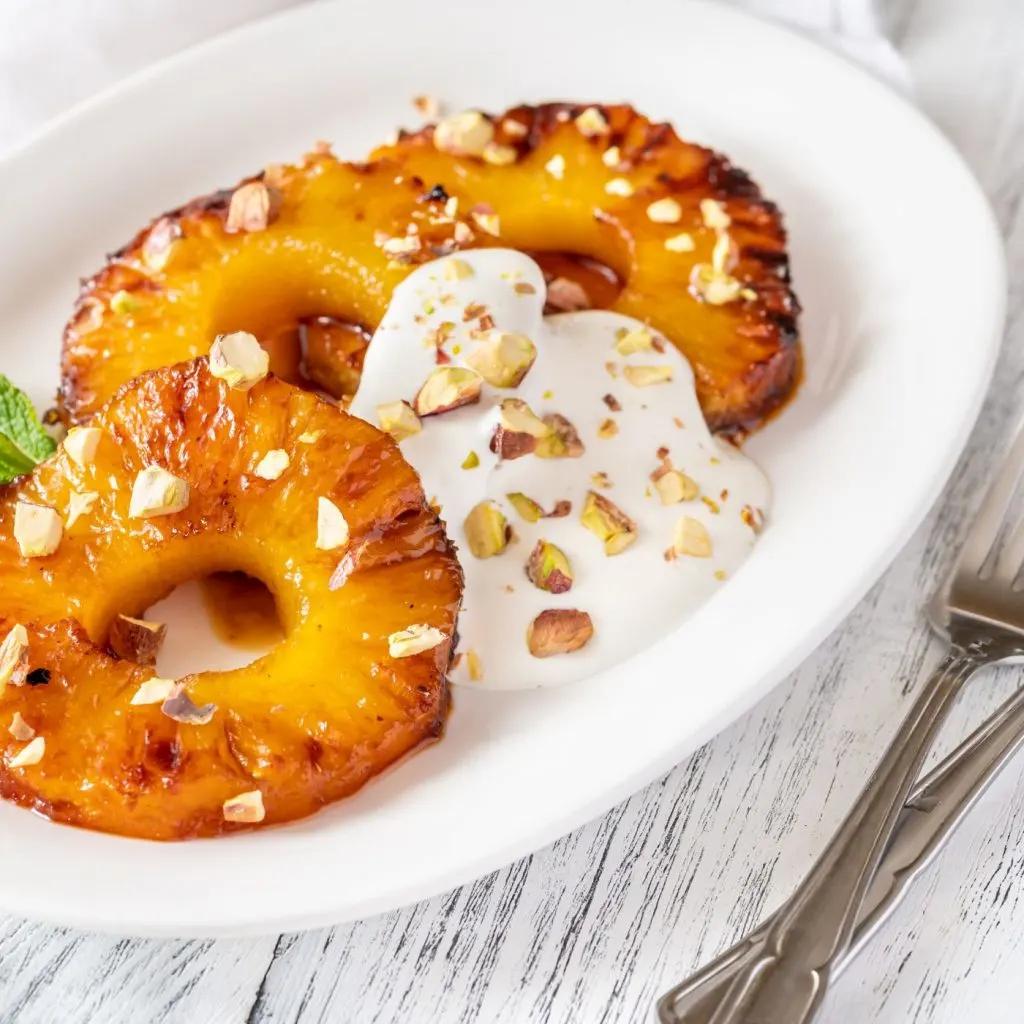 Looking for a dessert recipe to compliment your BBQ ribs? Check out my recipe for Caramelized Pineapple. It's perfect served over ice cream.