Homesteading is hard work. You take on the responsibility of keeping a garden and raising animals in addition to your home and family. The most common complaint among homesteaders is finding time to get everything done.
When you have the added responsibility of being a stay at home farm mom with young children, completing farm chores comes with a whole new set of obstacles.
How do you take care of everything outside while also taking care of your children? How do you take care of your children while also taking care of everything outside?
Affiliate Disclosure
This post may contain affiliate links, which means I may receive a commission if you click a link and make a purchase. Clicking on the link will not cost you anything extra.
You can get up before your children. You can get all of your chores done at the crack of dawn so you can focus on your kids as soon as they wake up.
But do you really want to homestead without getting your kids involved?
What happens when they wake up early or you can't get everything done before they wake up?
The truth is you can get your kids involved. Kids love being outside and getting dirty. It's good for them. And you'll find this journey to be much more rewarding with them participating at your side.
You'll also find it easier to manage your time when you stop treating homesteader and mom as two separate jobs.
Here are some general guidelines to help you get more done and keep the kids occupied while you work.
---
Pin this post for later: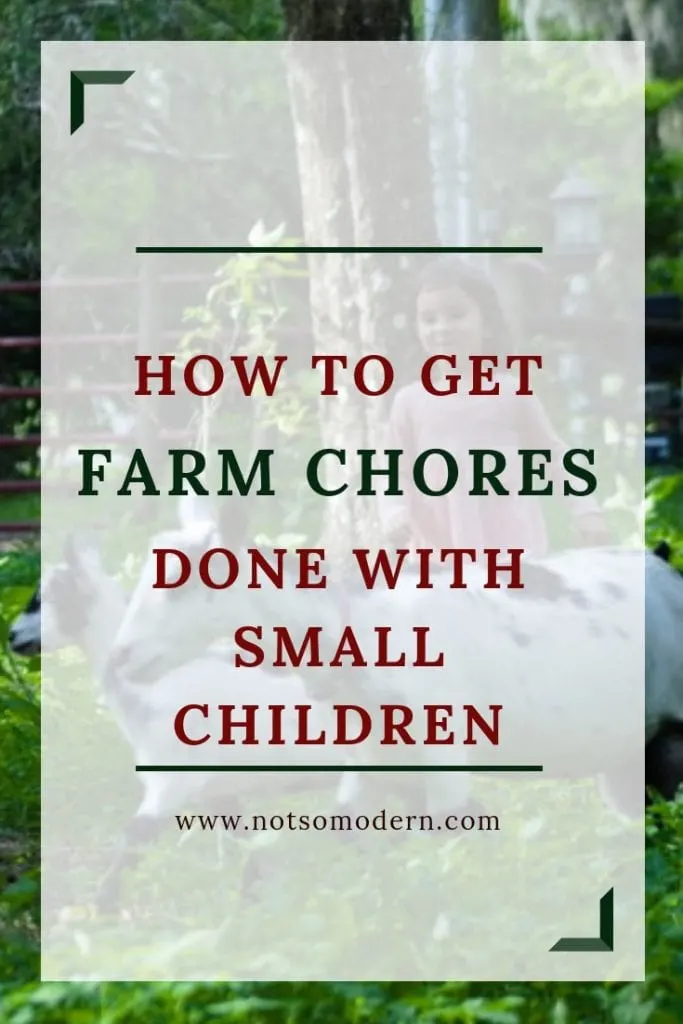 Cover Their Feet
While it's beneficial to go barefoot, there are also situations where you'll need to cover their feet.
Insects such as fire ants and scorpions can be difficult to see, but leave a lasting impression on tiny feet.
Some seed pods, such as sandspurs, can be quite painful when they embed in skin and between toes.
Animal farms will have areas where manure is prevalent and the risk of ring worm and tetanus is higher.
There will also come a time when your farm seems to be more mud than grass. You'll be thankful for an option to keep everyone's feet dry.
What do I recommend?
My favorite option for small children is Crocs Rain Boots. These all rubber boots are durable and completely waterproof. They're also easy for little kids to slip on and off.
We tried a lot of different mud boots before we finally found Crocs. We've had one pair for over a year, and they are still used daily.
They do not have a liner, which is nice because you don't have to worry about fabric coming loose inside of the boot and causing issues; however, it also means that kids will need to wear socks with these boots. Rubber against bare skin has led to a fair share of blisters in our house.
They do run a little small, so I recommend ordering the next size up from your child's street shoe size.
For older kids, I recommend Sloggers. I started using Sloggers a couple years ago, and found them to be the most affordable and durable mud boot I've tried. When my son started stealing my boots to go outside, I bought him his own pair.
They do have shoes available that are nice for the garden, but I still recommend the boots if you're dealing with mud.
The inside of the boots are fabric, which makes them very comfortable. Just make sure your kids don't decide to fill their boots full of mud.
Play Clothes
Along with boots for mud, you'll want to have clothes that your kids can get dirty.
These clothes will get stained and ripped.
They will get washed A LOT.
You'll want to teach your kids that their nice clothes and shoes should not be worn outside, but you should also given them an alternative.
Good candidates for play clothes are older hand me downs or clothes that are already stained. You can also find play clothes at second hand stores.
Make sure you have a good selection for each season. These clothes will probably be worn more often than your children's nice clothes.
It's a good idea to have separate dresser drawers for play clothes and nice clothes. This way there is no confusion over which clothes your kids can wear outside.
Let Kids Dig
Children love to dig in the dirt, and it's a great way to keep them occupied while you get work done outside.
You'll want to give them an area where they are allowed to dig before they decide to find their own spot.
It can be a sandbox or a section of your garden, as long as it's an area where they won't be in the way or get injured. It should also be in a location where you can keep an eye on them.
Two of our most utilized "dirt toys" are a steel Tonka dump truck and a metal garden trowel.
The kids learned early on that my metal garden tools last longer than their plastic sandbox toys. I've decided to give them their own tools so they'll stop stealing mine.
The dump truck has also been used frequently by my oldest son to give rides to his younger siblings. It's a good sized dump truck.
Give Kids Jobs
Probably the best way to keep children occupied while you are outdoors is to give them a job.
Kids can learn how to do chores as soon as they are old enough to take an interest in what you are doing.
Take advantage of their curiosity to build a desire for responsibility.
Very young children can help with planting in the garden or dumping food for the dogs and cats.
Their jobs can increase as they grow in size and maturity.
What About Babies?
This is great for older kids, but what if they haven't even started to walk yet?
Been there, done that.
You'll have two stages as your kids go through infancy:
Sleep all the time
Never sleep… ever.
If your baby is sleeping, consider yourself blessed. Leave the baby sleeping inside, turn on the baby monitor, and go get your work done.
I prefer a monitor that lights up and vibrates when it detects sound inside. It's the most likely to get my attention when the baby wakes up.
If your baby isn't sleeping, there is still a way you can bring your baby outside.
Babywearing
Babywearing helps me get a lot of work done while my kids are babies.
At this stage, they want to be held all the time, but I don't have the luxury of holding babies all day.
I need to get work done outside. I need to take care of my older kids. I need to get work done around the house.
Babywearing allows me to keep them close while still having my hands free do get other things done.
Added bonus: the babies usually sleep while they're in the carrier.
You'll want an ergonomic carrier that is comfortable for you and the baby.
I like mesh carriers because they keep the baby and me cooler.
You'll want to wear the baby on the front while they're little, but soft structured carriers give you the flexibility of wearing baby on your back once they can support themselves sitting.
The back carry will be a blessing when they become toddlers. They'll finally be old enough to walk, but you'll wear them just to keep them from getting into everything.
Jogging Stroller
There will be times when babywearing just isn't practical. You may even find that babywearing isn't for you.
In these cases, you'll need a stroller that can hold baby and go off-road.
I've tried traditional strollers, and they just don't cut it. Most farms don't have the luxury of sidewalks and level ground. They have loose soil, mud, and tree roots. The small wheels of traditional strollers become a nightmare on a farm.
While more expensive, jogging strollers can handle any terrain. They're also easier to steer and maneuver in tight spaces.
When choosing a jogging stroller, I recommend you look at these features:
Swiveling front wheel (they are a beast to turn without it)
Bicycle-style wheels
Car seat adapter
Snack tray for the kids
Storage underneath
Cup holders
My absolute favorite jogging stroller is the BOB Revolution. It handles great and is well made.
I have the double jogging stroller that I use for running and around the farm. Even as a double jogging stroller, it'll fit through doors. It's just a good all around stroller.
One perk to the newer BOB strollers is that they have a lot of accessories available, so you can customize it to your needs.
The BOBs are difficult to find used. People tend to hold onto them when they buy them. But they're worth keeping an eye out for. Otherwise, I wouldn't hesitate to buy one new.
I was lucky enough to find a friend selling one used, but it's an older model that doesn't accept accessories. I love my stroller, but I do with I had spent a little more to get a new one.
Young Kids and Farm Hazards
Farm life can be risky, but you shouldn't let that keep your kids from having fun. Take some precautions and your kids can enjoy exploring the outdoors with minimal risk.
The biggest concerns most parents have about farm life is electric fences, animals, and machinery.
Electric Fences
If you keep livestock on your farm, then there's a good chance you use an electric fence to contain them.
It's understandable that you would be concerned about your small children touching the electric fence.
Fence chargers designed for animals generally send out a pulsating charge. This is so the shock is momentary and will not cause harm when touched.
A fence charger with a constant current does not offer the release of a pulsating charge and can cause serious injury.
A pulsating charge shouldn't harm your child, but it will hurt.
To avoid a traumatic experience, you may want to turn off the charger while you are outside. Just make sure you turn it back on when everyone goes inside.
As the kids get older, you can teach them to avoid touching the fence. They still may do it, but they'll be more aware of the consequences. Hopefully they'll learn not to touch it a second time.
Animal Injuries
There are two types of animal related injuries a child may experience on a farm:
An attack from an aggressive animal
An accident from a large animal
Both injuries are mostly preventable.
Aggressive Animals
I have a simple rule on my farm: I will not breed an aggressive animal.
Believe what you want about nature vs nurture, I am a firm believer that aggressive behavior is genetic.
Fastest way for a rooster to end up in my freezer is if it attacks one of my kids.
Now, there have been times when I've given a young rooster a second chance. They do go through a phase where the hormones kick in and they lose their minds. They usually grow out of it.
But there is a difference between a rooster feeling full of himself and one that crosses the barnyard to flail himself at you.
Carefully consider if you want to pass on his genes before you decide to rehabilitate your mean roosters.
Large Livestock
For the purposes of this article, let's consider any "large livestock" an animal that outweighs your child.
The best option is to fence your kids out. They can go in with the large animals when you are with them, but it's best that they aren't in there alone.
That's not to say kids won't find a way in. You'll still need to keep an eye on them, but it's best that you make it difficult for them to get in there in the first place.
Machinery and Sharp Tools
Obviously, you need to take certain precautions when using machinery and power tools around small children, but what about when they're in storage?
The fact is that these tools still pose a risk to curious young kids.
When not in use, sharp tools should be stored away where they can't be touched or tripped over.
Large machinery like tractors should be off limits so kids don't climb on them and accidentally fall from a height. Hydraulic controls may still release even when a tractor is turned off, which could also cause harm to someone on the ground.
Leverage Older Siblings
You don't need to feel like you have to have eyes on everyone the whole time you're outside.
Kids are much more capable than us adults give them credit for.
Teach your older children to help you watch the younger kids, and to come to you when there is a problem.
Older siblings can also help to teach younger kids how to do certain chores, especially if it is a job that was once their responsibility.
Bottom line, it is important to get your kids involved in farm chores. They will spend more time outdoors and learn responsibility.
You'll feel more at ease when you're not longer trying to balance motherhood and farming.
The two fit together naturally if we just let them.