My son went through a phase where he wasn't a big fan of green foods, so I was pleasantly surprised by how well he ate this pasta.
It's a very simple dish, but it packs a lot of flavor with the basil, Parmesan cheese and capers.
If you don't like capers, make sure you season well with salt and pepper, since this dish gets most of its saltiness from the capers.
Affiliate Disclosure
This post may contain affiliate links, which means I may receive a commission if you click a link and make a purchase. Clicking on the link will not cost you anything extra.
This recipe makes a lot, so it's a great option for a potluck or large family gathering. In our case, we just had a lot of leftovers for the next few days.
Basil and spinach are two great ways to add nutritional value to any dish.
Fresh basil is known to have anti-bacterial, anti-inflammatory and cardiovascular benefits, while spinach is a great source of iron and Vitamins K and A. They pack a huge nutritional punch without adding a lot of calories.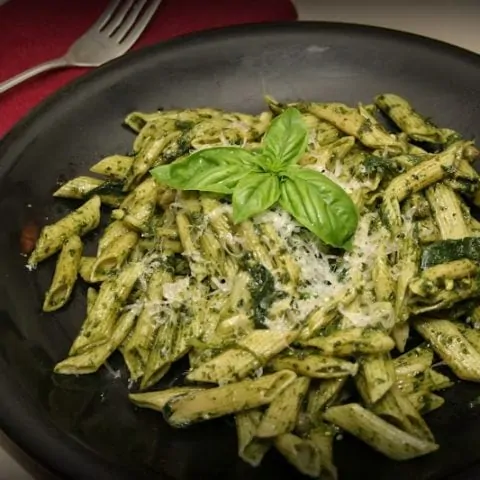 Spinach & Pesto Penne
Ingredients
Pesto
1 c. packed fresh basil leaves
1 clove garlic
2 Tbsp. pine nuts
1/3 c. extra-virgin olive oil, divided
Kosher salt and ground black pepper, to taste
1/4 c. shredded Parmesan cheese
Pasta
1 clove garlic, minced
Pesto sauce, see above
2 Tbsp. extra-virgin olive oil
2 Tbsp. capers, drained
16 oz. penne noodles
12-18 oz. baby spinach
1/4 tsp. salt
1/8 tsp. ground black pepper
1/4 c. shredded Parmesan cheese
Instructions
Combine the basil, garlic, and pine nuts in a food processor and pulse until coarsely chopped.
Add 1/4 cup of the oil and process until fully incorporated and smooth. Season with salt and pepper.
Add the remaining oil and pulse until smooth. The pesto should resemble a paste. Stir in cheese.
In a 3 qt. pot, cook the pasta in salted water according to package directions.
About 1 minute before the noodles are done, stir in spinach.
Cook for 1 minutes and drain.
In a large bowl, combine garlic, pesto, oil and capers.
Toss in pasta and spinach until it is well coated. Season with salt and pepper.
Serve warm, topped with Parmesan cheese.
Notes

Adapted from The Six O'Clock Scramble
Nutrition Information
Yield

6
Serving Size

1 Servings
Amount Per Serving
Calories

604
Total Fat

30g
Saturated Fat

5g
Trans Fat

0g
Unsaturated Fat

22g
Cholesterol

7mg
Sodium

1235mg
Carbohydrates

63g
Fiber

24g
Sugar

5g
Protein

38g
This recipe was borrowed and slightly altered from Six O'Clock Scramble.